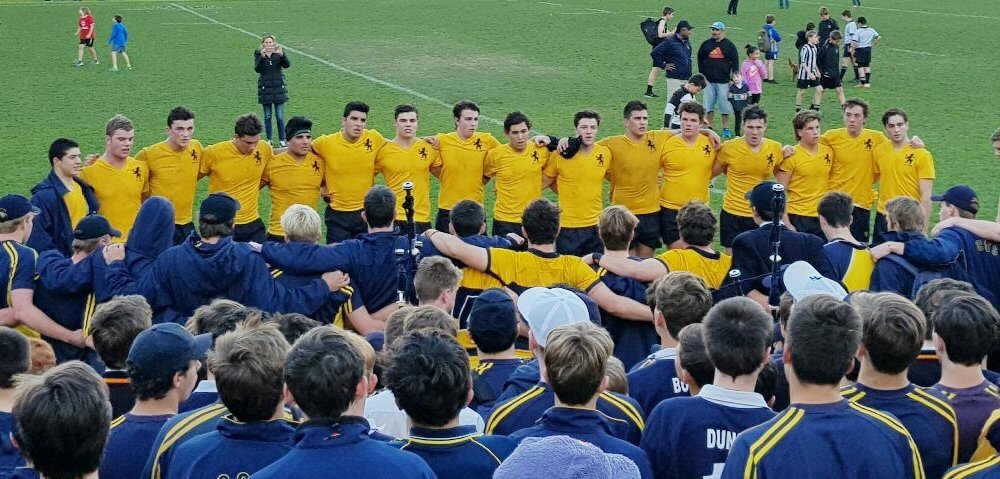 The 2017 AAGPS Rugby Season has come to a close and Scots have won the School Challenge Trophy for the fifth consecutive season.
In this season review, a group of regular GPS writers runs through the highlights and puts each teams' performance under the microscope.
A separate report has prepared that contains the Special Awards.
---
By "Crackerjack"
The shortened format of a one Round GPS Rugby Season had the effect of making the leading GPS Rugby schools play five mini-'grand finals' in a row to determine the 2017 Premiers.
A lengthy "pre-season" of trial matches among the GPS schools and a couple of the leading CAS Rugby schools, Waverley College and Knox Grammar, had everyone primed and ready for a short, sharp competition proper.
On pre-Season form, the favourites were Kings and Joeys, with Scots, Riverview and Newington all contending on the second line of predictions for most, and Shore the constant danger game for any team that took them lightly.
With no "second round" chances offered in Season 2017, as always amongst the GPS Rugby heavy-weights, there'd still be drama aplenty.
ROUND 1
A belter of an opening round with a couple of key match-ups that'd help define the season.
Scots beat a fast finishing Joeys 23 – 19 at Hunters Hill to secure an important first up away win, while Riverview bested Newington 43 – 17, the healthy margin quite at odds with those teams' typically close game result rivalry.
Kings stamped their season credentials right up-front with a nine-try extravaganza against Shore.
ROUND 2
Back from the Term 2 break and the Rep program, including National Schoolboys, Joeys headed out to Kings to fight out a most dramatic finish, going down narrowly 22 – 18 in one of the games of the season, but putting paid to Joeys Championship aspirations.
After Riverview's big scoreline a month before in Round 1, Scots were wary of the Blue & White, but with singular focus, the boys from Bellevue Hill turned in one of the season's most clinical performances, blowing Iggies off the paddock 71 – 20.
Newington had a good comeback win, overpowering Shore, 51 – 28.
ROUND 3
Riverview showed all their fighting qualities in round 3, hosting the undefeated Kings. The winner would still be alive in Season 2017. In a 4 tries to 3 arm-wrestle, Kings kept their win-streak going, 27 – 14.
At Stanmore, Scots were expected to best Newington by some margin, but no-one told the Wyvern lads. They played above general expectations, giving Scots a fair ol' fright until the very closing stages; Scots eventually running out 41 – 24 winners on a day the scoreline really didn't reflect the closeness of the contest.
Joeys took out their frustrations of narrow losses in the first two Rounds, with a big win over Shore, 66 – 28.
ROUND 4
So feeling a bit like we'd only just started, we came to the 2017 Premiership deciding game; a meeting at Bellevue Hill of the only two undefeated teams – Scots and Kings.
In another of the 'games of the season', all 45 points on the day were scored at one end. Scots' 24 – 0 half-time lead was gradually ground away by a dogged and undeniable Kings team; only falling short at the finish by the breadth of a narrowly missed first-half penalty kick and some magnificent Scots, you-shall-not-pass, defense.
The final 24 – 21 score placed one of Scots' hands on the 2017 silverware.
Elsewhere, Joeys bested Newington 47 – 24 with a sparkling display of attacking flair; while Riverview got back into the winner's circle 47 – 21 over Shore.
ROUND 5
Kings took out their season's bridesmaid's disappointment on an unsuspecting Newington with another nine-try romp, 59 – 21, to claim the runners-up spot.
Scots ventured across to Northbridge and while making some heavy weather of it at times, banked an undefeated Championship, defeating Shore, 45 – 7.
Meanwhile, over at Hunters Hill, the traditional rivalry of Joeys and Riverview continued in what was billed as the match of the round. Witnessed by a 'mere' 7,000, it certainly did not disappoint!
In a pulsating game, played in raucous atmospherics, these two teams provided the 'game of the season' and a spectacle of schoolboy rugby, with 'View doing all the hard work to build what should've been a match-winning lead, only to let it slip through their fingers in the last 10 minutes or so to a 'never give up' Joeys outfit; Joey's sealing the deal and 3rd spot on the points table (see below), 42-33.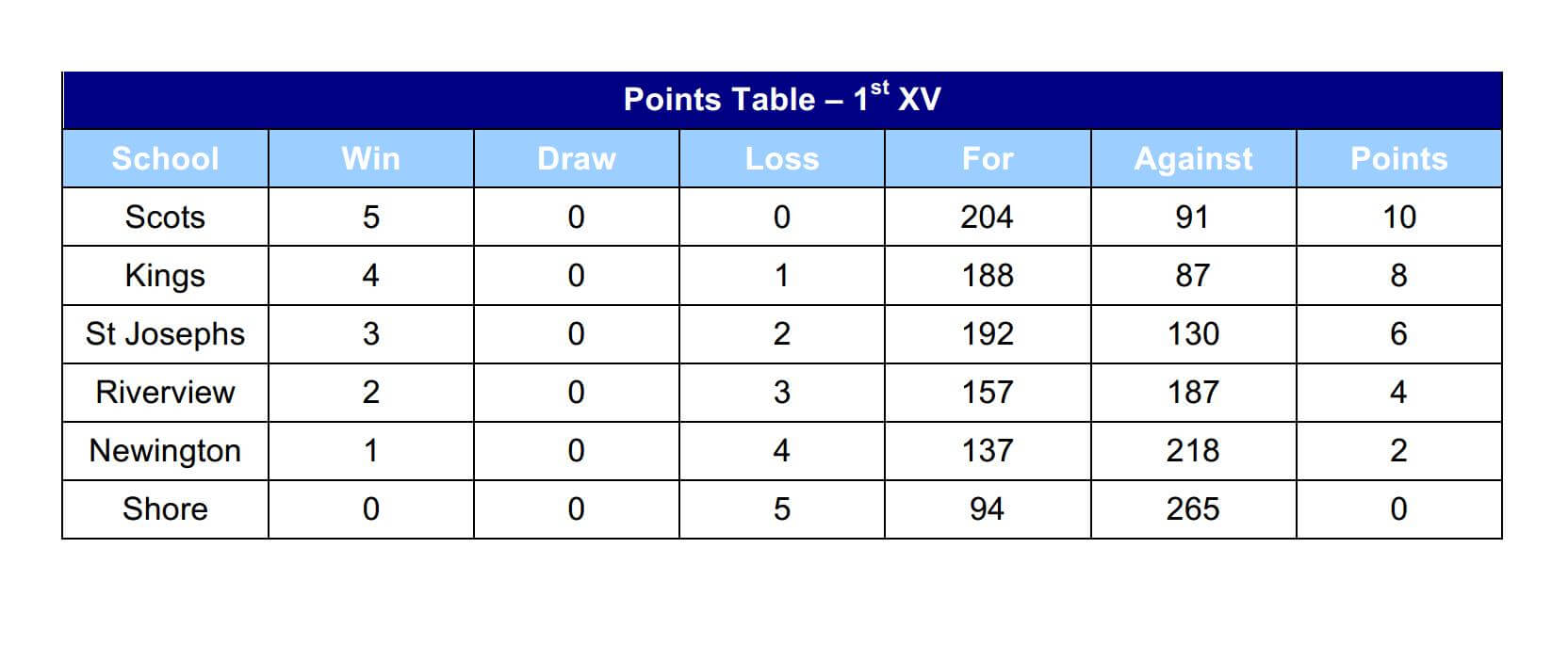 ---
SCOTS – 1st
By "Crackerjack"
Without noted individual game-breakers, Scots instead put their emphasis on 'team' above all.
They played hard for each other; with superb fitness providing the platform for indefatigable, wall-like, mid-field and goal-line defense for the full 70 minutes each game; but still had all the fun and thrills of making merry when game-day opportunities presented.
Scots secured an undefeated 2017 GPS Rugby Championship; a remarkable 5th premiership for them in succession.
Like all schools' 1st XV teams this year, Scots had to overcome injuries to key contributors, made all the more critical in the single round format of this year's comp.



But Scots' reserves and replacements all admirably played their roles; a credit not only to the boys themselves, but also to their coaching staff and fitness coordinators.
Testament to the talent on display across the schools at this level, no match was "easy"; none some mere "gimme".
In each, the win had to be earned. As is the case so often with champion teams, Scots with tenacity and commitment, were able to score when they had to, and more notably, hold out the opposition for long enough; and in one notable match with eventual runners-up, Kings, doing so only just long enough to get the season's chocolates.
Congratulations to the Scots 1st XV on a season well played. Very well played indeed.
Best players: 1. Jeremy Williams, 2. Will Harris, 3. Darcy Breen.
---
KINGS – 2nd
By "Rich_E"
2017 was, like last year, 'the one Kings could/should have won'. And like last year, the game at Bellevue Hill was the one that sealed their fate.
Kings were, for many people (myself included) this year's competition favourites.
They had an impressive pre-season beating Scots, New, View, Shore, Waverley and others. Their only trial loss was to Knox.
They were strong across the park and as a testament to this, a total of seven players got picked in the GPS 1st XV. Some also made NSW schools and Australian schools.
They were a very well drilled side and leverage a powerful tight five, dominant mid field and pacey back three.



They won three of their five comp games quite comfortably and ended up with a total for/against record of 188/87.
Along the way, they were pushed to the wire in their round 2 clash with Joeys, winning by 22 – 18. Many regarded this as one of the best games of the season.
But the 0 – 24 half-time deficit against Scots in round 4 proved just too much to claw back and Kings ended up going down in a gutsy performance 21 to 24.
Kings will a force again next year and with a solid off-season, have the potential to go one better in 2018.
Best players: 1. Ed Poolman, 2. Matt Minogue and 3. Charlie Brown.
---
JOEYS – 3rd
By "Armchair Selector"
Joeys pre-season form had set high hopes of success with convincing wins against Scots, Shore, Knox and Riverview.
The goal? To regain the AAGPS Challenge trophy for the first time in 10 years.
These hopes were dashed after a four point loss to eventual premiers Scots in round 1 and a four point loss to runners up Kings in round 2.
Basic errors at critical times in both matches proved costly; intercept passes, lineout errors and poor ball security at the ruck allowed quality opponents to capitalise on mistakes.
The Joeys forwards were well drilled, mobile and fit. They used their mobility as a weapon and repeatedly upped the pace of the game in the final 20 minutes.
Their backs, whilst lacking size, were very capable of damaging defense and were quick to capitalise on opposition errors.



However, it was the support play between the forwards and backs that proved to be Joeys advantage.
There was no demarcation of roles on the field; tight five players were line breakers or finishers of forwards and backs raids alike.
Following the disappointing loss to Kings, Joeys righted the ship with a dominant performance against Shore in round 3 and Newington in round 4.
But Joeys saved their best for last in the round 5 local derby against Riverview in the GPS match of the year. Final result – Joeys 42 Riverview 33.
The match was won through outstanding support play and Joeys trademark fitness across the paddock.
In 2017, Joeys attacked from anywhere on the field and were prepared to throw the ball around, averaging more than 38 points a game. However, defensive lapses were costly in the tight games, leaking an average of 26 points per match.
Best players: Forwards: Paddy Dalton and Ben Houston. Backs: Dylan Dowling and Triston Reilly.
---
RIVERVIEW – 4th
By "Short Ball"
If pre-season form was any indication, 2017 for Riverview was set to be a challenge.
With many young players stepping into the opens system for the first time, and large coaching changes within the group, it was always a rebuilding year.
A testament to the boys, and efforts by the senior lads to rally the troops however, they did find form.
A narrow victory over juggernauts Waverley following their 50-point drubbing in the first trial matched showed that the boys were capable of playing quality, and it carried into the GPS season.

A dominant first round victory against Newington created momentum into the holidays, which saw Angus Bell (13), Dominic Easy (10) and Charlie Rorke (8) earn spots amongst NSW representative teams, with Charlie Rorke named as captain of the NSW 1st XV and eventually being awarded a place in the Australia Schoolboys squad.
Riverview returned rusty, however, suffering a 50-point loss to eventual premiers Scots. Despite this, they once again rallied, narrowly going down to runners-up Kings on the final play, a substantial victory over Shore, and a gutsy performance against arch nemesis Joeys.
At no point in the season did they yield to the strong competition, despite some challenging circumstances that arose.
Riverview's development as a squad, particularly the growth of the younger players, will aid them significantly next year as they enter the 2018 season as one of the favourites.
Best players: Backs: 1. Angus Bell (13), 2. Dominic Easy (10) 3. William Grant (9) Forwards: 1. Charlie Rorke (8) 2. Charlie Beatty (2) 3. Will McLennan (3)
---
NEWINGTON – 5th
By "Quick Hands"
Newington started the season with some promising results in the trials with strong wins over Kinross, Oakhill, Riverview and Knox.
They then suffered heavy losses to very strong Waverley and Kings teams in the last two trials.
Whilst injuries in this demanding trial programme were to test their depth, it was the Oakhill win which proved most costly as their inspirational captain Angus Duvall suffered a season ending injury.
Whilst the final table records one win and four losses, Newington showed they were able to score points through the forwards and also out wide and were able to compete with the other teams for long stretches of games.



Unfortunately, they conceded far too many points and were particularly vulnerable through the backs. Despite this, it was notable that they really made the opposition earn victories in every match.
Best over the season was the inspirational and multi-talented Angus Bell at loosehead prop.
He held up the scrum, anchored the lineout, made breaks up the middle, ran like a centre at times in the open and was something of a try-scoring machine.
In the backs, Simi Afeaki showed both speed and strength on the end of a backline which was often under pressure.
---
SHORE – 6th
By "aNON_87″
Shore had a tough and long season failing to post a win. However, no one can doubt Shore's passion and willingness to contest.
They were capable of scoring tries, averaging 19 points per match. However, their Achilles heel was their defence.
Too many missed tackles proved costly this year. Haemorrhaging 51 points a game on average.


But regardless of the number on their back, all players refused to give up.
A position in the first XV is a rare honour and every boy did the best they could for themselves, their families and their school.
Let's hope they inspire younger Shoremen to stick with (or take-up) rugby so that Shore can once again be a top-ranked GPS rugby school.
Best players: Forwards: Luke Edwards and Ed Collard. Backs: Max Sinclair and Blake Rixon.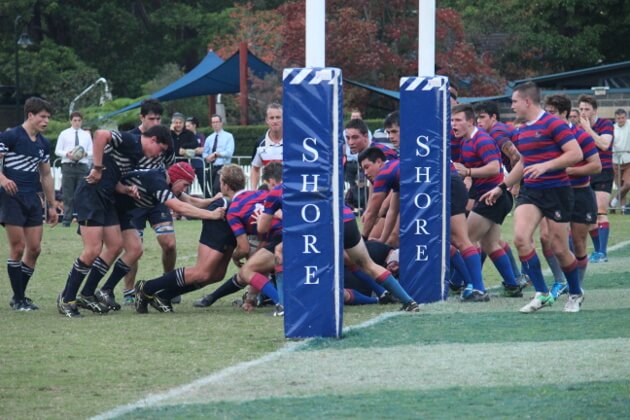 ---
By "Crackerjack"
While every match of the 15 played to determine this year's Premiership were important, some were more important than most.
It was Scots' ability to consistently hold their line which proved decisive in delivering a couple of narrow wins when it really counted against other principal contenders.
The pressure that Scots' defense exerted on opposition decision-making and skill execution in the clutch moments, when games were on the line, ultimately, secured an undefeated GPS Championship for the boys in Gold.
Congratulations to Scots in winning the Schools Challenge Trophy for First Grade, as well as The W.S. Corr Cup for Second Grade (also in an undefeated GPS Season), and to Joeys taking out the Third Grade Premiership; yet another undefeated GPS Season.
Wonderful team efforts from all their players, coaches, rugby staff, parents and school mates.
With an abundance of year 11 boys playing in their respective school's 1st's this year, all gaining crucial experience in the top flight, before even a training session has been held, or any pre-season matches scheduled, it's evident that 2018 will herald one of the most evenly matched GPS Rugby Competitions in many years!