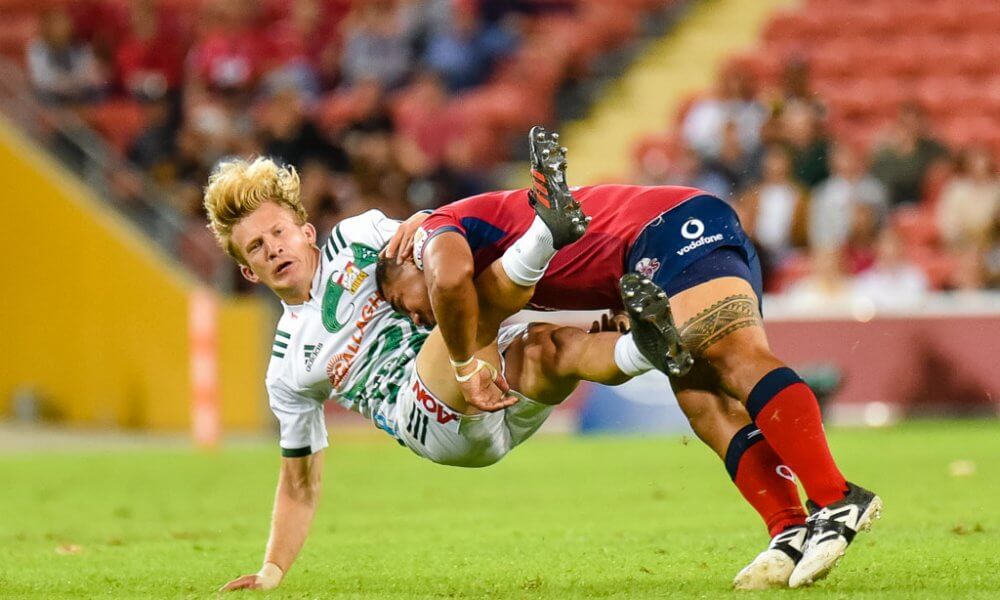 Wow, what an absolutely crappy weekend that was for Australian Rugby. No wins. Beaten by teams from three different countries. Three losses on home soil. But anyway, it's a new week, it's Tuesday so that means we had to come up with a Top 5. We do our usual good, bad and ugly, grade our teams, re-visit our attempt to pick some Wallabies, throw in a bit of a feel good story and give you all a history lesson.
The Good, The Bad and The Ugly
Good – The Super W final. It was tough, close and there were some decent skills on display at times in the match. The women from both teams showed a hell of a lot of grit and heart (something which their male counterparts could use in bucket loads after this weekends performances). The end result reflected what a close match it was, a penalty goal to win it after the final siren in extra time. What more could you want?
Bad – From the 1-minute mark of the Bulls v Rebels match there were Rebels players being treated for injury/cramp on a regular basis. Just 1 minute in Sam Talakai was in the hands of the medics, and then again at 2 minutes. We also had Coleman, DHP (who went off) and numerous other niggly injuries being treated. Then in the last quarter of the match the cramps seemed to set in and nearly every stoppage there was someone being treated. Ruru looked to in the most discomfort, barely able to keep up with play in the dying moments of the game, yet he was left on the field until the clock hit 80:00, being subbed with bare seconds left to play. Surely I wasn't the only one screaming at the TV to sub him off earlier, I can't help but wonder what the hell Wessels was thinking.
Ugly – Do I need to go past this weekend's results? Not one team in the Aussie conference got a win. One single, solitary point was all that five teams managed between them.
Report Card
Waratahs (A Team) A The tackles were tough and while they only managed to cross the line once it was enough to get them the win, eventually. The game saving tackle from Hewson was immense and showed the kind of grit and determination we expect to see from this tight Waratahs outfit.
Waratahs (B Team) E Yep, the first E of the season goes to the Waratahs. While it wasn't one of the biggest losses we have seen this season, it was one of the worst. Why is it an E? Because of the big fat ZERO next to the Waratahs name on the scorecard. Not a single, solitary point. And to be honest, outside the first 20 or so minutes I don't think they even looked like they were going to threaten the scorers. There was maybe one run with around 3 minutes to go where I though they could possibly score, but they managed to balls it up (to be fair, the Lions defence was pretty good). 24% possession in the second half. 20% territory in the second half. Says it all really.
Reds (A Team) A- The Reds were right in the match and had a chance to win it after the siren if not for a huge tackle from Hewson. They were in control for large parts of the game, outscoring the opposition 2 tries to 1, but were unable to hold out in the end. They showed the heart and passion that we expect to see from this young Reds side.
Reds (B Team) D- At half time I was wondering if we were going to have a repeat of the Waratahs game and see another big fat zero. But the Reds picked things up a little in the second half with an early try and put the Chiefs under a bit of pressure. They actually matched it with the Chiefs point wise in the second half, and made them work hard to get the bonus point try after the siren.
Rebels D Another poor first half from an Aussie team, this time with just 3 points on the board at half time. They came out firing in the second half, scoring a quick try, and looked threatening at times. They made it harder for the Bulls to score, however they never really looked like they could win, their atrocious tackle rate let them down again. The Bulls found it too easy to break tackles and force turnovers.
Brumbies D+ The only reason they get the + is because they salvaged a bonus point. Once again they were unable to breach the oppositions defence, and on the rare occasion that they did their poor handling or slow speed to get to the breakdown let them down. There were some glimpses of good play, such as the kick through that led to Tom Banks' second try but they were sorely outnumbered by the errors and weak defence.
Wallabies – who makes the Cut?
A couple of weeks ago we put up a suggested Wallabies team. Well it certainly sparked some discussion. There were some choices people agreed with, some that you clearly did not agree with, and funnily enough some that just went unmentioned. So we are going to re-visit that team, look at what you guys were saying and try again.
The problem with re-doing this list after the weekend we just had is that I want to wipe all the names off, go watch club rugby and pick the best of those players, because it feels like they couldn't do any worse that the group we saw playing over the weekend. But I won't. I know some players who were terrible on the weekend are usually better. Based on this weekend's form there wouldn't be a team.
But to be very clear (which I may not have been last time) we are NOT picking injured players. If a player didn't play on the weekend because of injury he isn't on the sheet. Harsh, I know, but them's our rules.
But firstly
What we got right according to the punters
Not too much according to a lot of the comments. Amosa at hooker seemed ok, apart from those wanting TPN back, Poey and Genia were pretty much agreed starters. We wouldn't have changed any of them except that Genia is out injured atm and by our own rules can't be selected.
What we got wrong
A much longer list here. Kerevi at 13 wasn't too popular a choice. (admittedly that was my error, I completely blanked out that he was playing 12) Nor were Higgers, Lance, Timu (position wise) or English. The failure to include Folau was not popular (I neglected to mention injury = non selection) and leaving out Rodda was another cause for angry comments (seriously, some people get really worked up about this stuff!) Also a few people had TPN at hooker, but note that I said they had to currently be playing Super Rugby (we aren't playing by RA's rules, we're going by what we are seeing here in Australia right now)
What no-one really seemed to care about
Interestingly there were some selections, and non-selections, that people didn't even mention. Does that mean we got it right or did people just not care enough. The selection of Banks at fullback drew very little comment, as did the leaving out of Speight and Kurindrani. The last two have been in very ordinary form, so I'm not surprised people didn't kick up a fuss that they weren't there.
So here we go. Our Wallabies team, take 2.
Scott Sio
Brandon Paenga-Amosa
Allan Aaaallllaaaalllaaatoa
Rory Arnold

Adam Coleman

Izack Rodda

Caleb Timu

Tom Cusack – This was a tough one. It came down to a choice between Hanigan, Timani and Cusack. He is more mobile than the others.
David Pocock

Scott Higginbotham (Rebels and Brumbies have no. 8's who aren't eligible and Wells not up to it)

Caleb Timu

Will Genia

Jake Gordon – He looks to be offering a bit more than Powell right now.

Jono Lance

Bernard Foley – Friday night aside, he has been playing ok, and his goal kicking is needed
Marika Koroibete

Kurtley Beale

Samu Kerevi – Got the nod over Beale due mostly to his defence. Beale has improved but this weekend showed his limitations

Samu Kerevi

Chris Feauai-Sautia – TK and Hodge are both anonymous right now, Rona is very close.

Tom English

Taqele Naiyaravoro – He's improved his defence, which was a bit of an issue in the past.
Tom Banks
Folau Fainga'a
Jermaine Ainsley
Old Man Kepu

Matt Philip

Adam Coleman
Ned

Flanders

Hannigan
Michael Hooper
Joe Powell

Bernard Foley

Kurtley Beale
James Dargaville/Curtis Rona (Depending on our bench split, but because we are channelling Cheika we can't tell you that until the day)
Captain – Pocock
Something positive (finally!)
Lately there has been a lot of talk about role models. How should Rugby players, who are very much in the public eye, act? What sort of things should or shouldn't they say? Are they the kind of people we want our youngsters to look up to? On and off the field, we scrutinise the actions of our so-called heroes and are often let down.
But not this time.
On Sunday afternoon we witnessed the actions of a man who is most definitely a role model to many. And for bloody good reason.
While the rest of his team were celebrating scoring their second try for the match, Henry Speight, in his 100th match, was on the ground with Pablo Matera. He beat the medics to the injured Jaguares player and stayed with him through the scoring and converting of the try. That was just before half time.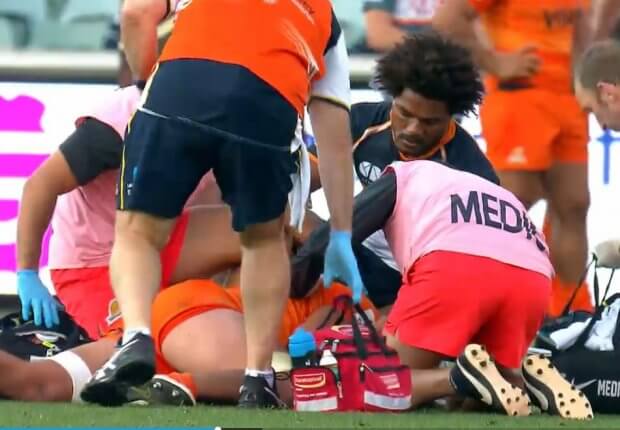 Then with 3 minutes left on the clock a collision left Ramiro Moyano on the ground, appearing to be seriously injured. Once the stretcher was called for we saw medics from both teams assisting, helping lift Moyano on to the cart. In among them was a player. Henry Speight, again completely off his own back, helped lift the injured player on to the cart.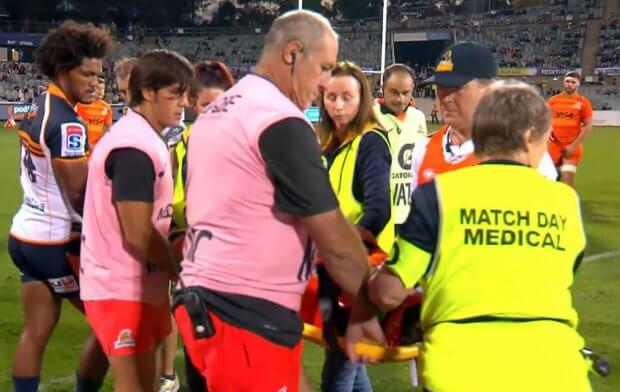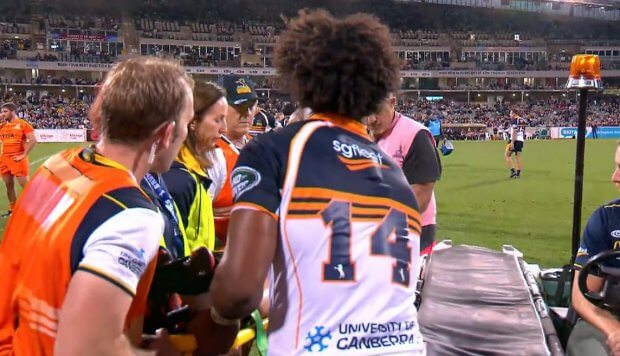 After the match Henry was swamped with fans, all wanting his autograph and photo. And I can bet he made time for all of them. He always does.
But it doesn't stop there. They say you can see the true character of a man by his actions, and apart from what he did on the field, I think this tweet shows what kind of man Henry Speight is.

Like I said. Definitely a role model and someone to be admired and respected.
What does history teach us?
As with the Anzac commemorations before the games across the weekend and as we head into Anzac Day tomorrow I always find myself reflecting on history and what we can learn from it.
Sitting here tapping on this key board as I try to write the final part of this week's Top 5 my mind wonders to the history around the Anzac legend. The thought that a mere few kilometres from where I sit, in 1919, Charles Bean commenced writing some of our most important history and some of the most defining words of our nation culture pleasantly distracts me.
But alas I need to focus.
What a tragic weekend for Australian rugby. It is undeniable that our game is struggling and it is hard as a rugby supporter to not feel disheartened. The simple question of why is always met by answers that claim complexity and many differing perspectives and reasons. But yet none of them are definitive and most are predicated on a distorted history in part told from within the ranks.
Similarly, the Anzac legend and legacy as we know, understand and commemorate today was not one of simplicity, nor absent of criticism. The formation of what it is to us today however is unifying and common. But that formation took time. It was not until 1946 that Bean finally was able to encapsulate the meaning of Anzac:
Anzac stood, and still stands, for reckless valor in a good cause, for enterprise, resourcefulness, fidelity, comradeship, and endurance that will never own defeat.
Of this it is acknowledged that Bean himself may have perverted fact for the benefit of those soldiers. Bean wrote in his diary that the "rule of censorship forbids criticism", and that the war correspondent should avoid "needlessly distressing their families at home".
Turning my thoughts back to rugby I find myself at times wondering if we too pervert the realities of the game in our assessment and representation of the current issues?
History tells that the men who stepped foot on to the shore of the Dardanelles like many other parts of the world in the first war were all considered amateurs; being a solider was learned during the battle. The concept of a professional Australian soldier was not realised until much later. Today we hold our professional soldiers accountable even in battle and not beyond criticism. This is not dissimilar to the evolution of our rugby players.
We reliably recite the history that shows those that ordered the Anzac solders on to the Dardanelles in that failed campaign deserved to be heavily criticised. General Sir Ian Hamilton was quoted asking;
Are the High Gods bringing our new Iliad to grief? At whose door will history leave the blame for the helpless, hopeless fix we are left in?
The rich irony in answering this question also tells us that we need to learn from our failings. Britain's powerful First Lord of the Admiralty, who masterminded the Gallipoli campaign took much of the blame for its failure and justifiably so.
All leadership can make errors and have failures. Of those the leaders those whom can learn from their mistakes and both accept and acknowledge their failings can later rise to lead the way. History tells the story of Winston Churchill the mastermind of the failed Gallipoli campaign became the inspirational leader during the next war.
For all of the available rich history and the significance of the Anzac legend and the commemorative day, Anzac Day as we know it was at one point on the precipice of being irrelevant and forgotten by the public.
In 2014 Peter Cochrane from the Australian wrote; "Anzac Day and the Anzac story were besieged by critics. The rituals of the day were branded as warmongering or just an excuse for old men to relive dreams of dissoluteness.
Young people, in particular, were written off; they could not be expected to be "fanatical about a parade of old people", said one old brigadier.
The ranks were thinning too. The "parade of old people" was shrinking. The veterans of two world wars were fading away. By the mid-1970s there was widespread agreement that Anzac Day was in terminal decline."
Today rugby is in a similar place. In decline and struggling for relevance. The past weekend really served as the confirmation to me. But why? Well maybe history does provide us with a clue. How relevant is rugby? In its current form it appears not so. Does it appeal to the public and is it for the public? Based on crowds and ratings generally not.
Are the voices of our game just the rusted-on traditionalists that are out of touch? Interestingly I recall a few weeks ago where I was confused by what game replay Mrs Mst was watching on TV as I could hear Marto and Clarke and the usual Fox sport crew. The 2004 final. How easily I could mix up a game from the weekend with a game 14 years ago amazed me.
On the Australian Parliament House website, they cite the RSL as playing a key part to the decline. The sad reality was it was the veterans themselves coveting the history, tradition and their own wartime experiences. That ignorance in their claim gave them the false qualification of expertise and position off the battlefield was in fact what was so detrimental. I can't help but draw the parallels to our game and its administration. Has rugby been the creation of its own demise and made itself irreverent? I would suggest yes.
But for me the past weekend was about how rugby is coaching itself into oblivion. In recent history beyond the abnormality of McKenzie, returning foreign trained Cheika or Jake White, the Australian coaching story reads more like a comedy.
A failure of a coach at one team is recruited to fail again at the next. That's not happened only once. The promotion of the lieutenant from the old failed regimes again ends in more failure. The failure of a coach in Australian rugby is usually rewarded with a transfer to another team. The reality is, even our best are mediocre. But it goes even further. The supposed changes are no more than on paper. How can we have new, innovative, or meaningful change when the failed coaches just move teams? A Reds coach to the Rebels, a Rebels coach to the Reds, Larkham was replaced but never left the building. How does this happen? The wrong people making the decisions in poor usually in-house recruitment processes. But the punchline to this; it all happens across an incredibly small pool of 4 teams.
History is being written each day and like the resurgence of Anzac Day I hope that rugby can one day also be resurgent. We need to be relevant and we also need to change.
The old diggers realised they had to change. Without the public's interest in both their stories and those of fallen many, the reality was sadly clear in that the stories were being heard by fewer ears each year.