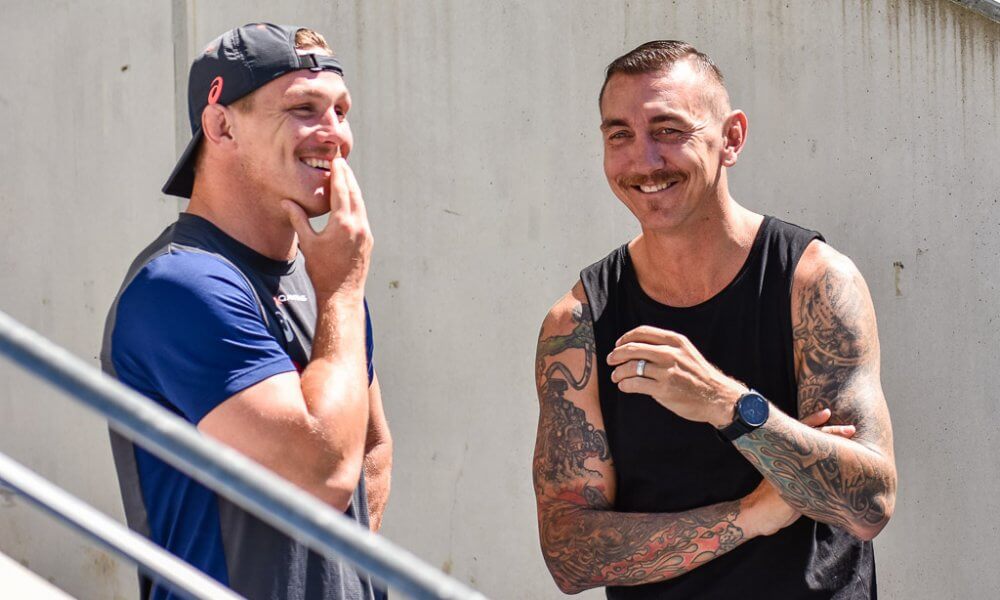 Hello again. Well what a gut wrenching weekend that was. Here's our take on some of the events of the past few days.
The Good, The Bad and The Ugly
Good – The Boks beating the All Blacks was the highlight of the weekend. Not just because the All Blacks lost, but because it was a great game to watch. Real edge of the seat stuff. There was some really good rugby from both teams, the South Africans turned it up about a dozen notches from their game against the Wallabies.
Bad – I am so sick of reading (insert name of team here) just "wanted the win more". That is rubbish, a complete cop out and if that's the case then the team that apparently wanted the win less shouldn't bother being on the field. In any sport, especially international level sport, should there be one team that wants to win more than the other? Both teams should be giving their everything, laying it all on the line for the win.
Ugly – There are a lot of things I could put here, most of which have been done to death in the media. So I'll just leave this picture here. They say a picture paints a thousand words, well this one paints a thousand empty seats.
But you've never played test rugby!
Us fans are frustrated. Many are throwing in the towel, as evidenced by the small crowds at Wallabies game. Poor coaching, poor execution, the other team always seeming to "want" the win more – how much more can we take?
During the game I was checking Twitter to see what other people thought about what was going on. Pretty similar opinions across the board – bewilderment at the Toomua substitution, frustration and anger at Folau not passing and dissatisfaction at the poor level of tackling that was going on. There were some pretty poor missed tackles. A tackle rate of 73% is far from acceptable.
But apparently unless you have played test rugby you should not be so critical. That's according to Steven Hoiles anyway. When someone dared to tweet that the tackling was poor and they should "man the f**k up" Hoiles took exception to the comment.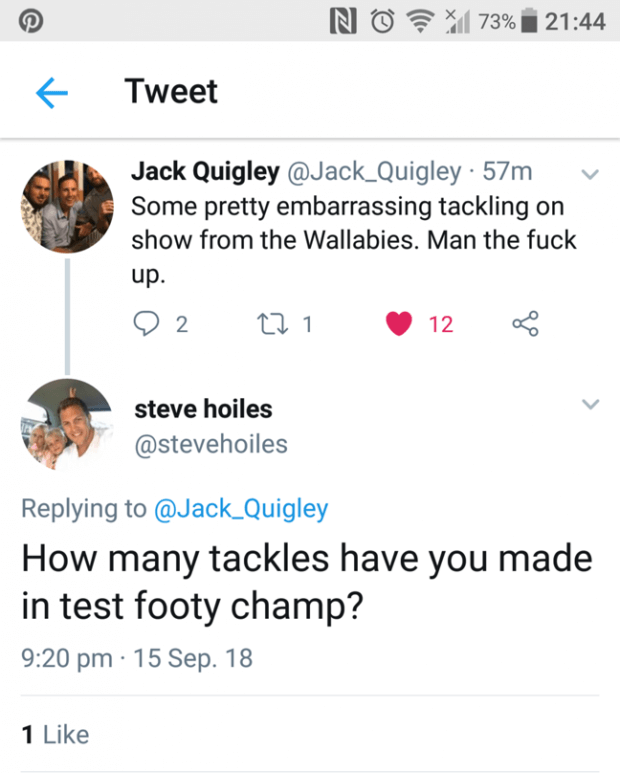 I don't know if it was the use of the f bomb that offended him so much, or someone publicly questioning the team's ability to tackle. Maybe it was the phrase "man up", which I know can offend some people (if they choose to believe that he was insinuating they are playing like girls and need to be manlier). I've heard the phrase used in other sports to mean stick to your man, especially when you're defending – AFL and soccer use it a lot.
Others jumped in and asked if he thought the performance was acceptable and he seemed to change his tune to it not so much being what was said, but how it was said. He believed showed a "lack of respect".
I've never made a single tackle at test level (or any level for that matter, when I was young and injury free enough to play rugby it really wasn't offered for girls), but have no problem saying that the Wallabies tackling on Saturday night was rubbish. 73%. That, to me, counts as rubbish. But like I said, I've never made a tackle at test level so my opinion probably doesn't matter.
The value of the jersey
$159.99 retail for anyone still interested in buying one.
But not exactly what I'm talking about here. I'm talking about how much value this jersey holds to the players. Not the current Wallabies so much as future potential Wallabies. Past Wallabies. Rugby players in general.
This was brought on by a tweet from James Horwill. The clever man has finished a ridiculously long research paper that I think would be a fascinating read. And judging by the replies to the tweet I'm not alone.
36,000 words later finally handed in today!!! pic.twitter.com/I0QT62V1NJ

— James Horwill (@JHorwill) September 14, 2018
This reply in particular has me very curious. I think we all assume the main reason players head OS to play is money.
A lot of similarities but not the answers you would think. — James Horwill (@JHorwill) September 14, 2018
But I wonder how many are leaving because of lack of opportunity to play for their country. Whether you agree Joe Powell should be in the team or not, he sat on the bench for the whole game against South Africa, completely unused. He will only ever make the 23 if Genia or Phipps are injured, unless it is against a very lowly ranked team with nothing at stake. How long till he starts looking to go OS? Jake Gordon is in the same position. I whole heartedly agree that the best players in their positions should be selected. If Powell isn't good enough then so be it, but don't select him and leave him on the bench for 80 minutes. What about all the young number 7's out there who saw their dream of playing for the Wallabies in the next five years go up in smoke in recent months? Do they stick around and fight it out or go get the playing experience overseas?
I have to ask, has the Wallabies jersey been de-valued by the way things have been done under this management. How many plyers have played just one or two tests and aren't seen again? Leroy Housten was brought back from OS, signed for the Reds and brought quickly into the Wallabies squad. He has 1 cap. Taqele Naiyaravoro was selected for the team amidst speculation that he could become eligible for Scotland. He has 2 caps. Rugby League players have been signed up for Super teams and played for the Wallabies before they have even played a game of rugby in Australia. Not to mention the consistent selection of out of form players over recent years. Poor performances from certain players have no bearing on selections by the look of it, while some players have a poor debut match and aren't seen again.
Genia (who has been successful since his return and pushed Phipps to the bench – all around win), TPN, Matt Toomua have all come back from OS to play for the Wallabies. TPN looks off the pace, and while Toomua looked good, we all saw this on the weekend, and I wonder if I'm alone in thinking he might be regretting his decision.
Is the draw of the Wallabies jersey enough to keep players from heading overseas? To be honest, judging by the number of class players we have lost in the past few years (Tomane, Fardy, Gill just to name a very few) I'd say not.
NRC – What is going on this year?
With the disappointment of International Rugby at the moment, I'm seeing more people talking about the NRC and how they are glad it's around to satisfy the rugby urges we are getting. And I'll agree – to some extent. To be completely honest though, this year I'm not going back and catching up on games I didn't get the chance to see. I'm happy to look at the result and go "nah, I won't bother watching that one."  Last year I made sure I watched nearly every game and was loving the quality of the rugby that was on show. But not this year.
Why is that, when everyone loves it?
I think one of the reasons becomes more apparent when we look at these numbers. These are the winning margins of the first 11 games of the season.
| | | | | | | | | | | |
| --- | --- | --- | --- | --- | --- | --- | --- | --- | --- | --- |
| 23 | 10 | 18 | 61 | 37 | 26 | 1 | 55 | 30 | 21 | 10 |
The average winning margin so far this year is 25.5, which is fairly large.
Out of the 11 games played, there was only one game where the winning margin was less than 10. Only 4 where it was less than 20. That means that 7 out of 11 matches had a points difference of 20 or more. 3 converted tries.
Also check out the points +/-  on the ladder as it stands. 41, 54, 37, 34, 31, -58, -58, -81. Bear in mind, that is after just 3 games (or 2 in the case of the NSW teams).
Now let's compare those numbers with the first 12 games of last year's season (there was no silly split first round where the round 1 clash for the 2 NSW teams is actually played on the Wednesday between rounds 3 and 4, even though it is counted as a round 1 clash on Rugby.com.au)
| | | | | | | | | | | | | |
| --- | --- | --- | --- | --- | --- | --- | --- | --- | --- | --- | --- | --- |
| 2018 | 23 | 10 | 18 | 61 | 37 | 26 | 1 | 55 | 30 | 21 | 10 | |
| 2019 | 8 | 9 | 21 | 12 | 19 | 21 | 7 | 15 | 17 | 20 | 2 | 44 |
So last year the average was 16.25 points difference per game, which is still a decent margin. Just looking at the scores, it was clearly a closer competition last year. One third of the games decided by less than 10. Only 4 with a margin 20 points or more. The games were closer, and to me that makes them more exciting.
We all love to see our team win and win big, but as a neutral do we really like seeing such one-sided games? I watch to see the competition, not something that (like some of these matches this year) looks more like a weakly opposed training session. So I check the results and don't bother watching the games where it looks like only one team showed up. I catch up on the highlights and move on. It will be interesting to see if the teams even out as the comp goes on, though after this coming weekend we are past half way point, and if the games do get closer. I really hope so, the last thing rugby needs is more fans turning away because their team is getting flogged week in week out. Who wants to see that?
Oh, and one good thing about this round one match being played this week? At least one of the NSW teams will get some points on the board, with both yet to secure a win.

Mitre 10 Cup highlights
Just for those who want to see some fast, tough, skilful rugby.