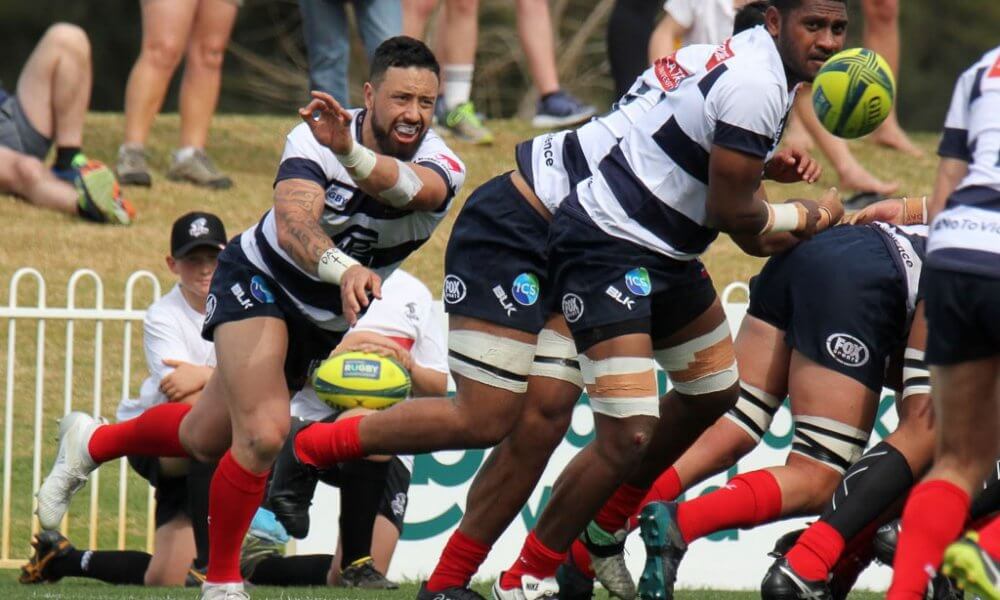 It's a bit of a running theme over on the GAGR Forum, or even on the comments section of the main page, for someone to suggest "too many Tahs" whenever a team is announced or even suggested. Well, that aint gonna happen this week (well, it probably will be it will be completely tongue in cheek). Such was the dire performances of the two NSW teams in Round 3 of the NRC that I couldn't bring myself to consider any of them in this Team of the Week.
Accordingly removing a couple of teams-worth of players from consideration didn't necessarily make selection any easier.  Big wins to Brisbane City and Melbourne Rising had to be weighed up with the quality of the opposition. Similarly QLD Country's big win over the high-flying Fiji Drua was a bloody impressive performance while the match up in Canberra was of high quality. Anyway, that's a little of my methodology, so let's get to the outcomes.
15 Karmichael Hunt (Brisbane City) – 1st week in team
You get the sense that Hunt is finding his feet again in rugby following limited game time this season.  For Brisbane this weekend gone he was moved from outside centre, back to fullback and the move paid off. He was dangerous from the back and active in his ball distribution.  Justin Masters enjoyed plenty of space from the back against the Eagles as well.
14 Jock Campbell (QLD Country) – 1st
Campbell has been one of the surprise packets of the NRC this season. Perhaps perceived to be simply benefiting from being on the back of an all-star backline, he's proven to be a dangerous runner in his right and surprisingly powerful given his frame.  Andy Muirhead has been in fine form for the Vikings and looked dangerous again on the weekend.
13 Jordan Petaia (QLD Country) – 2nd
I'm really liking the look of young Len Ikitau from the Vikings and he did some good things against the Force. But the options here were former Rabbitoh Tautalatasi Tasi had an impactful debut for Brisbane but it's hard to go past Petaia who scored a hat trick and was a real handful for QLD Country against the high flying Fijians.
12 Jordan Jackson-Hope (Canberra Vikings) – 2nd
There was plenty of talent on show in the 12 jersey last weekend. Billy Meakes was very good for the Rising, while Matt Gordon played strongly in his first starting gig for the season for Brisbane. Duncan Paia'aua was at the centre of most things for QLD Country, while Henry Teafu was busy for the Force. However the standout was the young Vikings centre who was sharp, scored a brilliant individual try and made an impressive 19 tackles.
11 Tom English (Melbourne Rising) – 1st
Not so tough this one. Sure Filipo Daugunu was exciting for QLD Country and James Kane did a lot good in his Sydney Rays run on debut. But how can you go past English and his five tries? He set a new competition record – a record he himself first set back in September of 2014 when he scored four tries against Brisbane.  He was exceptional against the Eagles in bumping the record up by an extra try.
10 Hamish Stewart (QLD Country) – 1st
This one was a tough call really. Despite a good game by Wharenui Hawera this was a contest between the two Queenslanders. While Quade Cooper was steering the ship for Brisbane City in their first win of the season, Hamish Stewart was guiding QLD Country to an important win over Fiji Drua. Stewart pips Quade for mine though because of the way he dictated play. In fact it was his kicking game that really caught the eye and showed a maturity to his game we hadn't seen previously.
9 Michael Ruru (Melbourne Rising) – 1st
Such was the one-sided nature of the match, Wallaby hopeful Jake Gordon did not get much of a chance to show his wares against the Rising.  On the flip side, Ruru was loving life and causing all sorts of havoc with the ball. When he wasn't unleashing his free-running backs, or feeding his destructive pack, he was chancing his arm himself and doing so pretty damn well.
8 Ben Hyne (Canberra Vikings) – 1st
Brynard Stander was pretty damn powerful in attack and a strong presence throughout the Force's match up with the Canberra Vikings. On any other weeekend he probably would have snagged this spot. But his opposite number, and Vikings skipper, Ben Hyne was an absolute powerhouse in his play. Putting aside his 24 tackles, Hyne was inspirational in his relentless endeavour to curtail the Force attack. A real darkhorse Wallaby contender for mine.
7 Chris Alcock (Western Force) – 2nd
It is an acknowledgement of Alcock's importance to his team that he is the only player from a losing team to make this 'selection'.  I thought Tom Kibble, debuting for QLD Country, showed plenty but Alcock was so crucial to any opportunity the Force had to win in Canberra.  Another in the long line of backrow leaders in the west, Alcock was in the middle of most of the good things the Force produced in Canberra and is part of arguably the best backrow in the competition.
6 Adam Korczyk (Brisbane City) – 1st
The Brisbane skipper has been out of sorts this start of the season, but relished being back on the side of the scrum having been forced to pack into the second row last week.  While Rob Leota enjoyed the one way traffic of the Rising's win over the Eagles, Korczyk ran strongly when he got the chance and toiled manfully when the game tightened up. Experiencing his first captaincy pressures, Adam seemed more comfortable with the role on the weekend which must be a good sign moving forward.
5 Darcy Swain (Canberra Vikings) – 2nd
The young Viking lock is another of a promising batch of Queensland locks who we are likely to see competing for Wallaby jerseys in the not too distant future. While Angus Blythe and Harry Hockings have been impressive for QLD Country, Swain has been outstanding for Canberra and was at it again against the Force. He was throwing his considerable body mass around like no bodies business and with 17 tackles to his name, many of considerable impact, he wasn't shirking his duty either.
4 Blake Enever (Canberra Vikings) – 1st
Swain's locking partner on the weekend, has considerably more experience in professional rugby but seemed to enjoy his the youth and exuberance of his team mate. They combined nicely in attack at times and Enever matched Swain in the tackling department. It's worth throwing in the name of Rising skipper, Angus Cottrell who was thrown into the locking spot due to a late line-up change and was as abrasive as ever despite the unfamiliar position.
3 James Slipper (QLD Country) – 2nd
This was a tough call this week.  Vikings tight head, Leslie Leuluaialii-Makin, was pushing hard for his selection in consecutive weeks however only lasted 20 minutes before injury.  Shambeckler Vui has been the Rays best player in their two big losses. Instead I've opted for James Slipper, despite some challenges at scrum time. He's a massive influence around the park, with powerful running and resolute defence. You can tell the young QLD Country pack are thriving on his experience and abilities.
2 Efi Ma'afu (QLD Country) – 1st
Ma'afu earned his first start for the year, swapping with the highly consistent Alex Casey for QLD Country's game against the Drua in Mackay. The youngster proceeded to have a stormer of a match with some solid set piece work. His defensive work was most eye-catching though in making 10 tackles and not missing one against a highly elusive Fijian team.
1 Fereti Sa'aga (Melbourne Rising) – 1st
Finally someone has broken the JP Smith hold on this TOTW #1 jersey! Harry Hoopert from QLD Country was a contender through his strong running while Sione Tuala of the Vikings had his moments too.  Sa'aga get's the guernsey though built from the powerful platform he provided in a dominant scrum as well as his increasingly impressive work around the park.