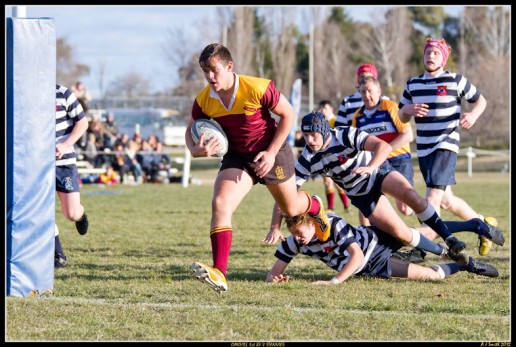 The 2012 1st XV ISA competition was keenly anticipated with a number of questions waiting to answered – would St Augustine's continue their dominance of recent years? Would the late 2011 form of Kinross Wolaroi carry over to the 2012 season? Would St Greg's continue their rugby learning curve and improve their 2011 results and, with the benefit of a large number of returning 1st XV'ers, would Oakhill be able to launch a genuine premiership challenge?
The season began with some surprisingly strong trial results: Kinross drawing with Newington at Stanmore and defeating a couple of ACT schools including the fancied Canberra Grammar; Augustine's defeating Scots to the tune of 45 nil as well as disposing of Waverley and St Edmund's; St Pat's going down after the bell to Trinity; and, Oakhill defeating Barker, Knox & Shore. The only school struggling for early season form appeared to be Stannies who failed to get a decent result on the board ahead of their trip to Japan to represent Australian schools in the Sanix tournament. Unfortunately, Stannies suffered a couple of narrow losses in Japan to finish in the bottom half of the competition. All in all, the ISA schools acquitted themselves well in trials against their GPS, CAS & ACT opponents.
Round 1 of the competition proper produced no surprises in terms of results but the performance of St Pat's putting 21 points on the board against Augustine's certainly surprised a few pundits and augured well for a competitive ISA season. The notable round 2 result was the 7 all draw between Kinross and Stannies. Both teams would have been desperate to take the points in this local derby. With both these teams having relatively easy Rd 1 victories it remained hard to gauge how they would fare against St Pat's, Oakhill or Auggies.
Round 3 was the final game before the rep season and the term break. A couple of upsets played out with St Pat's defeating Stannies in a close game and St Pius downing St Andrew's in another close one. Greg's defeat at the hands of Oakhill left them as the only team without a win at that stage of the comp whereas Oakhill and Augustine's were the only 2 teams to take maximum points away from their games.
ISA representative selections were the subject of much debate. Although most ISA followers regard the time honoured ISA selection process of assessing over 100 kids in a singular trial day as farcical, there appeared to be general acceptance of the domination of St Augustine's and Oakhill players in the ISA teams (18 Auggies and 9 Oakhill in the two team squad). However, what seemed to perplex most was the selection of 13 Auggies players in the ISA 1sts team for the first of the two representative fixtures.
First up, the 2nds had a narrow victory over CCC and the 1sts had a narrow loss to CHS. A few changes were made to the make-up of both teams for the second games against CAS 1's & 2's a week later. The two's went down narrowly but the one's were significantly outclassed. It is to be hoped that these disappointing results will act as a catalyst for change with a more astute process adopted for determining selections in 2013. Five St Augustine's players were selected in the NSW teams and congratulations go to Rory O'Connor, Fabian Natoli & Karel Lloyd who made NSW 1's, and Matt Philip and Charlie Taylor who made NSW 2's. Fabian then gained selection in the Australia A team and Matt was selected for Australian Schools and the Aus School touring squad.
After a month long break the competition resumed with Round 4 including what many were referring to as the "Grand Final" match where Oakhill hosted St Augustine's with the winner odds on to go on and take out the "first past the post" ISA competition. A lot has been said and written about this game – certainly the Oakhill coaching staff and players had been working towards this match from pre season training onwards.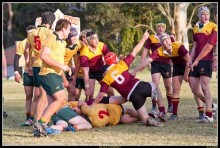 Auggies went in as favourites based on the results they had posted season to date combined with five of their number achieving NSW schools representation. However, it was the boys from Oakhill College who prevailed. The Oakhill lads put on a magnificent 60 minutes of rugby to outshine and out muscle Auggies in every facet of the game. They took their foot off the pedal during the last 10 minutes, however, and Auggies ran in two late tries to make the final score 32-19. It was a high quality game of schoolboy rugby and Oakhill are to be congratulated for executing their game plan so clinically. In other matches St Greg's secured their first victory of the season with a good win over St Pius, Kinross remained undefeated with a good home win over St Pats and Stannies accounted for St Andrews.
Round 5 saw Auggies almost suffer two defeats in two weeks – Stannies put up a spirited performance at home and were leading with 10 to go only to be overhauled via a late try to level the scores and then a penalty on the bell. Greg's continued their winning ways piling on the tries against St Pat's.
Round 6 then saw Kinross do battle with Oakhill with the boys from Orange still having a shot at the title given they remained unbeaten to date with the only blemish on their copy book being the draw against Stannies. The match also doubled as a Waratah Shield fixture so there was a lot to play for. Kinross played an excellent first half of rugby but Oakhill took the game away from them in the 2nd half to record a 46-13 victory. St Greg's pronounced themselves as a genuine rugby school with their third win on the trot, recording a memorable 54 points to 25 victory over Stannies.
And so to the final round (albeit Kinross and Augustine's had yet to play their washed out Rd 3 fixture). Oakhill were on a mission to beat Stannies on the chilly plains of Bathurst and finish the season undefeated. Stannies fought hard through the first half but Oakhill drew away to record a 48-24 win and take the 2012 ISA title.
Kinross defeated St Pius, St Greg's continued their scintillating form with an amazing victory over St Augustine's in a high scoring but close game and St Andrew's recorded the closest of wins over St Pat's with a side line conversion after the bell – read Fitzy's column in the Herald of 18 August for a report of this game that captures all that is wonderful about rugby. St Augustine's subsequently defeated Kinross by 7 points to secure 2nd place on the table with Kinross and St Greg's not far behind.
Conclusion
The ISA 2012 season must rightly be regarded as belonging to Oakhill. The 1994 age group at Oakhill has been laden with talent since year 7 and that talent, ably supported by a handful of year 11 stars and the coaching skills of Andrew Wisemantel & Brian Burke has delivered in spades for the College this year.
Other conclusions that can be drawn include Auggies losing their "invincible" tag – defeats by Oakhill and Greg's and narrow victories over Stannies and Kinross have brought them back to the field after a few stellar seasons.
St Greg's are on the rise! It remains to be seen what sort of focus rugby has at this proud rugby league school but it is to be hoped that those in charge at Greg's see their impressive second half of the season results as evidence they should put more emphasis on developing their rugby program.
Kinross had another fine season where they only lost to the two big Sydney schools but put up impressive performances in both of those games. Stannies and St Pat's suffered more defeats than they would have hoped for – but both schools have good depth and fortunes can change from season to season in school boy rugby. St Pius & St Andrew's don't have depth and with declining player numbers and disappointing results there must be a question mark over their ability to sustain ISA division 1 status.
The Waratah Shield.
Stannies, Oakhill and Auggies all made it to the semi final stage of this prestigious state wide knock out competition. Oakhill and Auggies have progressed to the final to be played on 29 August. The domination of ISA schools in the latter stages of the Shield is a testament to the quality of ISA rugby. Good luck to both teams in the final – if it is played at the same standard as when these two teams last met it will be a cracking game!
Thanks to Andrew Smith for the photos