We thought it appropriate to add some special awards to the main GPS season review.
Although all the players were concerned most about contributing to the performance of their team, we thought there were some that deserved special mention—and there were some special tries scored, and a special game, worthy of comment.
2016 GPS Season Highlights
Player of the Year – Matthew McTaggart (Joeys).
Most Valuable Player – Charlie Jeavons-Fellows (Scots)
Rising Star – Triston Reilly (Joeys)
Match of the Year – Riverview v Joeys , Rd.6
Try of the Year – Dylan Dowling (Joeys) – Newington v Joeys, Rd. 10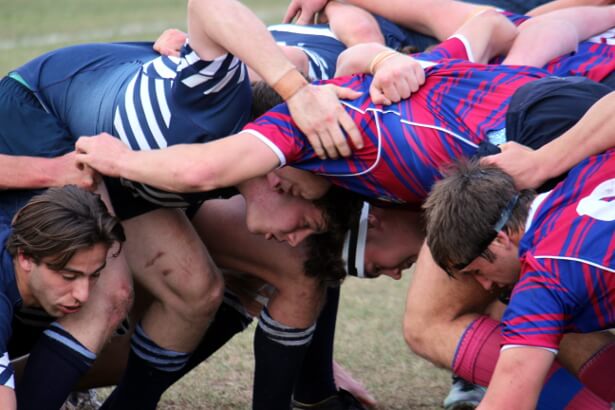 2016 GPS XV – Team of the Year
Here is the Green & Gold Rugby GPS Team of the Year based on play for their school in the 2016 GPS competition, and paying no regard to who was picked for rep. games or even the national teams.
No thought was given to balancing a side for a fictitious rep game; nor was any regard given to how many players were chosen from any school. We considered injured players so long as they played in half of the games.
The selectors were "Armchair Selector" "Azzuri", "Byron Williamson", "Crackerjack", "formerflanker ""Gary Owen III", "Not in straight", "OAUI","Rich_E", and "sidesteppa".
GPS 1st XV
1. Luke Edwards (Shore) *
2. Charlie Jeavons-Fellows (Scots)
3. Opeti Helu (Newington) **
4. Nick Brown (Kings)
5. Rory Suttor (Shore)
6. Charlie Rorke (Riverview)
7. Hugh Green (Scots)
8. Dylan Pietsch (Kings) **
9. Will Haskins (Shore)
10. Nick Wilkinson (Joeys)
11. Oliver Smeallie (Riverview) ***
12. Matthew Orpen (Kings)
13. Yirribi Jaffer-Williams (Joeys)
14. Tom Yassmin (Scots)
15. Matthew McTaggart (Joeys)
Notes:
* Chosen as G&R's 2015 AAGPS "Rising Star"
** Also chosen in G&GR's 2015 Team of the Year
*** Named as either an 11 or 14 in programmes.
---
Player of the year

Matthew McTaggart
McTaggart was the regular flyhalf for the Joeys' Second XV in 2015 but was astutely shifted by the coaches to fullback this year. As a back-three player it took some time to learn how to plot a path to the try-line or a gap, for himself or others, but he was soon able to make his mark. Although the rep selectors were all over him after a few rounds, and he was selected for Aus Schools, he was chosen by Green & Gold solely on how he played for his school.
He made splendid decisions about when and where to be involved and reached top speed as he took the ball. Like all good practitioners at the back he made defenders wait to see what he was going to do, and often that was too late. Nor did defenders always benefit if they knew where he was was going; he would often get through anyway, or his supports would.
There are a few passages of play that feature 15. McTaggart in the video clip of the Match of the Year, below. Watch for him in Colts next year or maybe even trying out for State U20s.
---
Most Valuable Player

Charlie Jeavons-Fellows
by "Crackerjack"
The criteria for this selection focussed on value.  To this end we thought about who would be missed most by his team if he were not available. We didn't mean his team would win if he were there, or lose if he wasn't: just who would be missed the most if he were absent.
The 2016 Scots 1st XV team was devoid of generally recognised "game-breakers".  Scots instead had Charlie Jeavons-Fellows, a hooker who epitomised both the thinking man's 'smart footballer' and an indefatigable workhorse.
"Jev" didn't know how to give less than 100% for the full 70 minutes, in every match. Fearless at the tackle and peerless at reading a game, on-field, he was a front-foot leader by example, making the difference in many tight contests that Scots found themselves in this year.
---
Rising Star

Triston Reilly
Reilly was chosen for this award as the best player who was not selected for major representative teams this year, and is returning to school in 2017.
The inside centre excelled with or without the ball, and had the ideal skill set for the position. His running style, upright and square to the lines across the field, looking ahead, captured the attention of defenders for a step or two..
This allowed his supporting players to prosper from his passes or offloads, though it also helped him to side-step slickly off either foot against stationary opponents. His instinctive backing up was another feature of his trade.
A hint of his skill can be seen, as the player who gave the last pass in the clip of the try of the year – (see below).
---
Try of the year
Dylan Dowling (Joeys) – Newington v Joeys, Rd. 10
Early in the second half Newington was ahead 18-7 and their forwards were playing the bully, but when worthy THP Opeti Helu got the ball on a set-bash play he turned it over. Opensider Paddy Dalton took the pill up for Joeys' as did THP Angus Burns.  Then scrummie, Dylan Dowling, passed it to skipper Nick Wilkinson; thence it went to 6 James Ashhurst on the burst.
Dowling passed from that breakdown to 12 Triston Reilly and he released it to 13 Yiirribi Jaffer-Williams. The centre tip-toed down the the touch line as dainty as a tight-rope walker but got it inside to Reilly, backing up. He veered in and when tackled released the ball, not to the inside runner on the natural angle (Jaffer-Williams backing up), but twisting so he could dish it to Dowling who was on an outside, corner-post, line. Over he went..
What a wonderful try !! But don't believe me have a look at the video clip.
Dylan Dowling try – Newington v Joeys – Round 10

Here is another cracking try. [The blog page may have to be refreshed to see the try segments again in each video clip, otherwise the whole video may be played.]
Hamish Duvall try – Shore v Newington – Round 9

Match of the year.
Riverview 29 — Joeys 32  (Round 6)
by "Crackerjack"
There were some excellent GPS matches in 2016 and some were significant in the final standings. Given that some games were played in unfavourable conditions and others not, the winning of them had to come from different methods.
The Round 6 game between Riverview and Joeys at Lane Cove was the most nominated match, and next was the contest at Bellevue Hill between Scots and Shore, played at the same time. For sheer theatre the Round 10 score-a-thon at Stanmore between Newington and Joeys was nominated, but its acceptability was discounted because there was too much ice cream attack and not enough meat and potatoes defence.
Both teams were trying to get back on their horses: Riverview because they had lost their first game the week before; Joeys because they had won only one match out of five.
The game was played between two physical, willing and evenly-matched teams . It showcased admirable skill, incisive attacking raids, and some rugged defence. Ascendancy ebbed and flowed, as did the scoreline, and both teams had sniffs of taking the chocolates. It was played in a fine spirit in a sometimes deafening schoolboys' atmosphere, with constant tension throughout.
The most dramatic of endings was not the major reason for its candidacy, but it gave it an emphatic exclamation mark.
For a more complete account see the Round 6 blog of games, which includes a report (at the bottom) on the Match of the Year game here
And better still is a 15-minute highlights video, courtesy of "sidesteppa"
Many thanks to "sidesteppa" for devoting much of his spare time to producing weekly videos, and also to "Crackerjack", who helped to put this Special Awards piece together.
Photos by Lee Grant
The main 2016 GPS Wrap-up is here
.