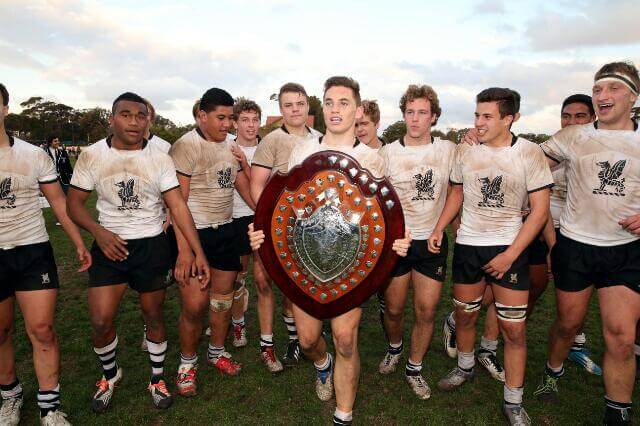 The 2016 NSW GPS Rugby Season kicks off this Saturday and it looks like being the closest in many years.
So what can we expect from each team? How did they go in the trials and who are the players to watch? A group of regular GAGR GPS writers has put each of the 1st XV teams under the microscope to address these and other key questions.
Yours truly also had a crack at predicting where each team will finish. Wow what a tough task that was. As tough as picking a broken nose. It wouldn't surprise if we end up seeing three teams tied for first or second.
Make sure you let me know what you think in the 'Comments' section below.
Plus, "Huly" gives us the good oil on the 3rd XV comp, including who he thinks will win and the players to look out for.
2016 rugby fixtures here
KINGS
by "Azzuri"
Kings look forward to the 2016 season feeling optimistic they will finish several places higher than the 5th spot from 2015. The majority of King's piggies played 50% or more of the 2015 season in the 1st XV and the new lads that have come into the squad have slotted in very nicely.

With nine players returning, Kings will not be short on experience and a top two placing is not beyond them if they deliver on the promise and potential shown in the pre-season. However, it's also well within this team's capacity to be hoisting the silverware at the conclusion of round 10.
Pre-season
Kings preparation for season 2016 has been solid. The undefeated seven match tour of England and Italy in December 2015 helped establish a solid platform and attractive style of play they will attempt to capitalise on.
The side continued with the aggressive and structured style of rugby established on tour in hard fought trails against Cranbrook, Kinross and Scots. The trial against Scots did not go to plan, but showed glimpses of their real abilities, which will only be enhanced by the return from injury of key players like Dylan Peitsch, Rhys Millar and Jack Mann.
Players to watch
Dylan Peitsch – Likely to be Kings MVP this year. A real x-factor back-rower who lights up the field with his powerful, evasive running and ability to read a game.
Nick Brown – hard working, dominant, super fit lock who was a battering ram in a past life.
Jack Mann – is now back to full fitness after a run of injuries and ready to fulfill his potential to be one of the best all round 10's in the GPS.
Rich_E predicts: 1st
RIVERVIEW
by "Byron Williamson"
This year will be all about redemption for Riverview. After a traumatic season last year filled with constant injuries and several heartbreaking losses, the men in Blue and White should be at the forefront of the competition.
With a strong contingent of players returning, both in the forwards and backs, there will be no shortage of experience and leadership within this group to push for a top two finish.
Pre-season
With the GPS moving the Athletics to late term three, Riverview has had a very successful offseason with their new coaches being able to develop the entire squad as a whole with no major absences.
With wins against Scots and Waverley, as well as a runner-up placing in their first attempt at the Scot's 7s comp, Riverview come into round one against their traditional foe, Joeys, at full steam.
Players to watch
Will Terry – ditching summer sport to focus on Rugby has brought many rewards, including increased size and speed. He'll look to lead from the front.
Michael Fenn – a destructive ball runner with a knack for crafty offloads who will look to work with Terry as the best one-two punch in the competition.
Charlie Rorke – was only in Year 10 last season and his growing maturity and size will help serve Riverview's game plan and cause problems for all opponents.
Rich_E predicts: 2nd
SCOTS
by "Rich_E"
Six players return from last year's joint premiership winning team and some talented players have joined the squad from the 2015 2nd XV and 16As.
Scots will field a very competitive outfit each week and, on their day, have the potential to beat all opponents this GPS season. But a fourth straight premiership would be considered an extraordinary achievement.

They have a strong and abrasive pack, size and speed in the backs, very astute coaches (in Brian Smith and Ed Brenac), a winning culture and a knack of wearing teams down as the match progresses.
Pre-season
Scots had an encouraging pre-season overall. They started with a loss to Riverview (12 – 24) before heading to NZ, where they lost to Kings College Auckland (12 – 19) but beat Palmerston North Boys High (38 – 5) and Christchurch Boys High (22 – 21).
Last weekend, at Parramatta, Kings were on top in the first half and scored two unconverted tries (with one of them while a Scots player was in the sin-bin). Scots then dominated possession in the second half and scored 17 unanswered points to win 17 – 10.
Players to watch
Charlie Jeavons Fellows (hooker) – a very good ball carrier, a tenacious defender and very hard on the ball.
Archie Gavin (backrow and midfield) – Tim Gavin's son. A strong all-round player, a great competitor and plays with plenty of enthusiasm.
George Miller (flanker) – a tough player who loves the contact area and has a huge appetite for work.
Rich_E predicts: 3rd
ST JOSEPHS
by "Lee Grant"
As usual, Joeys will win more competitions in the GPS rugby than any other team, by some margin. But, as has been the case for some years, the 1st XV competition will mostly likely be won by another school.

Joeys were third in the 2015 1st XV competition and won just about everything else. They have only three regular 1st XV players returning. It would have been four, but the excellent Blaise Barnes was seriously injured in the first trial.
Pre-season
Their trial form was sound beating Marist (Canberra) and Barker; but was dominant in denying a try to recent CAS heavyweights, Knox, last Saturday.
Joeys will present a pack of blue-heeler forwards, who are manic, tough as nails, and quick to the breakdown—and backs who can shift the ball wide to talented outside men who make good decisions at the margin.
They will be well-coached in the basics and will never give up. However, they lack size upfront compared to some other units and will use mobility to negate that. It did not affect them in scrummaging since they bossed Knox in that element, but their lineout throwing needed improvement.
Players to watch
Nick Wilkinson (flyhalf) – a ringmaster who can run to keep lazy defenders honest.
Miti Tuinakauvadra (No.8) – a human bowling ball, though lacking ball retention at present.
Yirrbri Jaffer-Williams (outside centre) – who is thriving moving in from the wing.
Rich_E predicts: 4th
NEWINGTON
by "Rich_E" (with help from "Gary Owen III")
The 2015 joint-premiers have plenty of reasons to be confident going into season 2016. A large number of returning players with 1st XV experience covering the spine of the side could see Newington go back to back in 2016. But they will know only too well the pitfalls of defending a premiership, as 2014 showed.

Perhaps the biggest hurdle to their season could be covering for the loss of injured play-maker Bailey Kuenzle for the first few rounds. He is very much the general of this side and will be hard to replace. Plus, pre-season form has been inconsistent and they will need to develop more cohesion to be in with a shot in the later stages.
Pre-season
Newington started a pre-season, which has gone somewhat under the radar, with a home win against Waverley 29 – 17. This was followed up by a Japan Tour, in which they won all four matches by a variety of margins.
Last Saturday, they beat Oakhill 45 – 19 in a match that apparently they played brilliantly in patches and inconsistently in others. The backs turned in a performance packed with power, pace and skill, but will look to improve on their ball control and breakdown discipline.
Players to watch
Opeti Helu – a big unit and potentially one of the more dominant props this season, who will also bend the defensive line will ball in hand.
Tyrone Taukamo – has moved closer to the action in the centres and has the size and speed to make plenty of yards up the middle, whilst dragging in other defenders.
Bailey Simmonson – a speedster with a great step, does his best work at fullback with room to move and can also defend well.
Rich_E predicts: 5th (but has a strong feeling he could eat his hat)
SHORE
by "Gary Owen III"
After a tough 2015 campaign, which only yielded a solitary pre-season win, the Shore boys will be searching for a much improved 2016 season.
With a large contingent of returning 1st XV players, they will certainly have the experience to give the 2016 competition a mighty shake. They will take a few unexpected scalps and are not to be dismissed in this year's competition.
Luke Edwards, Rory Suttor and Robin Allen will lead the Shore pack and provide the platform for the midfield of Will Haskins and Max Sinclair. Out wide is where Shore should excel with Luke Rixon, Ed Gregory and Hamish Sheehan all having speed to burn.
Pre-season
A solid pre-season has seen Shore already eclipse their 2015 wins record. An early hit-out at the Grammar 10's saw Shore win three from four of the shortened games, as they warmed into rugby again.
Shore then went on to win trials against Trinity (19-5), Stannies (19-7), Cranbrook (28-0) and Barker (48-7). Some patches of brilliance showed the potential of this side, whilst still showing the ability to win when not performing at their best.
Players to watch
Rory Suttor will be rock of the Shore pack. Expect him to make many breaks with his strong charges.
Will Haskins at halfback should be able to reproduce his 2015 form that saw him make Combined States and feed the potent Shore backline.
Luke Rixon is the fastest in the GPS and will provide some electricity to the Shore attack.
Rich_E predicts: 6th
3RD XV COMPETETITION
by "Huly"
The 3rd XV competition is arguably one of the more enjoyable to watch with exciting and unpredictable rugby a constant feature.
Since the revised format for the 3rd XV comp started in 2012, Sydney Grammar School have always been one of the competition front-runners, and this looks to be the case this year as well. Grammar play with plenty of flair, and spread the ball from sideline to sideline with ease. With a strong back row and a dynamic centre-field pairing, Grammar should have no problem attacking from all ends of the field.
Joeys will look to continue their undefeated streak from 2015 with an 'in your face' style of rugby. Along with Scots, who always play expansive, running rugby, Joeys are the only 3rd XV side that remains firm contenders for the pennant in 2016.
TAS play an old school, hard-nosed style of rugby that can test most opposition. With a big, strong forward pack capable of bending the line and speedsters out wide, Armidale should be strong, but whether they will finish as well as previous seasons remains to be seen.
Sydney Boys' High School don't look to be short on talent, but may struggle as a result of inexperience and a lack of depth. High may come away with the odd win, but one would be brave to suggest that High are contenders for this years competition.
Predicted Top 3: Grammar, Joeys, TAS
Players to watch: Alec Sheldon (Grammar), Jacob Katafono (High), Edward Pitt (TAS)