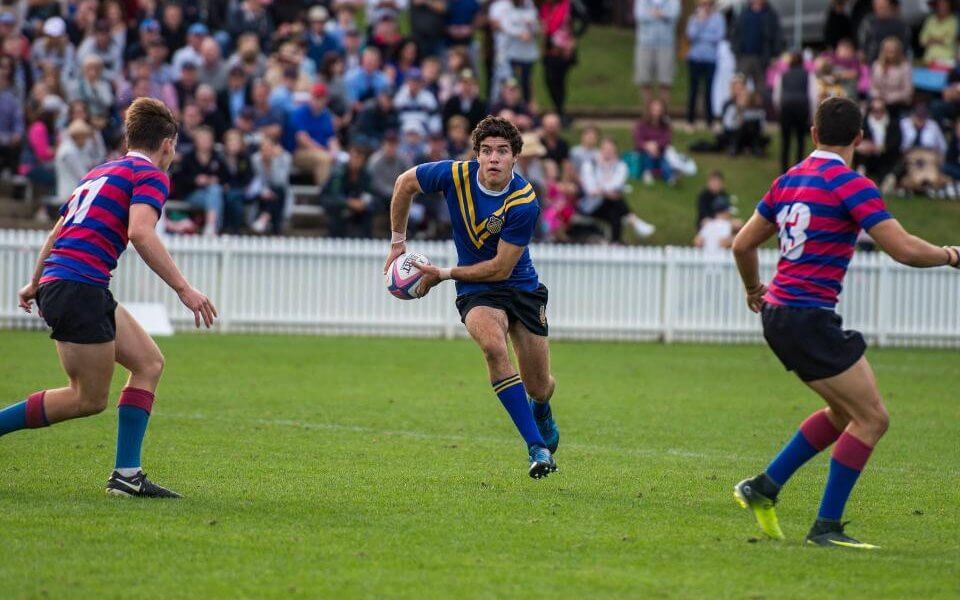 We thought it appropriate to add some special awards to the main CAS Season Review.
Although all players were concerned most about contributing to the performance of their team, we thought there were lads who deserved special mention.
---
Player of the Year: Ben Donaldson (Waverley College)
Most Valuable Player: Finn Wright (Waverley College)
Rising Star: Billy Pollard (Barker College)
Match of the Year: Barker vs Waverley – Round 3 (22/7/2017)
We must also make special mention to the CAS 1st XV coaching group of Scott Coleman (Waverley), David Telfer (Aloysius) and Andrew Cleverly (Cranbrook) for orchestrating one of the great CAS games in history. That win enabled so many CAS players the chance to make higher representative rugby.
---
Here is the team of the year based on play for their school in the 2017 CAS competition, paying no regard to who was picked for rep games or even national teams.
No thought was given to balancing the side for a fictitious rep game; nor was any regard given to how many players were chosen from any school.
Selectors were: "William 88", "Waratahstowin", "Rod Skellet", "up_the_guts", "WLF" and Sidelineview".
1. Max Cutrone (Knox Grammar)
2. Simon Rahme (St Aloysius)
3. Finn Wright (Waverley College)
4. Harry Flaherty (Barker College)
5. Nick Frost (Knox Grammar)
6. Luke Reimer (Barker College)
7. Matt Stead (Trinity Grammar)
8. Luca Moretti (Waverley College)
9. Marco Bell (Waverley College)
10. Ben Donaldson (C) (Waverley College)
11. Will Lloyd (Barker College)
12. Brooklyn Hardaker (Waverley College)
13. Lachlan Ilias (Trinity Grammer)
14. Byron Hollingsworth-Dessent (Trinity Grammar)
15. Mike Pavlakis (Knox Grammar)
---
BEN DONALDSON (WAVERLEY COLLEGE)
Ben Donaldson played as the regular flyhalf for Waverley College in their premiership winning (shared) 2016 season.
While he made CAS reserves in 2016, he catapulted himself into the Australian Schoolboys side after a dazzling year for Waverley in 2017.
He came into national selection after an incredible performance against St Joseph's College in a trial game in May and continued to grow from there.
His calm nature, his kicking under pressure and his knowledge of when to run and when to pass made him the most dangerous weapon in Waverley's considerable arsenal this year.
Australian Rugby is desperately looking for a flyhalf for the future. This could be the man for the job.
With another off season of hard work, we hope to see him playing colts and u20s rugby next season.
---
FINN WRIGHT (WAVERLEY COLLEGE)
The 2017 Waverley first XV team was filled with some pretty talented footballers. But none more so than the Tight Head prop Finn Wright.
In his third year of playing 1st XV rugby, he was one of the keys behind their forward domination.
He was powerful in the set piece and had transitioned away from a rugby player that last year was almost always off the field with a yellow card, to a player that received none in 2017.
His natural aggression, great scrummaging and all round ball play made him a joy to watch and Green and Gold's 2017 CAS Most Valuable Player.
---
BILLY POLLARD (BARKER COLLEGE)
Billy Pollard is in year 10 and soon established himself in the eyes of coaches Hargreaves and Whitacker as 1st XV material.
With a bollocking frame, wonderful hands and a 'no compromise no fear attitude", he was just the man to assist Luke Reimer in putting the starch back into the Barker pack.
Starting off as number 6 in the trials due to injury to Northcote, Billy proved his worth being a brick wall in defence and a revelation with ball in hand.
His great work earned him representative status being selected in the CAS 2nds and eventually in the NSW U16's starting XV.
With Flaherty, Northcote, Reimer & Dring forming an imposing back row, Billy switched to hooker, during the CAS rounds.
Combining with Melchoir and Chalmers, Barkers front row was never bested, and was without doubt the most mobile in the comp.
With two more years of 1st XV rugby in front of him, Pollard (like Waverley's Wright) will ensure Barkers pack is a force to be reckoned with.
---
BARKER V WAVERLEY – ROUND 3 (22/7/2017)
The match of the year came when Waverley travelled to Barker in the first round back from the holidays.
Both schools were missing key players from their starting teams, but the arm wrestle put on show was one of the most memorable games of schoolboy rugby in recent years.
Players not only put their bodies on the line, they all played for a full 70 minutes.
Green and Gold's own Rod Skellet named all 30 players on the field as the men of the match, and they were all deeply deserving of that after a game that all who were lucky to watch, will remember forever.