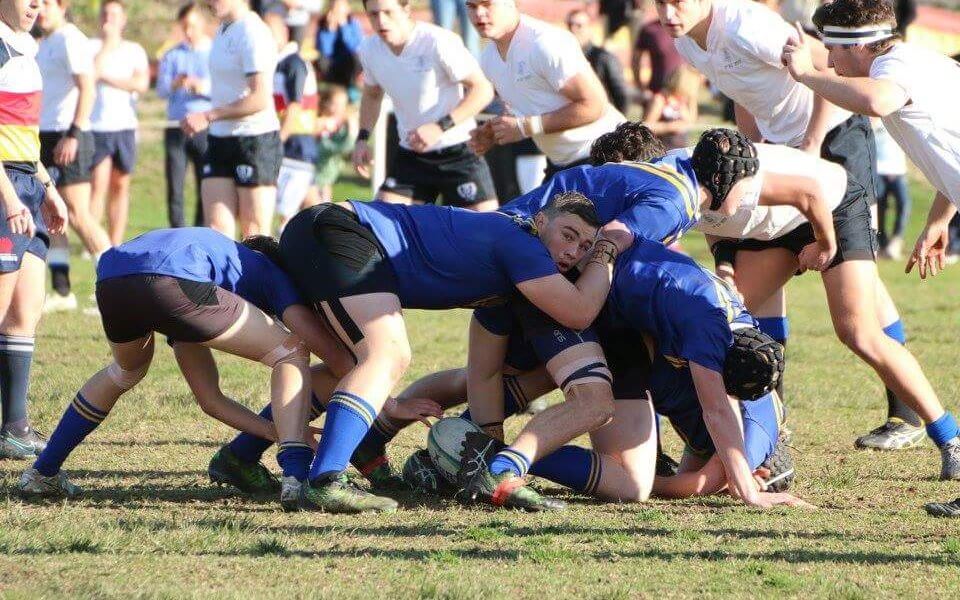 The 2017 CAS season saw some cracking games, big defeats and everything in between.
A group of regular CAS writers run through the key season highlights and how each team performed. They also make a bold prediction for season 2018.
A separate report has been prepared that contains the Special Awards.
---
By "William88"
2017 saw the CAS rugby competition change back to a five week structure.
While the competition embraces the change there was a continuation of some of the disparities of strength between schools we have seen in previous years.
Knox, Waverley and Barker continued to put massive score lines on their weaker opposition. Trinity and Aloysius again fought for 4th place. And Cranbrook had to spend the year with uncontested scrums and some big scorelines against them.
The chance for CAS schools to compete against the GPS schools allowed the stronger schools like Waverley and Knox to thrive.
Waverley especially put in some incredible efforts, taking out St Joseph's College by 47 – 21 at Hunters Hill the highlight.
This also had an impact on the CAS vs GPS rep games. Seeing the CAS 1st XV not only win (for the first time since 2009) but keep a fancied GPS side to Nil for the first time since 1974 was one of the highlights of the CAS program this year.
The CAS competition also produced a total of 22 representative players that played in the Australian school championships (including late call ups) The most for a number of years.
It also produced five Australian Schoolboys and two Australian Barbarian representatives. With some other players also involved with the training squad for a potential call up to the Australian team, it has been an excellent year for the quality of players produced by the competition.
Waverley went through the competition as undefeated premiers, playing a style of rugby that made them one of the best schoolboy rugby teams in the country. Rightfully earned they also take out a number of our Special Awards as a result.
Congratulations to all players, coaches and parents from all schools for their efforts and enjoyment of a strong competition.
With the 2017 season now closed, some questions remain for 2018. What will be the structure of the competition? How will the 2017 representative players go next year? And who are favourites for 2018?
Our early prediction for 2018: Barker College.
---
By "WLF"
Following the success of 2016, it is understandably normal to hold reasonable expectations for the new crop for 2017, but also realistically, to still be a bit reserved.
Internally, there was a degree of confidence, but a lot was always going to depend on the player/team bonding and the coaching prowess.
As we all know now, what unleashed this year was a very special blend of self/team/coaching belief, combined with extraordinary football skill that resulted in one of the schools best ever teams and results.
In terms of results, rarely does any school post 50+ points on the majority of quality schools they play, including most of the powerful Sydney GPS schools, three NZ schools and most CAS schools. This team did that!
This team played RUNNING RUGBY akin to the good old days of the Wallabies with the Ella Bros, classic Randwick rugby.
At times it was risky. But when it all worked it was, as many believe, the best rugby you will ever see (ie school boy rugby).
What is also often over looked is DEFENCE, and this team also had that toughness in spades!
The three most important elements that this team had was:
1. Two brilliant coaches in Scott Coleman and Paul Cornish.
2. A team that had the extraordinary ability to put three to four tries on in 10-15 minutes and end a game.
3. As importantly as point 1, a self-belief as a team, with tremendous depth as a squad, that made them push through the tough times and win the important moments, as one unit.
Ultimately, this special team was rewarded with numerous representative honours. They know who they are, and well deserved.
On the flip side, there were several who also did not represent, more than likely because one team can't get everyone in a rep side. These players were the glue on many occasions who made this great machine HUMMM. They also know who they are, and we do to.
A pleasure to watch – the 2017 CHAMPIONS.
Their team photo now goes up on the special wall in the school pavilion for ever more!
Thank you Scott, Paul and Waves young men of 2017.
---
By Rod Skellet
Barker Rugby came storming back in 2017 finishing the CAS competition in outright second to a Waverley side that is arguably the best schoolboy side in Australia.
Coaches Hargreaves and Whittaker need to be commended on the rebuilding over the past two years, culminating in a team that just got better as the season progressed.
Playing a style of rugby that is a pleasure to watch, Barker, with a big strong and highly technical forward pack led by Chalmers, Reimer, Northcote and Flaherty, combined with a backline that had size in Captain Will Harding and speed with Will Lloyd and Van Woerkom, to be very competitive.
Rep selections flowed, with Tejcek, Reimer and Lloyd all playing in the NSW 1sts in the penultimate game of the national Schoolboys comp against Qld1's, with Lloyd being rewarded with selection in the Australian Barbarians side.
The one point loss at home to Waverley in the game of the season, only inspired the Barker lads the following week when taking on the traditional rivals Knox to their most satisfying win of the year.
With ten of the starting 1st XV returning next year and with the Barker 2nd XV and 16As having good seasons, there is no doubt many will be selecting Barker to be pre-season favourites for 2018.
---
By "Waratahstowin"
Knox Rugby had a very successful season in many respects.
The unfortunate losses in the last two games of the season were a disappointing way to finish the year, however as a whole, the season included many highlights of which the boys and coaches can be proud.
After a very successful New Zealand tour, the boys shaped-up against GPS goliaths, Riverview in the first game of the experimental trial rounds.
In front of a massive home crowd on Knox Gala day, Knox defeated Riverview and sent a message to both GPS and CAS competitions that they were a quality team.
Knox then followed this up with another dominant win against Kings the following weekend.
Knox 2017 were playing a very structured game of forward dominance in the lineout and maul, followed by sweeping ball to the outside backs who would make metres around the edges.
They were a '2nd-half' team that started games poorly, making many errors and losing possession to often provide their opponents with a lead at half-time.
They would then settle-down and play brilliant rugby in the 2nd half to win the game. It was almost like two different teams playing the one game.
Unfortunately, the dream was broken with difficult and hard-fought losses to Joeys, Scots and Newington.
Similarly, in the CAS competition, Knox secured exciting wins at the start of the competition, against Trinity, Cranbrook and Aloysius.
The turning point was the unexpected loss against Barker at home.
Despite this loss, Knox had their chance to secure a joint premiership in the last game against Waverley – however, it was not to be.
Many unsung heroes stood-up this year including Hansen, Galetta, Harvison, Garing, Collins, Humphrey and Stenning.
The team also enjoyed strong representation at higher levels with many players honoured with CAS, NSW and Australian Schoolboys selection.
The team, including Coach Tai Glassie and Director of Rugby Matt Williams, can be proud of the 2017 season, including significant highs, coupled with a few lows.
Throughout, they have demonstrated exceptional sportsmanship and humility, coupled with some great entertaining rugby.
---
By "Snort"
Trinity will be quietly satisfied with its season.
It beat the teams it should have beaten (Cranbrook and St Aloysius), fought hard against Waverley and gave Barker and Knox a real scare. Given the school's limited Rugby resources, that was a commendable effort.
Lack of depth is Trinity's perennial problem, illustrated this year when injury to the excellent Lachlan Ilias prompted the coaches to shift NSW 2nds backrower Matt Stead to inside centre.
Stead did his job well, but it was a shame because at full strength Trinity had a backline to compete with anyone.
Chambers (9) made dangerous sniping runs, while Edmed (10) organised well and kicked reliably.
Ilias and Payne were elusive with the ball in hand. And wing Byron Hollingworth-Dessent was not only the quickest in the competition, but powerful with it: he could score from anywhere.
But the combination didn't survive the injury to Ilias, and while it lasted the forwards never really showed the authority to provide their backs with the good quality ball they needed.
It would have been interesting to see what the side might have achieved with just a little more grunt up front.
Best players: Matt Stead, Lachlan Ilias and Byron Hollingworth-Dessent
---
By "William88"
Coming off some promising trial rounds, there was hope for this young Aloys 1st XV. However, they will be disappointed with the CAS season they have produced.
They faced the top three teams in the first three rounds, and bar the first half against Waverley, they were never really able to challenge these teams.
They weren't able to cope with the physicality and line speed that Barker and Waverley threw at them, and Knox tore them apart in broken play using sheer pace to trounce them.
The season looked as if it would finish on a high when Aloys produced a near perfect game against Cranbrook, offloading and out sprinting their way to a comprehensive 45 – 7 victory in the second last round of the competition.
But it was not to be. They were defeated in a gruelling game against Trinity, whom they had thumped in the invitational rounds, to cap off a poor season for the Aloys team.
There was, nevertheless, enough of a spark this season to suggest Aloys will be a force to be reckoned with next season.
Di-Sano at 9, Pollack at 10 and Westbury at 15 looks to be a winning combination, and with strong ball runners like Alex Rahme, Zac Ienco and Luke Ryan in the Aloys forward pack, Aloys rugby looks in good hands for next season.
Best Players:
Max Brennan (5/6) – A workhorse of the team. No man works harder on the field than Max. Whether it be stealing lineouts or making tackles, Max had a great season and is a promising player for next year.
Pat Flaherty (12) – His presence at inside centre is hard to replicate, never missing a tackle and always requiring two to three players to bring him down. He will be missed next season.
Simon Rahme (2) – He dominated the set piece all year, and along with his hard ball running, earned himself NSW selection. A leader on and off the field, he too will be missed next season.
---
By "Snort"
This was always going to be a hard winter for Cranbrook.
The age group that hit the Open division in 2017 had never been a strong one, and last year's Under 16s were conspicuously weak.
There's no need to read in to this a terminal decline of Cranbrook Rugby: it's one of those things that happens in a fairly small school.
This year, Cranbrook's depth was stretched so badly that its last couple of games were played with uncontested scrums.
The team leaked 250 points in five games, managing only 38 of its own.
In the circumstances, the coaches decided to ride out the season as best they could and (for the most part) resisted the temptation to promote players from the very competitive under 16 group.
The exception was tiny Year 10 scrum half Tas Smith, whose consistent determination in a hopeless cause was rewarded with tries in the last two games.
Always the smallest player on any field, he was the brightest spot in a bleak year.
Captain and fly half Finn Stenmark played consistently well behind a pack going nowhere and the whole side did well to maintain its enthusiasm through a most difficult year.
Best players: Finn Stenmark, Tas Smith and Jake Broekhuisen
---