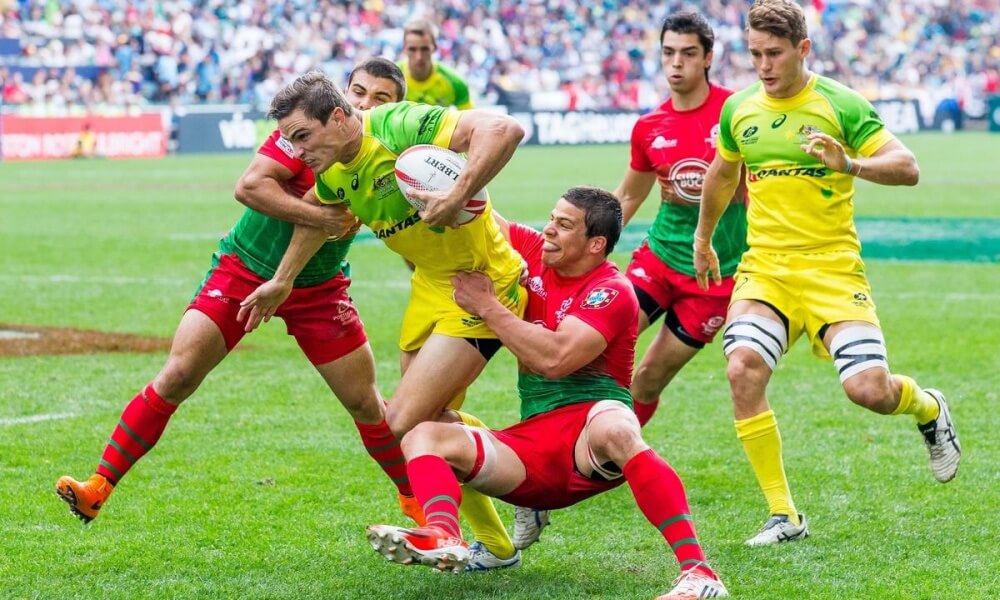 AUSTRALIA 22 DEFEATED SAMOA 19
HONG KONG – The Australian Rugby Sevens team have kicked off to a winning start at the 2017 Hong Kong Sevens, edging Pool A rivals Samoa 22-19 in the first game of the tournament.
Opening the first half with a try to Henry Hutchison and closing with another to Boyd Killingworth, Australia entered the break with a narrow 10-7 lead over a Samoan team enjoying a Rugby renaissance after years in the wilderness.
Australia quickly added their third and fourth tries for the game in the second half before conceding two in return with the result already secured.
Head coach Andy Friend said navigating the Samoan challenge was evidence that Australia had come to play in 2017.
"We haven't won in Hong Kong for 30 years so Australia is always wanting to compete in the Gold Medal play-off," Friend said. "We got to the Semi-Final last year but this year we want to go one-better."
"That was always going to be a tough game against Samoa but we're really pleased to have that win; it's a sign that our preparation has been right.
"We knew that Samoa were going to throw a lot at us and we spoke about how our defence would win us that game. I thought on the whole we were very clinical there.
"With the footy, we probably had a few chances we could have put away, but I liked the way we didn't give them space. At the end they scored two tries but in my eyes the game was already won," Friend said.
Australia's defence nullified an early Samoan charge to open the door for Henry Hutchison who promptly slammed it shut with a tightrope sprint down the right wing in the 3rd minute.
Samoa rode the referee's whistle upfield with consecutive penalties before unleashing a set piece move that sent Samoa Toloa over on the right. Tila Mealoi converted to take the 7-5 lead in the 6th minute.
Australia maintained possession to close the half in the face of physical Samoan defence.
The weight of possession eventually told as James Standard fired out a pass under pressure to find Boyd Killingworth for Australia's second try on half-time.
Australia kept the blowtorch firing as a sensational skip-pass from John Porch sent Hutchison over for his second early in the second stanza.
Porch was soon back, cleaning up the scraps from an awry Ed Jenkins offload inside the 22m to extend the lead to a comfortable 22-7 following James Stannard's difficult conversion.
A high tackle on the Australian 5m line allowed Samoa's Lafaele Va'a space to goose-step out of an essential tackle to dot down, brining Samoa back within 10-pts as time wound to zero.
With time for one last crack, Samoa spread wide to a flying Gordon Langkilde to cut Australia's winning margin to three with a successful conversion.
Australia will next take on South Korea and England in remaining Pool A games tomorrow.
With a key win already under their belt, a win over South Korea will guarantee a Cup Quarter-Final berth.