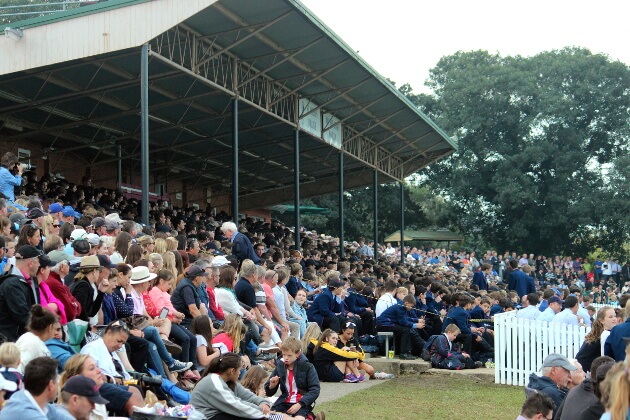 The 2017 GPS rugby competition gets underway this Saturday and it looks like being another close one.
The two round comp of recent years has been replaced with one round of five matches. This revised format follows an extended series of trials, which included some good wins and big losses against various CAS schools.
Pre-season form indicates at least three teams have a serious chance of winning the 'School Challenge Trophy' and a tied premiership is a distinct possibility.
A group of GPS writers takes a look at how each of the teams has been travelling, players to watch and other key insights. Yours truly also predicts how the ladder might look after the final whistle is blown.
2017 rugby fixtures here
SHORE
By "for_shore"
Shore's pre-season results say a lot about their prospects for the 'business end of the season'. They have struggled against the top ranked teams and could lose a few of their matches by a decent margin.
But their trial win against Newington shows they should not be written off by anyone and may end up one spot higher than their 6th place finish in 2016. Wouldn't the Green and Gold forums erupt if that happened?
In the fowards, they have two standouts. Luke Edwards (1) who is in his third year in the 1sts and leads from the front, and Ed Collard (normally a 2, but has played some 7) has been one of Shore's best so far.
In the backs, the largest 10 in the comp, Max Sinclair, creates havoc with opposition defence and guides his team around the park proficiently. And up the back, Blake Rixon (15) is super quick and is likely to cross for a few five-pointers.
But regardless of the number on their back, you can expect all players to give 120% and do themselves, their families and their school proud. Let's hope they inspire lots of younger Shoremen to stick with (or take-up) rugby so that Shore can once again be a top-ranked GPS rugby school.
Players to watch: 1. Ed Collard (2), 2. Luke Edwards (1), 3. Max Sinclair (10)
"Rich_E" predicts: 6th
RIVERVIEW
By "Short Ball"
Riverview are likely to be facing a development year this season. With four 1st XV players returning from 2016 – two of which are in year 11- it is an opportunity to work with the young players coming into the opens system.
Riverview sent two touring teams to the USA in the Term 1 holidays, which proved to be successful, remaining undefeated in all three matches.
However, Riverview has been disappointing in the trials, despite showing glimpses of form over the past two weeks. Additionally, injuries have been a significant challenge, having fielded a different 1st XV every week.
Riverview's strength is both in the mobility of their loose forwards and the ability of their outside backs. Getting dragged into a dirty forwards game will be their detriment and instead will look to utilise their strong outside backs who have speed to burn.
Riverview are certainly underdogs this year, but have shown at times that they can compete with anyone on their day. A premiership could be a tough call, but a big scalp is on the cards, and they should be able to secure third or fourth place on the ladder.
Players to watch: 1. Charlie Rorke (6), 2. Dominic Easy (10), 3. Angus Bell (13)
"Rich_E" predicts: 5th
NEWINGTON
By "Quick Hands"
2017 sees a very different Newington team taking the field for the AAGPS rugby competition, with only two or three boys still at school from the 2016 side.
The trials were a mixed bag, with wins over Kinross, Oakhill, Knox and Riverview followed by losses to Waverley, Shore and Kings.
The Newington 1st XV have a smaller pack than in recent years, although they can still execute forward-based pick and go style play with great efficiency. The backs have some speed and again are smaller than the Newington backlines of recent years.

Trial form would suggest that while they have some incisive backs who can break the line and score tries, their strength is still through the forwards.
There is no doubt that they will miss second rower Angus Duvall, who suffered a season-ending injury in the Oakhill trial. His strong running and leadership will be difficult to replace.
Whilst they could probably beat any team on their day, a mid-table finish is the most likely eventuality for Newington 2017.
Players to watch: 1. Rory Lynch (8), 2. Damon Foley (5), 3. Saul Lewis (12)
"Rich_E" predicts: 4th
SCOTS
By "Rich_E"
Scots have won the last four premierships – outright or jointly – and have another good side this year.
After completing an undefeated tour of New Zealand, they beat Riverview and Shore comprehensively and recorded a hard fought victory against Knox, but lost narrowly to Joeys and Kings.
Scots are a well-balanced team, have astute coaches with a proven track record, and have good depth.

They have a mobile forward pack who should more than hold their own and are lead, upfront, by Darcy Breen (3) and young lock Jeremy Williams (4). Their No.8, Will Harris, is very athletic and Brett Wellington has made an impressive transition from centre to 6.
Scots backs are fast and physical and have shown they can score from anywhere on the park. Billy Smith runs the show from 13 and makes or creates a break with most touches. They also have some prolific finishers, including Tom Yassmin (14) and Ben Baker (15).
They have the potential to make it five in a row if they play to the best of their ability. But they will have to lift from their form in the trials, starting this Saturday in Round 1 against Joeys at Hunters Hill.
Players to watch: 1. Darcy Breen (3), 2. Jeremy Williams (4), 3. Billy Smith (13)
"Rich_E" predicts: 3rd
ST JOSEPHS
By "Armchair Selector"
2017 commemorates the 10th anniversary of their last inscription on the AAGPS School Challenge trophy. Are they due? With five returning to the Firsts from 2016; Dalton, Dowling, Edstein-Boyes, Reilly and Yates, they are well in the mix to improve on last year's 4th.
Convincing wins against Scots, Shore, Knox and Riverview have set the platform. The notable blemish, a loss against an impressive Waverley.

Joeys have a depth of talent in the opens. Depth they have called upon frequently in the trials. Their strongest lineup was against Scots with only Paddy Dalton missing injured. Since then, injury has seen up to six starting players out for a game.
'Team rehab' may be a factor for the competition. Thankfully, all players are expected to be back fit for Round 1 against Scots.
The Joeys forward pack are well drilled, mobile and fit. They are dangerous at the breakdown and dominant in their set piece.
Their backs, whilst lacking size have been punishing in defence and quick to capitalise on opposition errors in attack. Look out for the U16 backline young guns; Nick Chan and Dan O'Brien.
Players to watch: 1. Triston Reilly (13), 2. Tom Eveleigh (12), 3. John Yates (5)
"Rich_E" predicts: 2nd
KINGS
By "Mike Wazowski"
Kings have a strong side this year and their pre-season form has been impressive. They won all four trials against GPS opposition – Shore, View, Scots and Newington. They also beat Kinross, Canberra Grammar and Waverley, but lost to Knox.
Kings have a powerful tight five, which includes 2016 1st XV regulars Mac Williams (4) and Dougal Hicks (1). They also have a classy back row, lead by Charlie Brown (7) who plays hard over the ball and hits even harder in defence.

Kings launch a lot of their attack up the middle, using their bigger forwards and centres. And they put lots of pressure on their opponents through impressive line speed and the accurate boot of Matt Minogue (10), in general play and from the kicking tee.
They also have plenty of pace out wide. Keep an eye out for Johnny Connolly (15). He's a great ball runner and defender.
Kings have had their fair share of injuries with 11 out at one stage, from their 1sts and 2nds. But they are expected to be at close to full strength for the start of the competition.
Players to watch: 1. Matt Minogue (10), 2. Charlie Brown (7), 3. Johnny Connolly (15)
"Rich_E" predicts: 1st