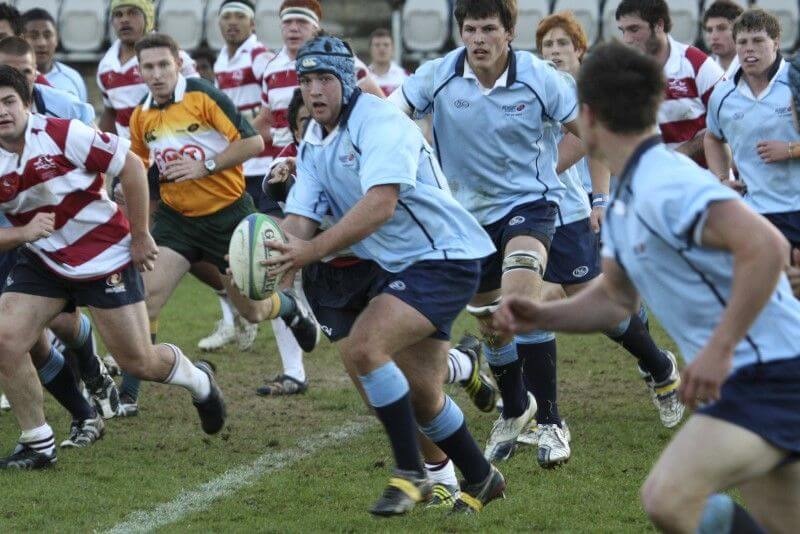 I Love Rugby 24-7 – yep, that's their username – has very kindly written a match-by-match review of the 2017 NSW Schools Rugby Championship. The tournament was hosted by Knox Grammar at the famed Carugul Oval in North Turramurra. It took place on Friday 23 June.
---
Knox Grammer very kindly hosted the 2017 NSW Secondary Schools State CHampiosnships on 23rd June 2017. It's a good venue and rugby community atmosphere at Carugul Oval. A light Southerly blew a cool breeze across the oval. However, with the best schoolboy rugby players on show, things out on the field were about to heat-up!
The first game of the State Carnival kicked off on time at 10.00am.
AICES Vs ISA II
The game started with both forwards packs badly fumbling ball and showing poor handling skils. Neither of the backlines were passing or running smoothly
Possession was shared, howeer it was proving to be a messy game of errors by both teams. Despite this ISA managed to scamble for several tries – many aginst the run of play.
26-7 half time
The 2nd half continued to be a very dour game with too many handling errors by both teams. AICES in particular would have been disappointed with their performance. It wasn't that ISA II were playing particularly well, they were just making fewer mistakes and putting together 3-4 phases, instead of 1-2.
Ultimately, ISA II won this game by having fewer errors and managing to string together more phases through both the forward and backs.
Final score ISA def AICES 46-7
Players of note:
ISA – 8 Manu and 15 Yool yool
AICES – 13 Fox
CAS II Vs CCC
CAS II started hesitantly with their forwards making several handling errors. CCC scored first with a barging direct run from their 13.
However, CCC did not look like scoring for the rest of the game. The CAS II backline defense was rock solid. They also looked very impressive with ball in hand – Their 10 Woodcock spinning it wide through the hands and making good metres at will. CAS started to pile-on the points. Their backline structure in both defence and attack was very controlled and well disciplined. Possibly best backline at the carnival.
CCC forwards were doing some spirited work and disrupting the CAS II forward pack. CAS II forward must have handed-over 50% possession in the 2nd half.
I rate this CAS team as 2nd or 3rd best team in this comp.
Final score: CAS II 40 def CCC 7
CAS I Vs ISA I
CAS I were penalised heavily in 1st half and couldn't possession. The error rate was very high and this loked like a very different team to the one that beat GPS and kept them scoreless on Tuesday night.
CAS backline was not working well at all, and combination of poor passes and knock-ons kept ISA well in the hunt for most of the first half. ISA I forward were playing better than CAS.
The ISA backs were also sending it wide, running freely and making metres around the edges. They were looking much more confident than CAS backs.
Halftime 7-7 all
The only Yellow card of the day was given to Finn Wright from CAS for an fairly innocuous off-side play.
CAS finally managed to retain possession and ran in 2 tries.
CAS's momentum swung with ISA dropping off in defence and perhaps looking a little less fit. This also coincided with CAS running on their reserves.
Overall I would say that CAS forward pack slightly outclassed ISA. However, ISA backs looked stronger and more dangerous than CAS with ball in hand. This was a surprise.
CAS I 28 def ISA I 7
GPS II VS CHS II
Another game full of handling errors. There were a lot of nervous boys out there today.
19-12 to GPS II at half time. However, CHSII were putting in a real show.
The CHS boys look 'hard' and at times flashy,but technically a bit loose. GPS continued to struggle putting phases together.
GPS succeeded in swinging it wide in 2nd half and making good metres.
CHS fitness started to tell. CHS were very unstructured, but didn't give up a good fight.
After a huge tackle by GPS on the huge CHS 3 – driving him back from the line GPS try line, CHS crossed for a 4th consolation try. A feisty effort by CHS II against th better drilled GPS team.
Final score GPS II 45 def CHS II 22
GPS I VS CHS I
GPS scored early from fast hands and the GPS winger scoring in the corner.
CHS quickly fought back with a great try to 12 Joey Walton.
CHS were then leading 5-7 for 15 minutes and had the smell of blood. Their spirits lifted.
The GPS backs were being overly selfish and then often dropping ball.
Finally, GPS managed to run straight and score under the posts. The GPS conversion attempt was charged down by CHS 11 Kichie Nuvuso. Its not very often you see that!
GPS then followed-up with a Try to replacement 10 Dom Easy.
GPS then finally hit their straps and a barnstorming run by Charlie Rorke led to another try.
Rorke, Mac Williams, Breen and Bell started dominating the game. However, it was not against great defence.
At this point, the fragile CHS defence opened-up around the middle allowing GPS to run-in several tries for a one-sided win.
GPS I 66 def CHS I7