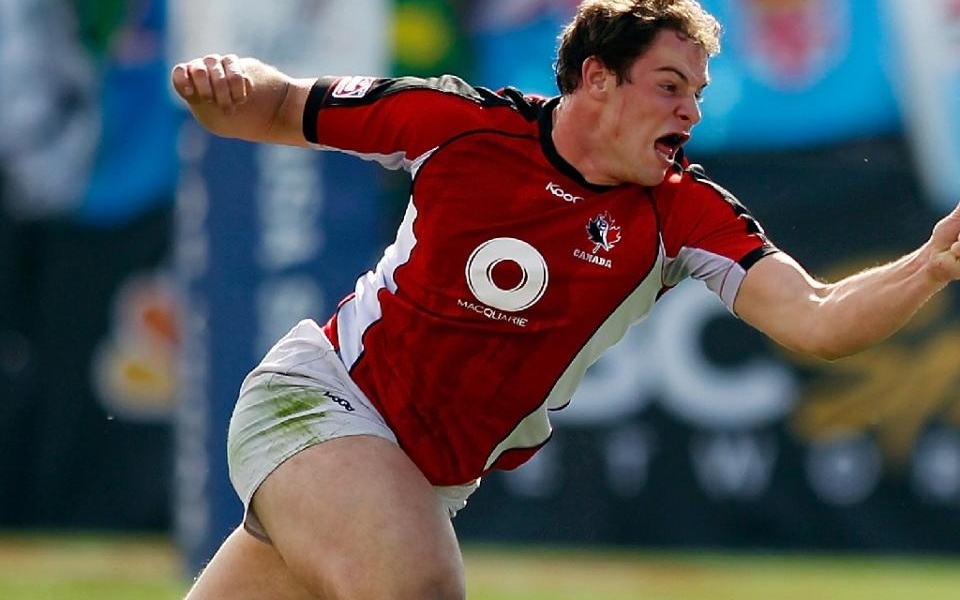 Canada have been to all seven World Cups. They've run up six wins and two draws in that time and made it to the quarters in 1991. But they've fallen to #18 on the World Rankings – below many teams they used to beat easily. What do Canada need to do to get back in front of those nations?
1.  The Recent Form
The Canucks had a tough year at the Pacific Nations Cup this year. After strong years in 2013 (2nd) and 2014 (3rd), they fell to 6th this year. Looks can be a bit deceiving here, though. They had a tough draw, playing both Tonga and Samoa, as well as Japan in their three games. They'll be heartened by their close loss (21-20) to Samoa, but may be perplexed by the 20-6 loss to Japan.
Since then, they've dropped another two tests to the USA. Until 2013, Canada had the wood on the Eagles, but now, the tables seemed to have turned. In fact, in the last calendar year, the Canadians have won just one of their last eleven matches – against Namibia.
Canada are the lowest ranked team in Pool D, but are only one spot behind Romania, who I'm sure they will target in their match on 6 October.
2.  Backs Waiting to Cut Loose
The Canadians will bring a number of professional players in their squad, but the wing rotation of Jeff Hassler, DTH van der Merwe and Phil MacKenzie will have a lot of expectations. They are the finishers in a backline full of skill and flair.
Ospreys winger, Hassler was named in the Pro12 Dream Team for 2013/14. He's scored 14 tries for the Welsh outfit in the last two years. They'll be hoping that he combines with stalwarts MacKenzie and Van der Merwe to put a few 5-pointers on.
MacKenzie plays with Sale Sharks in the Aviva Premiership and has been capped 21 times for Canada. 29 year old Van der Merwe is a 26 test veteran and has racked up 72 games with Glasgow Warriors, where he has also scored 31 tries over the last 7 years.
3.  Forwards Under Pressure
The scrum in 2014. Nothing seems to have changed
If Canada's backline looks pretty good, their forwards are not presently providing them with great opportunities. Canada has a history of producing technically sound players and that includes strong, proficient forwards. Now, though, it seems the Canadian forwards are struggling at exactly the wrong time.
The scrum struggled throughout the PNC. The Maple Leafs were especially manhandled by the Japanese, who out-classed the bigger pack in their game. Throughout the PNC, Canada gave up their own ball on 5 of the 28 occasions they scrummed for it, with 4 of those losses from penalties. I mentioned that was on their own ball, right?
The lineout hasn't been any better, either. In the PNC, Canada lost a disturbing 24.5% of their own ball at the lineout.
If these guys are to target Romania in their pool match they had best shore up the set piece, because the Oaks will bring their best.
4.  The Captain
Ospreys back rower, Tyler Ardron, will take on the captaincy for the RWC tilt. The 23 year old replaces Aron Carpenter, who has struggled since his move from the back row to hooker.
He has just 20 tests under his belt, as well. However, he'll have Carpenter (64 tests) and three or four other players with World Cup experience to call on. He has had the opportunity to captain Ospreys this year.
As the team struggles in the forwrds, The Maple Leafs will look to Ardron to provide much of the team's go-forward, as well as leading the team around the park.
5.  The Pool of ….ummm… Life?
Well, if Pool A is the "Pool of Death", you have to give the easiest pool a name, as well, right?
Outside France and Ireland, Canada's pool includes Romania and Italy. Based purely in World Rugby rankings, this puts #14 (Italy), #17 (Romania) and #18 (Canada) in one pool. Canada will see that as an opportunity, having played recently against higher-ranked opposition.
Despite Italy's recent slide down the rankings, they probably aren't a fair target for Canada, which simply doesn't have the form across the board to manage against a 6 Nations team. And, as noted above, though, while they have the firepower in the backline to beat Romania, they are likely to struggle with their forwards.
Unfortunately, this year, the Canadian team seems to match the Canadian stereotype. Technically proficient and quite polite, but they seem to lack the 'mongrel' they need to succeed at RWC15.