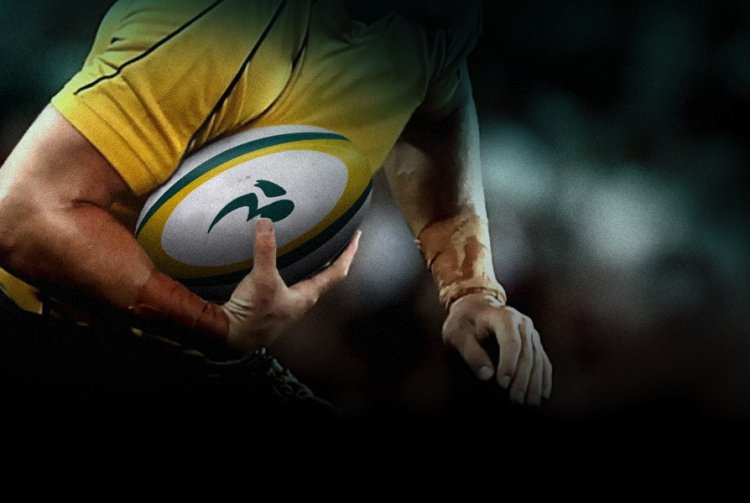 Usually Green and Gold Rugby focus on the playing side of things. This week I spoke to a person who without there would be no game, whose decisions are often criticised and people think could do better.
No, I'm not talking about Wallabies coach Robbie Deans, but the man in the middle with the whistle, the referee, or sir as some like to call. Green and Gold Rugby were lucky enough to have a one on one chat with Sydney Shute Shield and IRB 7's circuit referee Andrew Lees to see what it's like to be a ref.
BJ: How long have you been a referee and what made you decide to become one?
AL: I began refereeing in 1996 in Canberra. I had taken a year off playing and then my Dad, who was a referee, asked me if I wanted to try refereeing and because I enjoy the game I thought I'd give it a go. I went ok and enjoyed it so have pursued it further.
BJ: What sort of preparation do you undertake before a match or tournament?
AL: Preparation includes a number of different things. Fitness training – there is testing 4 times a year in the areas of yo-yo, speed test and a phosphate decrement test – and completing a game plan outlining the type of game to be expected and key focus areas for the game. This may include some video analysis of the teams who are playing and briefing of the Assistant Referees and TMO. In terms of my physical fitness it requires 4 training sessions (2 running & 2 weights) per week.
BJ: What does being a referee involve?
AL: Currently for me it involves refereeing each week in Sydney's Shute Shield competition. I also referee IRB 7s and Assistant Referee for Super 14 so there is travel for various appointments to tournaments and games. Each week/tournament I undertake a game review which includes watching a DVD of my game and making notes on what I did well and things I got wrong or can improve on. Completing open and honest self analysis is one of the keys to becoming a successful referee.
BJ: What would you say has been the highlight of your career so far?
AL: For me a couple of things stand out. My first IRB 7s in Wellington, Refereeing the Final of the 2009 7s World Cup in Dubai and being assistant referee for Super Rugby.
BJ: What sort of person makes a good referee, for instance do you think ex-players would make a good referee – George Gregan was always a potential candidate?
AL: I have to agree somewhat with the comment that ex-players make good referees. Those who have played generally have a good feel for the game. Other key traits include good fitness and speed (think Craig Joubert), great player empathy (Steve Walsh), strong management skills (Wayne Barnes), accurate decision-making (Stuart Dickinson) and the ability to absorb pressure so not much to it really!
BJ: You have refereed both 7 a side and 15 a side, what are the major differences in officiating these games?
AL: For me the biggest difference comes at the breakdown. With less players at the tackle/ruck contest the infringements are a lot clearer. That said referee errors also stand out more so the referee needs to be accurate. Quick ball is essential to a good game of 7s. Physically it is different as you have less stoppages so really it's 14min of interval training with little to no recovery time. You also get to see some wonderful skills on display including passing, footwork, speed and tackling (one on one tackling is a key skill for a 7s player).
BJ: You're currently on the National B referee panel – What does this entail and what is the next step in becoming a fully fledged Super Rugby referee?
AL: The National B Panel sit below Australia's Super Rugby Referees. We work with these referees as Assistant Referees and TMO's for Super Rugby. We also referee in our home cities and referee minor/mid level representative fixtures including Australian Schoolboys, Super Rugby Academy teams etc. Some of our other requirements revolve around development of our refereeing.
To get to the next level it's all about gaining from the experiences of being involved in Super Rugby, 7s and the national program and improving in areas such as player management, game reading, scrum knowledge and composure.
BJ: What's the best piece of advice you've received from the 'experts' in the stands?
AL: From the supporters there is always plenty of advice being passed on. I really enjoy a witty comment delivered at the right time. They usually revolve around your appearance or the uniform.
In terms of refereeing advice I'd say giving the breakdown time to 'breathe' as in giving it a moment to observe what happens and it's outcome before making a decision. Personally I've also learnt a lot from Patricio Noriega about scrums in the past 12 months.
BJ: Referee's are sometimes known as being without a personality, but can you tell us who the funniest referee is behind the scenes and why?
AL: Unfortunately most of the time the nature of the game doesn't allow the referees to show too much personality. However, Referees as a group are extremely entertaining people many with a dry sense of humour. James Leckie of Australia is a very funny referee and does some great impersonations, Lyndon Bray is very good on the piano, Mark Lawrence has some good magic tricks and there are also a couple of good singers. Oh and a lot of handy golfers.
BJ: If anyone wants to become a referee how should they go about it?
AL:The best place to start is contacting your state rugby union and getting into contact with the person who looks after referees. Next you need to complete your foundations course and a basic on field assessment. From there like me you will more than likely start by refereeing junior matches which can be very rewarding.
BJ: Finally, in this years Super 14 you went to Durban as an assistant referee – Can you confirm for me if the Shorks flasher girls are as good in the flesh as they are on TV?
AL: I can assure you that I was completely focussed on the rugby but they did come past in the tunnel prior to kick off and seem like very nice ladies. On a side note I found it interesting that the USA leg of the IRB 7s held in Las Vegas had no cheer leaders. Surprising for a country that claims to have invented sport entertainment…