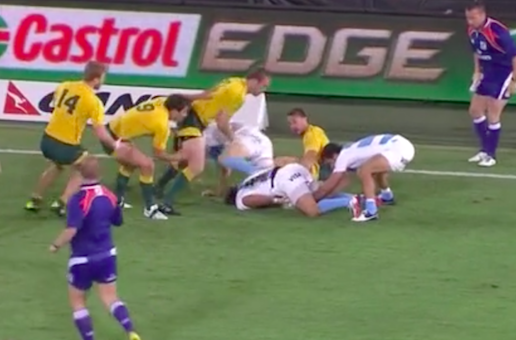 When you find yourself arguing with G&GR's own Scott Allen, you should probably back down before you make a fool of yourself. But I'm not going to let that stop me!
Cast your mind back to 11 minutes into the Test last weekend. Pat McCabe chases the Puma winger down from a breakout, saving a try. Have a gander at the clip below. (No, there's no audio — whaddya want for free?)
[youtube id="LDemBnlLLFA" width="600″ height="350″]
When I saw it at live speed I thought  'What the?' Then a saw a replay and thought 'I guess'. But now I'm really not so sure.
Here is the Twitter discussion at the time of the incident:
@MattRowley_ playing the #9 without the ball – professional foul

— Scott Allen (@ScottA_) September 15, 2012
Scott got it right: Wayne Barnes's explanation was that McCabe had 'played the 9 without the ball'.
But have a look at the video again — or even better, look at these stills (click to enlarge):
As you can see, the Argentinian number 9 clearly has his hands on the ball when McCabe hits him; as the halfback pulls the ball with him as he is pushed back by McCabe. There's no wrestle, just a straight tackle-push, so the 9's hands must have been on the ball the whole time. You can see in the first picture that Pat is clearly watching and waiting for the Puma's hands to go on the ball, before hitting him.
So in my opinion, that's no penalty as per Barnes's ruling and therefore no yellow card.
The next thorny question, though, is whether the ruck is over. The definition of a ruck being over is 'when the ball is out'. But when is that, exactly? Is it when the ball can 'see daylight'? Or is it when the halfback gets his hands on it, as per the ruling at the scrum base?
Law 16 that governs the ruck makes absolutely no mention of this either way, so it's certainly a grey area.
My goal here isn't to have a go at Wayne Barnes (or Scott!) — I think this has had a lot of us in two minds.
So I ask you: was it a penalty?