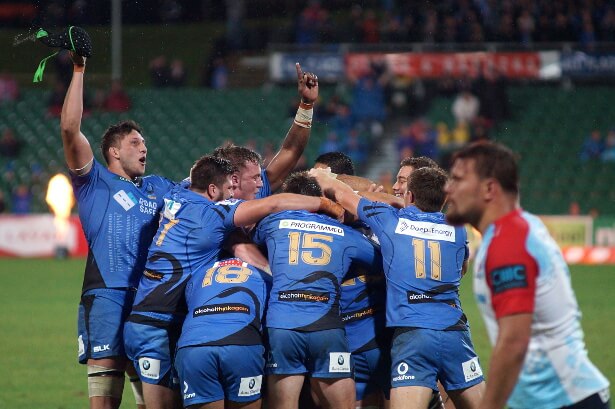 On the 11th of August 2017, my 29th birthday, my wife and I took the day off and spent the night in a swanky hotel. It was a great night however I woke the next day in what felt like a state of mourning.
The announcement to cut the Western Force from Super Rugby feels like there's been adeath in the family and has left me saddened, confused and angry.
Sitting there and watching two old men in their multi-million dollar office in Sydney tell an entire state that you're not wanted, that you are unsustainable without any real details behind their claim hurt. It hurt a lot.
If you've ever been to WA you will know there is only one thing that matters when it comes to sport – the AFL. Relationships are defined by one simple question 'do you support the Eagles or Dockers?'.
Now I'm asked this question weekly and my answer is always 'neither I'm a rugby fan I support the Western Force'.
Most people are confused by this and assume you must be from over east or maybe New Zealand as no self-respecting sandgroper would ever follow Rugby.
Well let me tell you how I came to support the Force in a world of Eagles and Dockers.
I was born in WA as were both my parents. My Dad grew up on the coast less than a kilometre down the road from the North Beach Rugby League Club. At the time Perth had a small League comp with a few local clubs, as the club was so close Dad grew up playing League. He played for years until he discovered girls and cars but never lost his passion for the sport. When I came along in 1988 the Eagles had just entered the VFL comp, WA was gripped with footy fever.
Dad didn't get caught up in the hype and continued supporting the Sea Eagles (they had the same colours as his North Beach team).   So you could imagine his joy in 1992 when the Western Reds were established and then introduced into a new national comp in 1995. New local teams were popping up all over the place and he soon registered me at our brand new club. I had all the Western Reds gear and went to all the games. 
I still cherish the memories of me and the old man going to every match, playing on the WACA at half time and going into the change rooms on a few occasions after a game. I dreamt of playing for the Western Reds when I grew up. But it wasn't to be. 
A different set of old men in their multi-million dollar office in Sydney decided WA was not needed and the Western Reds where no more, so too my new club along with a number of other local teams. League in WA was dead. I didn't really understand what had happened only that my heroes were gone and my Dad and I could no longer watch the team we loved.
Not long after Dad was watching a game of Rugby on TV. "Why are they lifting them up in the air Dad? Why aren't they playing the ball correctly? That scrum looks weird." My Dad explained to me that this was s different game, this was Rugby Union. I didn't care what it was it was amazing. I also didn't know that my school played Rugby, but you had to be in year 6 to play. I would need to wait a whole year until I could join in.  
In 1998 the Wallabies would play their first ever test match in Perth against the Springboks. I was given an early birthday present a brand new Wallabies jumper and 2 tickets to watch them play South Africa.  Dad even took me down to the South Fremantle Football club to watch the Wallabies train. There they were – John Eales, George Gregan, Matt Burke, Toutai Kefu and Tim Horan – all the guys from the TV. I had them sign my new jersey; I must have slept in that thing for the next month.
We went to the match at Subi and watched the boys go down by one. The result didn't matter I was hooked. The next year I finally got play for my school team. Then the Wallabies won the Rugby World Cup. I remember taking my jersey to school, and for first time it was cool to be a Rugby supporter in Perth.
The high school I ended up at didn't have a Rugby team.  No matter my parents found a local club not too far from our house. Only issue was there weren't many other kids playing. Our coach would drive about six of us to another club 20 minutes away. We trained with them and played in their uniform but it didn't matter to me. Every Saturday we would head to Britannia where all the juniors played (and still do). Here we all honed our skills and made lifelong friends. This was rugby at it purist.
This continued all throughout high school. We didn't have Foxtel at home and so I had no idea about Super Rugby. My Rugby experiences consisted of watching the Wallabies on TV and listening to Gordon Bray, Budda Handy and Simon Poidevin.  
When I heard that a professional team like the Eagles and Dockers might be coming to WA, I couldn't contain my excitement. Two rugby Mums (one whose kid would go on to play for the Force) organised a rally at Subiaco Oval, thousands of people turned up to show their support and then…enter the Western Force. We all know what transpired over the next 12 years mixed results, players/coaches coming and going, dodgy deals and even something involving a quokka… 
However away from the professional playing fields rugby was flourishing in Western Australia. Only now have the dream's which were planted back in 2006 begun to come to fruition in the eyes of players like Dane and Ross Haylett Petty, Kyle Godwin, Richard Hardwick, Cruze Ah-Nau, Kane Koteka, Curtis Rona, Chance Peni, Harry Scobbal, Luke Burton, Nick Jooste, Brad Lacey and Ollie Hoskins (who's mum was mentioned above) to name a few.
In the hundred years prior to 2006 WA produced a single Wallaby. In the past 12 months WA has produced three, with more to come. Rugby in WA has also had an impact on the junior rep sides and women's comps. Four WA players were named in the Wallaroos for the World Cup just a few weeks ago. In 2017 WA was the third largest rugby playing base in Australia, the Western Force finished second in the Australian conference behind the Brumbies with equal amount of wins, they were the only team in Australia where attendance increased, they have the backing of the rugby community through the Own the Force Campaign, the backing of the richest man in Australia as well as the Perth Spirit who will attempt to go back to back when they defend their NRC championship. Rugby in WA has never been stronger but then, it happened again. The ARU announced that the Force were gone.
What was it all for? What Now? Is this the end?
I sit here typing as if I'm typing a eulogy; my fear is that the hopes and dreams of the thousands of junior players in WA will be lost as was my dream of playing for the Western Reds.
No longer will mothers and fathers be able to take their young kids to see the best of the best duel it out, just as my Dad could no longer take me to see the Reds.  Rugby League in WA is a shadow of its former self following the removal of the Reds. Neither my Dad nor I have attended at League game since. There are a hand full of clubs left but no real pathways. The odd player gets a chance in the NRL, in part due to the exposure afforded to them because of the Force.
Rugby WA feel cheated and betrayed and will take the fight to the courts, the three ARU men at the centre of the decision are now gone. A man who has played over 900 matches for his WA club has stepped down from the ARU board due to the mishandling of the whole situation; I dare say these resignations are just the beginning.
The ARU claim that Rugby in WA was around long before the Force and will continue to be around well into the future now that the Force are gone. Only time will tell what the future hold for Rugby in WA. But for now I am once again lost to a sport that I love, a supporter without a team to support.
As much as it hurts me I won't be attending another Wallabies match as long as the junior players in WA are denied their chance to dream big.
It's time for me to reconsider my answer to the impending question "Who do you support?"