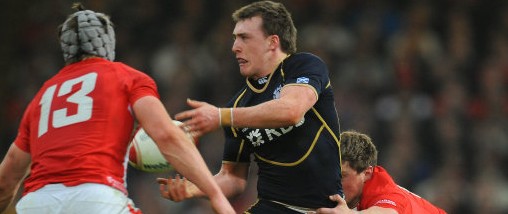 You've heard of the Accidental Tourist, right? Well Scotland may well be willing tourists, but somewhere, out there in the vast unfamiliar hemisphere, there are some accidents waiting to happen.
Which sides the accidents befall may largely depend on how many accidents have already happened, though.
Australia have well catalogued injuries and omissions. Scotland have a disaster of a last year behind them. That is the national side that have been poor, though. Like a flock of Assanges they tried to take on the world, built up by an activist support, only to fall in front of the global media. The World Cup and Six Nations were almost laughable in the way they played out.
However, hope is being found somewhere as Scotland's only two pro sides performed well in the Heineken Cup or the RaboDirect Pro12, with Edinburgh semi-finalists in the former and Glasgow Warriors semi-finalists in the latter (in a country where our heroes are drunken comics or Andy Murray success is measured in participation).
The fans are buoyed, the course has been plotted and new caps corralled. So in games against Australia in Newcastle and Fiji and Samoa on their home turf there will be some expectation of big, big changes.
Which is just it. Scotland have been hapless for so long that by appointing a new unpredictable Aussie coach in Scott Johnson and loading their backline with young guys they may actually stand more chance of scoring some tries without design.
Edinburgh centre Matt Scott and Glasgow's fleet-footed fullback Stuart Hogg are young men who have had stand-out seasons. They have more skill than many predecessors and possess that raw quality the team have lacked for so long. They bring others into positions and Hogg in particular is drawing plaudits from across the isles, already being talked about as a British Lion.
Although he is not eligible until the last two games, Dutch-born try-machine Tim Visser comes into the side to support these two. The winger is powerful, fast and the top try scorer in the Rabo for three years in a row. He is Scottish after his very own 'Occupy Edinburgh'.
In the forwards Scotland are without their abrasive new back-rower David Denton, a Zimbabwe-bred Gunner who is again being heralded around Britain, but they have an in-form Ross Rennie, also of Edinburgh. He may be sent to arm wrestle at ruck time as their 7.
Scotland also have Warriors who are workaholics and who are not shy of bending the rules a little. Add Lions sho0-in second row Richie Gray into the mix and there could be some friction.
In the first Test a lot could strip down to what Scotland's 10 does. Both starting options from Edinburgh and Glasgow, Greig Laidlaw and Duncan Weir respectively, like to control a game from the pivot. One is more adventurous and the other is the O'Gara-like field finder. I hope that Scotland play with adventure and that rustiness gets the better of Quade Cooper….
If not, regardless of how many crocked crocs there are it may be a scary second half in that first Test. Will Australia be cautious against this foe? I doubt it, so Scotland have to attack from the off and try to catch their opponents cold.
If that does not happen then it could be a long tour of bumps and scrapes. Taking on the Islanders after a Test like this Newcastle one could hurt. A few others may do themselves a mischief, so best to forge head-on. We can worry about expectations after.