Accuracy of execution is everything in Rugby. You can play the most stifled and restrictive game plan ever devised and if you're accurate in your execution you'll likely come out on the right side of the score board.
So, in a weekend where the New Zealand teams once again showed that executing simple skills accurately and at pace delivers results at the highest level, let's all take a few moments to admire the control, composure and passing accuracy from the Reds Wallaby halfbacks.
Granted they are small inaccuracies but between them Frisby and Cooper made 7 passes in the opening minute. Of those seven passes only 3 were genuinely accurate – and by accurate I mean they didn't break the flow of the attack. They went into the man's hands so he didn't have to turn to catch it, jump in the air to control it, or bring it into his chest as the pass was so powerful. The other four? Well the end result was a runaway try to the Sharks, which should tell you everything.
Now, considering the result it might seem a tad harsh to criticise the Reds. After all they got their season off to a winning start for the first time in three years, and looking at the match stats from the game you'd be forgiven for thinking the Reds won at a canter:
4 tries to 2.

200m more made than the Sharks

almost double the carries (138 -72).

Nearly double the clean breaks (15 – 7)

possession stats of 66% of which nearly 50% of that possession was in the sharks half.

60 tackle situations to the Sharks 142.
Complete dominance, in the figures at least and let's be honest they scored four tries, two of which were absolute belters, but to just scrape home, with such statistical dominance?
As we always say, Stats don't tell the whole story so rewinding once again to that opening few minutes, what the Reds needed was to be calm, accurate, to hold their shape, build their attacking rhythm and work their way into the game. It should have taken all the steam out of frankly pretty poor Sharks side.
Yet the complete opposite happened and you have to spare a thought for Nick Stiles who must be sat scratching his head today at how this team, laden with Wallabies, managed to almost start this season exactly like the previous two on the receiving end of a loss.
It's easy to focus on just passing but they continually displayed a lack of accuracy in their decision making both individually and collectively – and there were plenty of examples. Let's look at two pieces of attacking play I found particularly fascinating.
In the 17th minute the Reds worked an overlap, it was really well done. The reds have built 7 phases and having spotted the numbers and that it's quick ball spread it. Hunt comes around behind and Cooper plays out the back door. It's a brilliant line from Hunt, he first drifts then straightens and fixes the second from last defender creating two on one and nice simple passing puts Nabuli in space and he sets off for the line. 
As Nabuli approaches the line he has Higginbotham (I think) in support on his right and two cover defenders flying across, if the last man's tackle is good he's clearly not going to make the line but either way the Reds are odds on to score here.
Now personally I think Nabuli has three options:
Stand the cover defence up and then try take him on the outside finishing a wonderful piece of play with a score in the corner!
Steps inside the cover defence, either scoring himself or linking up with his support player, finishing a wonderful piece of play with a score in the corner!
Steamroller the cover defender and score finishing a wonderful piece of play with a score in the corner!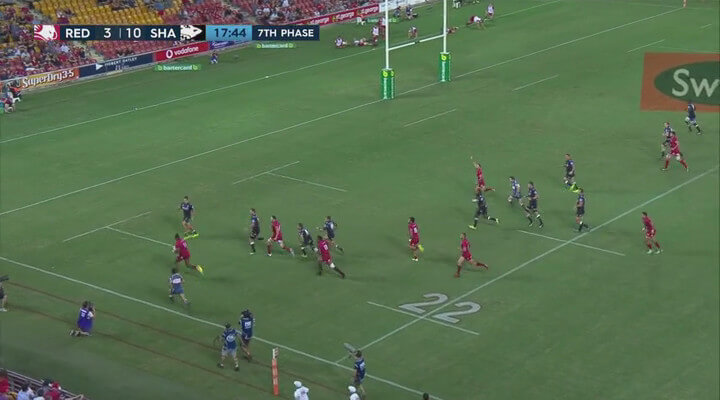 But let's consider this, every time a player takes contact he risks losing possession. Therefore to me the riskiest option is option three steamroller the defender – which is exactly what Nabuli does. Ok, he doesn't lose possession but he doesn't score either and the Reds can't recycle and instead of a glorious try they end up with a 5m scrum in which they get completely done and concede a penalty.
At this point Nick Stiles must be tearing his hair out.
The next bit I want to look at happens 3 minutes later in the Reds next sequence of possession, Hunt again runs a great line on Cooper's inside shoulder and gets an offload away to Frisby, who links with Cooper who links with Moore who links with Smith.
Great Rugby, great support running and the Reds though stopped short are in a great position to recycle and then…… nothing. Everyone is stood around waiting for someone else to do something.
You'll hear a lot of coaches talking about 3 second recycles. The theory is that 4 seconds is the average time it takes for a defence to reset, 3 seconds and under means retreating defence. Yet from the moment Smith goes to ground to the point he's robbed of the ball is 5 seconds.
5 seconds in which not a single Reds player decides "hey, maybe we're gonna lose this chance, I'd better do something".
We can see Korcyzk standing there watching, just to his left is Douglas and to his left out of shot is Slipper. That's 115 Wallaby caps stood doing literally nothing whilst the Sharks burgle the ball. Ultimately Smith's face when he stands up says it all.
Both of the above are examples of really poor decision making from the Reds, and we haven't even delved into the kick errors, poor exits, lateral running and defensive lapses yet – and in all honesty there is just no point because they all come back to poor execution of the basics.
But they won! Yep they did, against a Sharks team that were even more error strewn, and does anyone really think the Reds can hope to compete with the likes of the Chiefs, 'Canes and Crusaders with this kind of basic error count? It's just not going to happen.
There is Hope!
Never finish on a negative so the good news is there is light at the end of the tunnel and a fair bit.
The second half was a much better crack by the Reds at playing this wonderful sport called Rugby.
Far more direct, better passing, and the only lateral run by Cooper saw him link up with the impressive Paia'aua for one of the best tries from the weekend. Fitness was also a bonus with the Reds looking much stronger in the final 15 than the Sharks.
In Smith they've got an absolute warrior (a guy who's engine seems to be nowhere near packing in) and Hunt, Kerevi and Paia'aua they have a back line that can genuinely do some damage.
But as my old coach used to say, if the opposition want the ball make them come and pay a price for it, never give it for free. It's a point the Reds will need to take on board quickly if they want to be genuine contenders come the business end of the season, and they have a squad that should be able to compete, the problem is that even with that squad, a reduced error count and improving those little parts of their game it's difficult to see them improving to the standard and they'll be claiming some big scalps.
I guess the question Reds fans will need to be asking themselves is are they happy with just getting the result, or do they expect more than current showings?