On Thursday, October 31st, English and Australian legends will re-play the 2003 Rugby World Cup Final at Twickenham Stoop, London. 
The moment Jonny Wilkinson slotted a drop goal in extra time of the 2003 Rugby World Cup final is one that will forever be scarred in the minds of any true Australian rugby fan.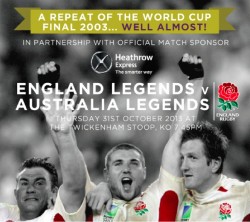 That was the moment that broke our hearts, but now… it's pay back time!
Ten years after that match, the Aussie and English legends are set to battle it out in London.

This competitive and highly charged match will see an array of former Rugby World Cup stars returning to the field, with a combined total of more than 1450 Test caps between the sides.
Jason Leonard, Martin Corry, Jason Robinson, Phil Vickery and Josh Lewsey will form part of the English side, to take on Aussie veterans including Stirling Mortlock, Al Baxter, Chris Whitaker and Richard Harry.
The match will support two important charities, Restart and The Injured Player's function, and will mark exactly 10 years since Martin Johnson lifted the Webb Ellis Club for England in Sydney.
Jason Leonard, England's most capped player said 'We are delighted that so many of the boys have leapt at the chance to pull on an England shirt again and honoured that Australian legends are travelling halfway around the word to compete and help us put on an unique, never-to be repeated event'.
Mike Doyle, the Australian side's coach, said the interest from former Wallabies was overwhelming.
'We, as Australian Legends, have a proud history and to be given the chance to redeem the loss is a huge motivation for us.'
The Australian side are hungry for a victory, travelling half way around the world to celebrate a RWC final that they lost on home soil.
With the two-year countdown on until the 2015 Rugby World Cup in England, this showpiece event will draw the attention of current players, rugby legends and lovers from around the glove.
Australia and England will face each other early on in the 2015 RWC, with both sides being drawn in Pool A, giving the Aussies a chance to avenge their agonising losses in the 2003 final and 2007 quarter final.
Full Squads
AUSTRALIA LEGENDS
Richard Harry
Al Baxter
Adam Freier
Marco Caputo
Bill Johnston
Rod Moore
John Welborn
Warwick Waugh
Will Caldwell
John Langford
Matt Adamson
Dave Kelaher
Chris Whitaker
Chris Malone
Ben Ward
Brad Clyde
Ryan Cross
James McLaren
James Grant
Mitch Hardy
Graydon Staniforth
Tim Kelaher
Stirling Mortlock
Mike Doyle
Andrew Logan
ENGLAND LEGENDS
Jason Leonard OBE
Kevin Yates
Dorian West MBE
Steve Thompson MBE
Mark Regan MBE
Richard Cockerill
Phil Vickery MBE
Ben Kay MBE
Garath Archer
Hugh Vyvyan
Alex Codling
Ben Sturnham
Lewis Moody MBE
Paul Gustard
Martin Corry MBE
Andy Gomarsall MBE
Peter Richards
Austin Healey
Fraser Waters
Kevin Sorrell
Jamie Noon
Mike Tindall MBE
Iain Balshaw MBE
Dan Scarborough
Josh Lewsey MBE
Jason Robinson OBE