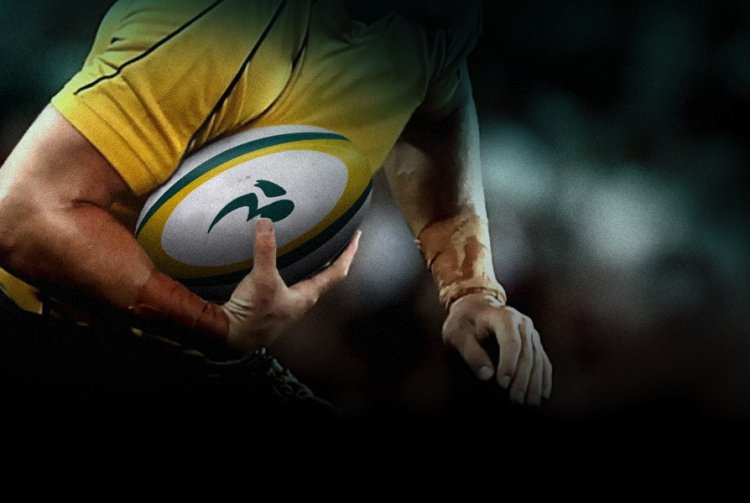 The Australian Sevens squad to take part in the Commonwealth Games in New Delhi has been named after a final selection camp held in Canberra.
This will be the fourth time Rugby Sevens has featured at the Commonwealth Games and Australia will be looking to better their best finish of a Bronze medal at the inaugural tournament in Kuala Lumpur in 1998. Australia have been drawn along side arch rivals England, Namibia and Sri Lanka in Pool D for the 2 day tournament which takes place on October 11  and 12.
The squad have been put through their paces under the eye of coach Michael O'Connor, who had a selection headache in naming a final squad of 12 players. The squad has been hit with a raft of selection drama's with no less than 9 players unavailable through injury and an unfortunate situation for new Waratahs back Brackin Karauria-Henry, who has been forced to withdraw due to eligibility issues despite already playing for Australia on the IRB circuit this year.
Key players including Henry Vanderglas, Ed Quirk, Jacob Taylor, Clint Sills and even back up Ed Stubbs have all been ruled out with injury leaving O'Connor to call in extra players including Nick Cummins, Lachie Turner and Pat McCabe, who was only called up to the camp last week after only 8 fit players were available for selection.
The squad will now head to Darwin for 10 days in October to prepare for India by competing in a Sevens tournament. It is fair to say the conditions in Darwin will be more beneficial after atrocious conditions in Canberra last week.
Australia have had one of their best seasons in years on the IRB Sevens circuit by finishing 3rd and included their first tournament victory in 8 years in London. This was followed up by a finals appearance a week later in Edinburgh and will be the last chance for most of the squad to capture Sevens' glory before the majority take up Super 15 contracts in 2011.'
From the ARU:…
Wallabies winger Lachie Turner will head Australia's charge for Rugby Sevens gold in after winning selection in coach Michael O'Connor's 12-man Commonwealth Games team.
Turner, who has some previous experience in the shortened version of the game, joins Super 14 Rookie of the Year Pat McCabe, Western Force winger Nick Cummins and Wallabies 2009 spring tourist Luke Morahan as four fresh faces in the Games team among seasoned Sevens campaigners who competed during the recent IRB Sevens World Series.
Australia recorded their best result in over eight years on the world circuit after finishing third and are expected to turn in an even better performance in Delhi on 11-12 October following the inclusion of the experienced quartet.
The squad has a chance to create history if they can finish with gold or silver as Australia has not medaled at the Commonwealth Games since securing bronze in 1998 when Rugby Sevens was first granted entry in Kuala Lumpur.
Coach O'Connor has opted for a mix of big game experience and proven combinations, naming three members of the London Sevens-winning team in Bernard Foley, Nicholas Phipps and James Stannard.
Australia have been drawn alongside arch-rivals England in the pools and will take plenty of confidence from their performance at Twickenham where they defeated the hosts during the pool rounds and then went on to claim the title, Australia's first since 2002.
Australia will also take on Namibia and Sri Lanka in Pool D but 2006 silver-medalists England pose the biggest threat to Australia finishing top of their pool and securing a favourable seeding in the quarter-finals.
NSW Waratahs recruit Patrick McCutcheon reassumes the Sevens captaincy from Stannard after missing the final two legs of the Sevens World Series to compete in the Super Rugby finals.
The 23-year-old flanker was involved with the national squad during June alongside Turner and Cummins, playing two mid-week games for the Australian Barbarians against England.
O'Connor said he's confident his squad's has the ability to be highly competitive.
"Three quarters of this squad is from this year's Sevens Series and they've tasted good success, they've got good experience and solid combinations," O'Connor said.
"I've been able to keep the nucleus of the team together and the four that have come in have been brought in to enhance the side.
"I think they've got the attributes which tick all of the right boxes.
"Morahan was our best player in 2009 and he's come back into the squad very seamlessly."
Turner said the squad is working hard in their preparation for the Games which includes a hit-out against world champions Samoa in Darwin on 1-3 October in a warm-up tournament prior to Delhi.
"We're just all working on our individual skills and fitness and hopefully that will give us that extra edge come the Delhi Games," Turner said.
"We'll be hard to beat and I'm sure we'll come away with some silverware."
Australian Commonwealth Games Association CEO, Perry Crosswhite, said the teams vital inclusions would work strongly towards securing Australia's first Rugby Sevens gold medal.
"The Rugby Sevens competition at the Commonwealth Games is always fierce, with many of the teams competing ranked amongst the world's best," Crosswhite said.
"We have been out of the medals since the sport was introduced in Kuala Lumpur in 1998, but the team's recent performances and strong inclusions has put them in a positive position ahead of Delhi."
Nine of the 12 members of the Games squad hold Super Rugby contracts for 2011 and Morahan, winger Kimami Sitauti and flanker Liam Gill recently competed at the IRB Junior World Championships in Argentina where the Australian Under 20s recorded their best-ever result to finish runners-up to New Zealand.
2010 Australian Commonwealth Games Rugby Sevens team
Robbie Coleman (20, NSW)
Nick Cummins (22, WA)
Bernard Foley (20, NSW)
Liam Gill (18, QLD)
Pat McCabe (22, NSW)
Pat McCutcheon (23, NSW)
Luke Morahan (20, QLD)
Nick Phipps (21, NSW)
Brian Sefanaia (24, NSW)
Kimami Sitauti (19, QLD)
James Stannard (27, ACT)
Lachie Turner (23, NSW)