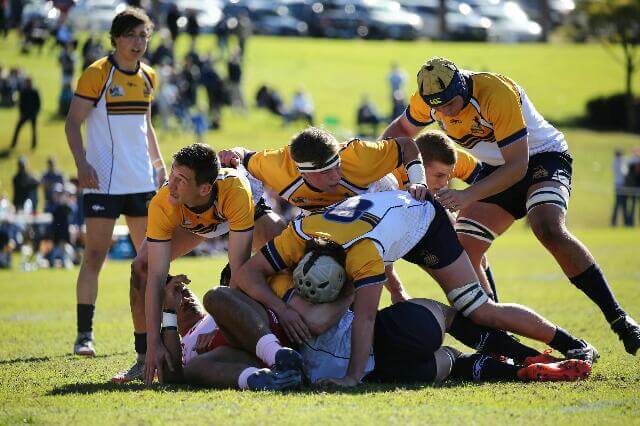 ACT won the Australian School Rugby Championships yesterday, beating Queensland II 30 – 11 at Sydney's St Ignatius' College.
The title was the first for ACT since 1988 and only their fourth in the 43 years the tournament has been running. Queensland I beat NSW I in the third place playoff 29 – 24 in a thriller. Combined States claimed fifth place by accounting for NSW II 22 – 12 and WA's 48 – 17 win over Victoria grabbed them seventh spot.
Quick links
Squads announced for Australian Schools and Australian Barbarians Schools
Library of photos from Waverley Sports facebook page.
---
1. ACT
2. Queensland II
3. Queensland I
4. New South Wales I
5. Combined States
6. New South Wales II
7. Western Australia
8. Victoria
By "aNON_87″
The playoff for first place was won in the end quite comfortably by ACT 30 – 11. The victory capped off an impressive campaign for a team that was not considered pre-tournament favourites, but ended up going through undefeated.
ACT got the scoreboard ticking over with a penalty from sharpshooter Will Goddard (10) after they dominated possession and field position for the first 10 minutes. QLD II tied the game up shortly after through the boot of 5/8, Carter Gordon.
The first try of the game came late in the first half, when Josh Vuta (9) crossed for QLD II following solid lead-up work from Kohan Herbert (7) and Rhys van Nek (2).
Goddard then reduced the gap to just two on the stroke of half-time with three points from the kicking tee.
Half time score: QLD II 8 – 6 ACT
ACT were first to score after the break when Goddard added three points. Then Seamus Smith (9) punctuated a great captain's knock with a try and the conversion was successful.
QLD II kicked another penalty to reduce the margin to just seven. But from there it was all ACT with tries to Brendan Jimenez (15) and Lachlan Lonergan (2). Extras were added with both attempts.
SCORING
ACT 30 (Smith, Jimenez, Lonergan tries; Goddard 3 con; Goddard 3 pen) def. QLD II 11 (Vuta try; Gordon, Whiteside pen)
By "William88″
NSW and QLD put on a strong display of rugby, starting with some dominant forward play by QLD. QLD's Trevor Hosea (5) again demonstrated some powerful ball running and heavy defensive skills early. But NSW were first to score with smart play by Luke Reimer (20).
QLD responded with three tries in the half to Noah Lolesio (12), Jangala Bennet (14) and Max Dowd (15). The highlight, the try by Bennet after some magical rugby from QLD.
NSW winger, Will Lloyd (11) managed a hat trick for the day and scored his first before half-time after some smart work from NSW centres, Lachlan Ilias and Brooklyn Hardaker.
Half time score: QLD I 19 – 12 NSW I
The second half was a far more intense affair. Both teams looked nervous and desperate for the win, with QLD playing territory rugby and NSW trying to force the pass on a couple of occasions, resulting in some lost ball.
NSW struck early with Will Lloyd's second try after a slicing run from NSW 10, Ben Donaldson.
After some great defence on their line by NSW 14, Albert Hopoate, NSW gained a lineout. From the overthrow QLD scrummie, Phoenix Hunt, managed to pick up the ball and dart through the NSW defensive lineout to take the lead back away. Smart play. 26 – 17 QLD.
NSW hit back soon after and Will Lloyd collected his third with a run down the left hand edge. With QLD responded with a kick for goal by Campbell Parata two minutes later and the score was 29 – 24, QLD in front.
Some impressive attacking and defensive rugby followed. The highlight a kick chase by Ben Donaldson, who kicked and regathered and nearly had Lloyd over for the game winner, but QLD 14 made a miraculous tackle to save the try.
The NSW team then kept attacking the QLD line for the last five minutes, but QLD held out all comers for a famous 29 – 24 victory.
NSW STANDOUTS
Will Lloyd (11): Scored a hat trick and got himself into good positions to take the pass. An excellent try scorer.
Albert Hopoate (14): The year 10 student was kept quieter than usual but made a huge defensive effort to stop a certain try and looked dangerous whenever he had the ball.
Ben Donaldson (10): A stand out in the beaten team. Nearly won it for them in the dying seconds if not for some great defence.
QLD STANDOUTS
Trevor Hosea (5): Consistently has such a big impact on the game. His defence was huge and his lineout work was destructive against NSW. Expect to see his name for many years in Australian rugby.
Harry Wilson (4): Absolutely huge in defence. Was there to save a certain try at the death.
Noah Lolesio (12): A dangerous man with ball in hand and great defensively.
SCORING
QLD I 29 (Lolesio, Bennet, Dowd, Hunt tries; Parata 3 con; Parata pen) def. NSW I 24 (Lloyd 3, Reimer tries; Donaldson 2 con)
By "aNON_87″
Combined States beat their more fancied rivals NSW II in a convincing manner 22 – 11 in the playoff for fifth place.
NSW saw more of the ball in the opening exchanges, but were unable to make the most of their opportunities. Impressive defence from Combined States and NSW errors kept NSW scoreless in the first half. For Combined States, Charlie Baker (14) crossed for a double, the first one from an intercept.
Half-time score: Combined States 17 – 0 NSW II
Combined States continued their good form in the second half, with a try to Jack Walsh (22), following individual brilliance from Michael Pavlakis (15).
NSW II then launched a late comeback, scoring two tries. In the first, Angus Bell (1) bullocked his way over from close range, while Brett Wellington only had to fall over the line in the second.
But it was too little too late for NSW II and Combined States ended up deserving winners.
SCORING
Combined States 22 (Baker 2, Walsh tries; Pavlakis 2 con; Pavlakis pen) def. NSW II 12 (Bell, Wellington tries; Minogue con)
Unfortunately no report was submitted for this playoff for 7th place. Below are a selection of photos from the match from ARU Media/Karen Watson.