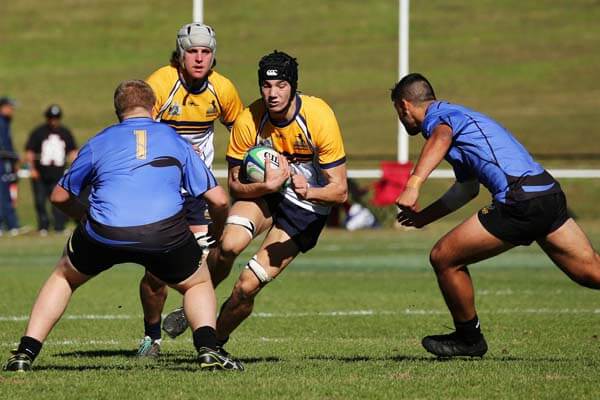 ACT and QLD II have booked their place in Saturday's final of the Australian School Rugby Championships after finishing top of their respective pools.
ACT topped Pool B after winning all three preliminaries, while Queensland II won two from three and snuck into the big dance with an upset win against NSW I in their last Pool A match.
Full details on all of yesterday's games follow this schedule of Saturday's playoffs.
8:45am WA vs VIC (7th place playoff)
8:45am Combined States vs NSW II (5th place playoff)
10:00am QLD I vs NSW I (3rd place playoff)
11:30am ACT vs QLD II (1st place playoff)
By Nic Darveniza / "TheKing"
Queensland II have recorded what might prove to be the upset of the tournament to book their spot in the National Championship grand final with a last-gasp win over NSW I, 27 – 25.
Queensland II flyhalf Carter Gordon is just 16 years of age but showed steadiness that belied his years to convert a high stakes penalty goal with full-time approaching to snatch the narrow victory.
Queensland II opened their tournament with a comprehensive defeat at the hands of the Combined States but have gone on to prove their detractors wrong with a chance at Nationals glory come Saturday.
Signs were ominous for the white-shirted Reds as NSW loosehead Bo Abra dived over early.
Queensland II flanker Brayden Law continued his try-scoring form with another eye-catching effort from close range before winger Viliami Lea finished off some special work inside him to score Queensland's second.
New South Wales would have time to equalise the try-scoring stakes as Will Lloyd finished off a classy run from his flyhalf Ben Donaldson to put NSW ahead 15 – 12.
The long levers of NSW lock Jeremy Williams pushed his side out to 20 – 12 with a gutsy try, but Queensland kept firing.
A classy running line from Queensland II reserve flyhalf Carter Gordon breezed the playmaker through the defence between the posts to close the gap before hitting the lead themselves as Viliami Lea sped around the outside to set a 24 – 22 lead.
A second Ben Donaldson penalty goal edged New South Wales ahead to supercharge an already electric atmosphere, but a 55th minute penalty would gift Queensland a chance to win through the boot of Gordon.
Showing great composure, the young kicker stepped up to the plate and forced his side's way into the Grand Final.
SCORING
QLD II 27 (Law, Lea 2, Gordon tries; Whiteside, Gordon con; Gordon pen) def. NSW I 25 (Abra, Lloyd, Williams tries; Donaldson 2 con; Donaldson 2 pen)
By Nic Darveniza / "TheKing"
Queensland I have defeated 2016 National Champions NSW II in a vital 33 – 19 win. The boys from north of the Tweed didn't give up a sniff to their southern opposition in a dominant first half showing.
NSW rallied around winger Tom Yassmin in the second but it was a case of too little, too late as Queensland held tight to lead by 14 as the full-time whistle sounded.
NSW were hit by the injury bug as tighthead prop Finn Wright and scrumhalf Marco Bell went down through the first half.
Queensland enjoyed early advantage in the territory and possession stats, converting that into points with a seventh minute penalty goal through flyhalf Campbell Parata.
A booming kick upon reception had Queensland straight back into the NSW half and it took only three minutes for the Reds to unlock the defence properly.
Multiple offloads in the forwards forced the young Waratahs onto their heels in defence, leaving ample space out wide for Queensland winger Clyde Rapilla to score.
Parata kept the scoreboard ticking over as another penalty goal pushed Queensland out to an 11-pt lead in the 18th minute.
NSW applied pressure of their own through a series of kicks behind the Queensland line, even forcing a 5m scrum as Queensland No.8 Cullen Ngamanu spilt the ball behind the tryline.
Thumping defence denied the Blues on that occasion and Queensland were soon working back into the NSW half.
With half-time rapidly approaching, efficient ball movement found substitute outside back Ben Bucknell for Queensland's second try and a 16 – 0 lead.
The story was much the same to christen the second half as a promising opening possession was squandered by NSW, opening the door for Queensland to counter-attack and score through centre Ben Bucknell.
Parata found his range and knocked over his first conversion from wide out in the 35th minute.
Queensland flanker Joe Small was yellow carded in the 35th minute for slapping down the ball which clicked NSW into gear, working upfield before putting up a cross-field bomb for winger Tom Yassmin.
With plenty of work left to do, Yassmin twisted and drove his way through multiple tackles to score the try of the game in the 39th.
Celebrations were short-lived as Melbourne Rebels signee Trevor Hosea charged down an exit kick, re-collected first by Cullen Ngamanu and then slammed down by centre Jordan Petaia for a try.
Now ahead by 16, a second yellow card to the Queensland back-row, this time Tom Kibble for a high shot, opened the game right up.
Skyscraper winger Yassmin took advantage of a bolstered defensive line by snatching an intercept and returning it 70m to the house.
NSW had their tails up as excellent hands found opposite winger Jayden Burgess in an overlap to score.
With an 11-point lead that seemed like it just might not be enough, Queensland's disciplined flankers returned to steady the ship.
In the final play, NSW illegally halted a certain Queensland try, inviting a yellow card from the referee and a kicking tee from the Queensland bench as Campbell Parata put the match to an end with his third penalty goal.
QLD I STANDOUTS
Harry Wilson (4): A true attacking focal point for Queensland, their captain was eternally busy.
Tom Kibble (6): A natural openside, Kibble made his mark on the attacking side of the ball with a number of bullocking carries. A fair lump of a lad, not even a yellow card could dampen his performance today.
Campbell Parata (10): I've been so impressed with this kid. Three penalty goals and several pressure kicks put NSW under the pump, with several directly leading to Queensland tries.
NSW II STANDOUTS
Tom Yassmin (14): Well contained in the first half but exploded in the second for two tries. With his height and speed, it's only a matter of time before NRL clubs come calling, so Waratahs beware!
Angus Bell (1): The NSW captain was a favourite of the commentary team and for good reason; the prop was involved in just everything. If you love carrying from a loosehead, you'd enjoy watching Angus Bell.
SCORING
QLD I 33 (Rapilla, Bucknell 2, Petaia tries; Parata 2 con; Parata 3 pen) def. NSW II 19 (Yassmin 2, Burgess tries; Minogue 2 con)
By "William88"
ACT came into the tournament as potential underdogs but proved to be anything but. They ended up the only undefeated side in the preliminary matches and go into the major final as many people's favourites, sentimentally at least.
ACT chose to give their stars a rest at the outset of this final pool game, starting with their bench. But WA took an early lead by converting two penalties to one.
From that point on, ACT took control of the game against an, at times, weary looking opposition, who found it hard to match their opponents speed and quick hands.
Three ACT tries followed, with the highlight their second effort, scored by Petau Lefau after a fantastic pass from Isaac Crowe. At the break, ACT held a commanding lead of 24 – 6.
Just when it looked like the score could end up embarrassing for the WA boys, they scored the first two five-pointers in the second stanza, with Brody MacAskill and Jackson Pugh's names added to the scoresheet. At this point, the gap had narrowed to 24 – 18.
But any signs of a come from behind WA victory were shortly thwarted when Crowe dotted down for his second and Thomas Iles notched up ACTs fifth try for the game.
At full-time, the score was 38 – 18 in ACT's favour. Their best on field was superboot 10, Will Goddard, while for WA, Brody MacAskill impressed with a workhorse like effort.
SCORING
ACT 38 (Smith, Lefau, Crowe 2, Iles tries; Goddard 3, Haddard 2 con; Goddard pen) def. WA 18 (MacAskill, Pugh tries; Bavadra 2 pen)
<hr/ >
By "Covered"
Combined States dominated this game and played some impressive rugby against a spirited Victorian side.
Harry Turner opened the scoring with a determined run after only five minutes, followed by a try to winger Charlie Baker another five minutes later.
Number 11 Stirling Doyle had a field day and scored the first of his three tries shortly after. He showed good pace and elusiveness to bag a hat trick.
Strong forward play allowed Combined States to stay on the front foot and with good service from their scrummie and smart play from their 10 they continued to dominate. Turner scored again and put his name forward for the selectors to think about.
Triston Reilly and Joel Ellis were busy in attack in the lead up to Doyle's third meat pie and the hard working Harrison Cannon was rewarded with a five pointer to finish the game off.
Victoria crossed for their sole try scored by the rampaging number 3 Alex Sa'aga and ably assisted by the hard running 1 Oliver Barden.
For Combined States, Turner, Doyle, Reilly, Crone and Pavlakis stood out while, for Victoria, their front row worked hard all game.
SCORING
Combined States 45 (Turner 2, Baker, Doyle 3, Cannon tries; Pavlakis 4, Crone con) def. Victoria 7 (Sa'aga try; Fonua Jnr con)