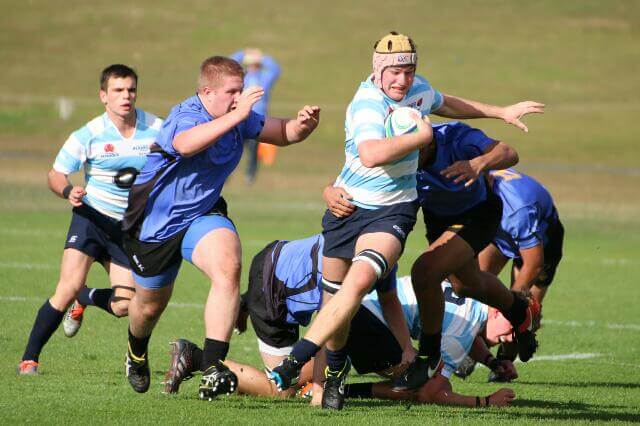 The 2017 Australian School Rugby Championships kicked off yesterday at St Ignatius' College, Riverview in Sydney.
The tournament, now in it's 43rd year, brings together 184 of the best schoolboy rugby players in the country. Day 1 featured four entertaining games, where lots of silky skills and huge hits were on display.
NSW I and II opened their accounts with comprehensive victories over Victoria and WA respectively. In the other matches, Combined States narrowly beat QLD II and ACT knocked off QLD I in a thriller.
By "Covered"
Both teams showed they mean business for the upcoming games, but Combined States (CS) put their nose in front with minutes to go in a closely fought match.
CS started off strongly with their forwards controlling the ball well. Forwards Harrison Cannon (19), Emmitt Keepa (4) and Harry Turner (7) stood out, while in the backs, Jack Walsh (22), Michael Pavlakis (15) and Triston Reilly (13) looked threatening with ball in hand.
CS looked to have the game in the bag but the Queenslanders fought back with a superb team try to Viliami Lea (11), his second for the match. However, their chance of winning was lost when Reilly raced 20 metres to score a converted try for CS.
For QLD II, Viliami Lea showed good speed on the wing and their front row of Prynce Taugaele (1), Rhys van Nek (2) and Emile Tuimavave (3) worked hard all game.
CS were the better team on the day and it will be an interesting game when they take on the impressive NSW I team on Wednesday.
SCORING
Combined States 28 (Doyle, Walsh, Turner, Reilly tries; Pavlakis 4 con) def. QLD II 22 (Lea 2, van Nek tries; Vuta con)
By "Crackerjack"
In a polished and dominant performance, NSW I dusted a game Victorian schools side 39 – 8. But for the first 20 minutes, it was a different story.
While NSW I right-wing, Albert Hopoate (14) opened the scoring, the Victorians put it to their more fancied rivals in the early running. They asked plenty of questions with an exciting back three, Harry Kolio Ma'o (11), Haloti Fonua Jnr (14) and custodian, Sione Tui (15). They also held their own through the forwards.
Ma'o's try put the VICs on terms and flyhalf Angus Edwards' penalty kick edged them in front.
An intercept by Tui inside his own quarter was run down finally by NSW I chasers. From there, NSW I settled into their work, eliminating loose penalties from their game.
Midfield ascendency was capitalised when lock Jeremy Williams (19) barged over and half-back, Henry Robertson (9), sniped another just before oranges, giving NSW I a handy 17 – 8 lead.
After the break, Ben Donaldson (10) and Brooklyn Hardaker (12) unleashed their outside men into space, and NSW I went well on top with tries to Will Lloyd (11) and full-back Tom Woodcock (15).
Replacement NSW I backs Joey Walton (22) and half Dylan Dowling (21), were both lively and impressive when they got game-time minutes, and NSW I closed out the day's try-scoring as they started, when Hopoate nabbed his second.
NSW I STANDOUTS
Ben Donaldson (10), Albert Hopoate (14), Tom Woodcock (15) and Jeremy Williams (19)
VIC STANDOUTS
Sione Tui (15) and Harry Kolio Ma'o (11)
SCORING
NSW I 39 (Hopoate 2, Williams, Robertson, Lloyd, Woodcock tries; Donaldson 2 con, Woodcock con; Woodcock pen) def. VIC 8 (Ma'o try; Edwards pen)
By "William88"
The game had an intense start, with big hits and strong play from all players, with a quick try to ACT Brendan Jimenez (15) after some good forward play.
The QLD scrum then started to dominate, but were let down by handling errors and poor passing in the backs. QLD were let into the ACT half all game by simple mistakes, poor discipline and weak kick options.
From a scrum inside the ACT 22, Campbell Parata (10) got some width to Jangala Bennet (14), who with a beautiful step, went over for QLD's first points.
Some massive defense from ACT 3, 2 and 6 saved certain tries for nearly the rest of the half, but eventually, a slick powerful line from Jordan Petaia (13) lead to QLD's second try.
ACT started stronger in the second half and off a twisted scrum, Seamus Smith (9) showed great vision, running and chipping in behind for Wyll Holland (8) to score.
The game then turned into a titanic battle of field position as the teams traded a penalty kick each for points, until ACT had the last kick 25 metres out for the win with a minute to go. William Goddard (10) stepped up and won it for ACT 20 – 18, with a great kick under pressure.
ACT STANDOUTS
Lachlan Lonergan (2): Outstanding performance around the field, especially in defence. He has even improved on the lofty standards he set last year.
Zane Hogan (3): A big frontrower who caused some damage. His hits in defence were a big part of ACT's success.
Wyll Holland (8): Dangerous in defence and attack, and had a very high work rate.
QLD I STANDOUTS
Trevor Hosea (5): Made some huge hits in defence and was powerful when running with the ball.
Jordan Petaia (13): He is a danger man in attack, looking to spark a line break with every touch of the ball.
Janagala Bennet (14): Has talent and speed to burn. His try was one of the highlights of the day.
SCORING
ACT 20 (Jimenez, Holland tries; Goddard 2 con; Goddard 2 pen) def. QLD I 18 (Bennett, Petaia tries; Parata con; Parata 2 pen)
---
By "William88"
The game got off to a scrappy start as the boys let out some nervous energy. Charlie Savala (22) made a good start for NSW II at 10 distributing well and controlling the game as did WA 13, Luke Kapene, who looked dangerous with the ball in hand.
The first half saw tries for NSW II by Jayden Burgess (11), Harry Wilson (23) and Ed Poolman (12) and, with a 19 – 0 half time score, NSW were leading comfortably.
At the start of the second stanza, the reserves were on and the scrum became a weapon with Angus Bell (1) and Finn Wright (3) stealing nearly every tight head feed for the rest of the game. Halfback Marco Bell also made a big difference with his passing game.
But NSW discipline was poor and they were camped in their half for the first 15 minutes, before running away with the game at the end with some quality tries to Wright, Tom Yassmin (14) and Bell.
WA's Walker Smith (11) looked to be a danger man, but he was contained well by Yassmin on his wing, who himself looked to be dangerous with ball in hand.
NSW II STANDOUTS
Charlie Savala (22): Made a big impact with his control of the game.
Finn Wright/Angus Bell (3/1): Made a huge difference when the starting front rowers came on, at the set piece and in general play.
Stead/Cornish (6/7): A dynamic and powerful back row combination that will be a danger for other teams this week.
WA STANDOUTS
Luke Kapene (13): A big strong ball runner who was hard to tackle.
Walker Smith (11): Had a few good runs, could be the danger man with more ball in his hand.
Brody MacAskill(8): A high work rate around the field all day.
SCORING
NSW II 40 (Burgess, Wilson, Pullman, Wright, Yassmin, Bell tries; Savala 2 con; Easy 3 con) def. WA 0
Day 2 – Wednesday 5 July
10:00am – CS v NSW I
11:30am – QLD I v WA
1:00pm – QLD II v VIC
2:30pm – ACT v NSW II
Day 3 – Thursday 6 July
10:00am – VIC v CS
11:30am – WA v ACT
1:00pm – NSW II v QLD I
2:30pm – NSW I v QLD II
Day 4 – Saturday 8 July
8:45am – Pool A 4th v Pool B 4th.0
8:45am – Pool A 3rd v Pool B 3rd
10:00am – Pool A 2nd v Pool B 2nd
11:30am – Pool A 1st v Pool B 1st