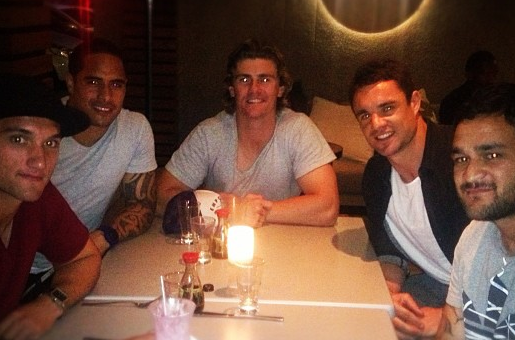 Here is an interesting tidbit that has been the subject of some amusement with our friends across the dutch.
Berrick Barnes has punctured his lung and hence can't travel home. Since the Wallabies had to continue on to Argentina, they were in a bit of a bind. Who could keep an eye on him while he recovered? Well it turns out he has been taken in by some unlikely carers — the All Blacks.
Their team doctor has been monitoring his recovery. But it doesn't end there — he has also been staying at the team hotel, going to training and driving a golf cart for the boys so they can get from A to B.
He even joined in their 9s and 10s dinner!
I think this is a great feature of rugby, which I am not sure you would see in other sports. It's also testament to the good relationship between the two teams.
We can only hope some of the winning attitude can rub off on Berrick, and he can bring it to the Tahs and Wallabies in 2013. Until then we wish him a safe recovery.
What do you think — a great feature of our game, or is he getting too close for comfort?