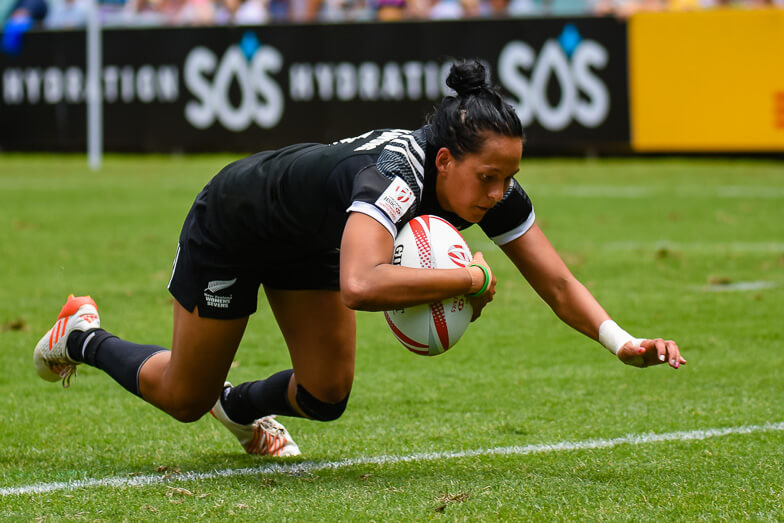 The Aussie women fell short on day two in the HSBC Women's Sevens Series , when they made it all the way to the final only to lose to trans Tasman rivals New Zealand.
Australia 5-28 New Zealand
The last meeting of these two teams was in the group stage, when New Zealand prevailed 21-14 however, stunning runs by the same two ensured that they would meet again but this time on a bigger scale.
The Cup final for the majority of the five minutes had no score as both teams saw plenty of the ball with some slick ball movement. It wasn't until two minutes before half time when the Black Ferns 7's made the first score involvement of the match.
Eventual player of the final, Ruby Tui scored a fantastic solo try to give New Zealand the lead. Tui received the ball in her own 22 and ran almost the length of the field. Once she crossed the half way line, she stopped, dummied a pass and from that point on she knew, she had to go all by herself and in the process of the solo try brushed off tackles to place the ball down.
Thirty seconds before half time, the Black Ferns 7's scored another try and yet it was another solo one. This time it was Tyla Nathan-Wong's turn, when she sliced through the Aussie defence to plant the ball down under the goal posts to give New Zealand a 14-0 lead heading into half time.
New Zealand began the second half where they left off with another try, this time to Portia Woodman who showed fantastic speed and to be fair no Aussie player never looked like closing her down.
At this point on it was all becoming a familiar sight to the Aussies, with another Kiwi try down on the left hand side. Alena Saili with the try however, this one the kiwi's did have to work for. Saili before the try was in danger, however, she managed to dance her way out of trouble. A failed Charlotte Caslick tackle meant that she could place the ball over the line.
At last the Aussies had something to cheer for, when Mahalia Murphy crossed the chalk after the Aussies switched play, when they got the ball from the ruck. Murphy showed great speed before trying to fend off a tackle from Nathan- Wong, but all she had to do was reach out and put the ball over the line, and, that she did. Soon afterwards the whistle blew.
The Kiwi's were too strong on the day and now have a two-point cushion over the Aussies on the World Series standings. A vast improvement by the Aussie women form their Sydney showing and could gain confidence from this tournament heading into Kitakyushu on April 22nd.
Meanwhile the Kiwi's are proving their worth after winning two out of three tournaments.
Las Vegas 7s Women's Day One Results:
Australia 31-14 England
Australia 38-0 Brazil
Australia 14-21 New Zealand
Qantas Australian Women's Sevens day two results:
Quarter Final: Australia 22-7 Fiji
Semi Final: Australia 26-17 Canada
Final: Australia 5-28 New Zealand
HSBC Women's World Rugby Sevens Series Standings (after three rounds): 1. New Zealand (56 points) 2. Australia (50 points) 3. Canada (46 points) 4. Fiji (36 points) 5. Russia (34 points) 6. USA (34 points) 7. France (26 points) 8. England (20 points)