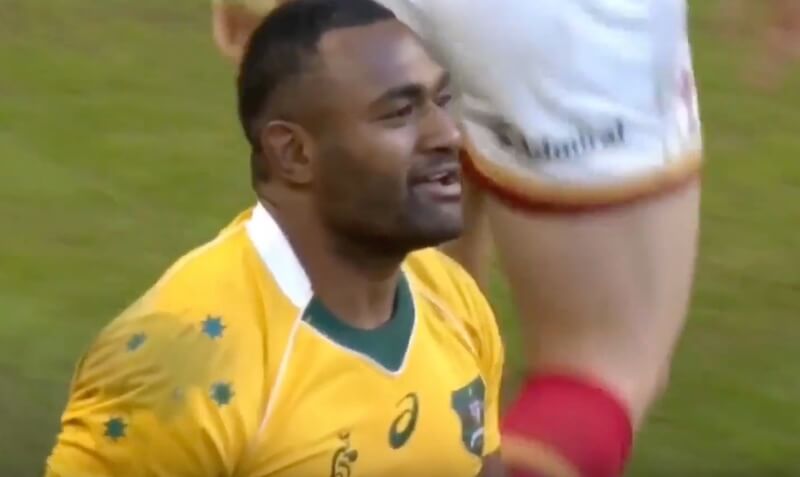 When you play against a Shaun Edwards coached team like Wales you have got to do your homework because his teams run a very good Blitz Defence that ball players can find claustrophobic. Stephen Larkham can take credit for an excellent preparation of the Wallabies attack. They tore Wales apart in the first half with some well executed plays that are worth a good look at. We'll call them Australia's Blitz Buster plays…
Blitz Buster 1 – "Strike Play"
The Wallabies ran one of their favourite strike plays form a lineout around 18 minutes in to the match. It's the same play they scored against Argentina during The Rugby Championship – a Larkham peach.
Block plays are a great option against a Blitz Defence because defenders tend to target the lead runner and the 2nd man runners can find space. In this instance Tevita Kuridrani runs the lead line and Foley slices through the line. The try is bombed but that's not the coach's fault…the play is GOOD!

Blitz Buster 2 – "21 Pattern"
The next big Blitz Buster play was run from another lineout around 7 minutes later only this time the Wallabies targeted the blind side using a 21 Pattern (that's when you play 2 x phases to the open before hitting back to the blind).
This play was designed by Coach Larkham to target Wales' tight forwards and it was run to perfection. Stephen Moore did an excellent job in a ball playing role to play Bernard Foley and Reece Hodge through the blind side defence.

Blitz Buster 3 – "31 Pattern"
The Wallabies struck again around 10 minutes later from another blind side raid, this time they hit back after 3 x phases of play from to the open side. It's another well designed sequence play from the Attack Coach again targeting Wales forwards.
This time Bernard Foley ran a more conventional block play to the left edge cleverly missing Izzy Folau to release Tevita Kuidrani. It was a play inspired by the NRL and even Jonathan Thurston would have been happy with Bernard Foley's pass.

Blitz Buster 4 – "Kick to Score"
In addition to running some terrific strike plays and sequence plays the Wallabies were also very creative from phase play against Shaun Edward's Blitz Defence.
Early in the game Bernard Foley peppered the right edge with clever cross kicks to find the space behind the rushing defence. The tactics were smart and the execution was mostly precise. Bernard Foley's compact stature enables him to have an extremely effective short kicking game. On any other day his skill would have created at least another try. Had it been Foley and not Dane Haylett-Petty kicking to the right corner Izzy may have scored early in the game.

Summary
It's great to be a Wallabies supporter this week, our boys have put a marker down kicking off their Grand Slam Tour in fine style. Coach Cheika and his staff (particularly Stephen Larkham) should savour this performance. They prepared the troops very well and the team really performed.
We take on the Scots next who no doubt will be out to avenge their controversial exit at the 2015 World Cup. It doesn't get easier for the Wallabies but like their supporters they'll have a spring in their step this week. They will draw great confidence from this victory.