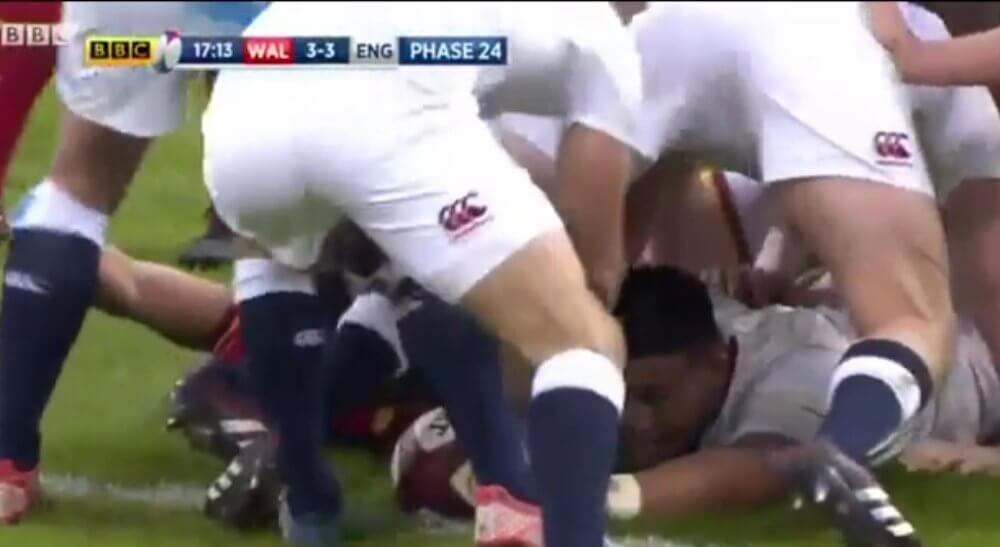 This Eddie Jones coached England team keep finding a way to win. This time it was the very experienced Wales team that lost at the death to this seemingly blessed England team, making it two wins out of two for England in the Six Nations. Jones keeps talking about being the best team in the world, and his team keeps finding ways to win. Win ugly, win late…it doesn't matter how they do it this team just keeps winning and it's the sign of a very good program.
In this analysis we're going to look at a few things in attack from each team. There was not a lot between them but there were some interesting things of note for both teams.
Attack Zone
Wales ran this very clever 2 x phase spread play off a six-man lineout that created a lot of room for Liam Williams and exposed the English edge defence. As the clip shows, the play started with a strong launch phase targeting George Ford. Once Wales had shortened the English defence line, they ran a nice block play on the second phase to create space on the edge where Williams enjoyed cutting in and turning the English edge defence inside-out.
England also ran a 2 x phase spread play of their own off a kick return and this also created problems for the Welsh blitz defence. After the first strong carry England set a "tunnel" shape outside their first receiver designed to get Wales to bit on the decoy runners. As this clip shows the "tunnel" shape created plenty of space and a scoring chance for England's edge attack.
Red Zone
Like last weekend, this weekend's tries were scored from Red Zone shots. The pick of these was the Welsh try run from a scrum on the left side of the pitch. The play is beautifully executed, as the running scrumhalf plays his blindside winger through the defending midfield. Both Ford and Farrell have multiple runners to contend with and Liam Williams bursts through the line to score almost untouched.
England's Red Zone try was scored out wide after the English pack had hammered away at the Welsh try line. The Welsh defence scrambled well on their try line but England could not be denied as Ben Youngs took his chance after some excellent passing and footwork out wide on the open side edge.
Running Halfbacks
Both England and Wales are blessed with intelligent running scrum halves and there were some excellent examples of their guile and artistry throughout this match. As both attacks found themselves a little bogged down their scrum halves stepped up and attacked the fringes with close support runners. The tactics worked very well to turn slow ball into what the Kiwis call "Lightning Quick Ball" (LQB). Both these clips illustrate the value of running 9s in creating front-foot LQB, which in turn creates space and scoring chances on the edge.
Summary
It would appear that England's coach Eddie Jones has the midas touch and it's hard to see how this team can be stopped. They have three matches remaining, and whilst Italy and Scotland will give them a work out, it looks like it might be Ireland who have the best chance of turning over this very well balanced English team. I guess time will tell.