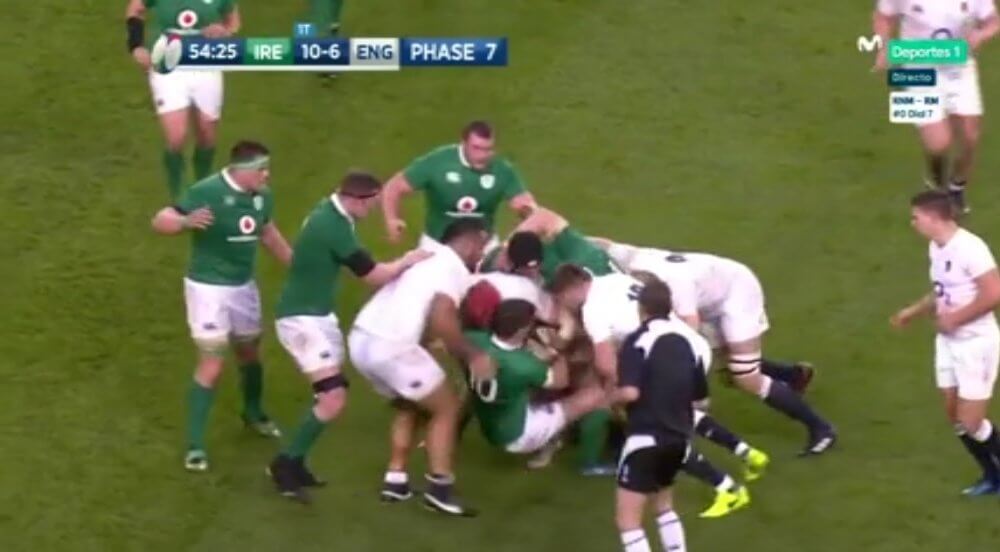 England's Grand Slam decider was always going to be a dog fight in Dublin on St Patrick's Day. The Irish seem to grow an arm and a leg when they play England in these big matches. It might have something to do with 800 years of history or it might just be that this English team's knack of winning tight games eluded them on Saturday. Either way, it was an enthralling contest even if it was a dour spectacle on a soft pitch.
Ireland Came to Play
It was refreshing to see Joe Schmidt's Irish team turn up for this battle with the intent to play. That was obvious by the way they set about trying to break down England's defence.
These few clips illustrate Ireland's intent with ball in hand. The first clip takes a look at Ireland's attack from the edge – they were prepared for their forwards to keep the ball alive in order to create space for their outside backs.
With England having such a heavy Blitz Defence and great line speed, Ireland looked to attack the English tight 5 forwards a couple of times with 21 Pattern sequence plays from lineouts. This example shows the thinking behind the plan – Ireland would have created a clean bust on the blind side had the pass been a little more accurate.
England were Sloppy
It would have been very disappointing for this English team to finish their campaign with this performance. Due to Ireland's pressure England struggled to win and maintain possession at crucial points in the match. It was a major factor in the result, and these clips illustrate the point well. In the first clip England fail to win clean ball at the lineout and are forced to kick the ball away. The second clip is only moments later but this time the same thing happens from a scrum. 
In this next clip England get turned over thanks to Ireland's choke tackling. All three of these turnovers came early in the second half when England were trailing 10 v 6. They could not get any traction at this crucial point in the game and it cost them dearly.
Targeting Sexton
Eddie Jones is one of the few coaches in world rugby to indulge in mind games with the opposition. Most prefer to pump up their opponents, rather than tempt karma. It was only one season ago that Eddie Jones was questioning Johnny Sexton's medical advice when he decided to play against England after a head knock in a match against France a week earlier.
I've no doubt Sexton was targeted in England's defence game plan. It's an obvious thing to do, pressure the opposition 10 who likes to play flat. However, England's back rowers over stepped the mark and it cost them.
In the first clip you'll see Maro Otoje hit Sexton late and concede a penalty that in turn gave Ireland the field position to score their first try…have a look at these two clips:
Sexton Has Revenge
To rub salt into English wounds Johnny Sexton banged over a penalty to seal the victory thanks again to a late tackle in the second half.
In Conclusion
England can be happy with their run of 18 wins. It's rare a team can play so many tests without crossing paths with the All Blacks. It remains to be seen just how close this England team is to the reigning World Champions.
From my perspective England are a breath of fresh air. They're prepared to declare their intent and they're making great strides in their journey to the top. Well done England!