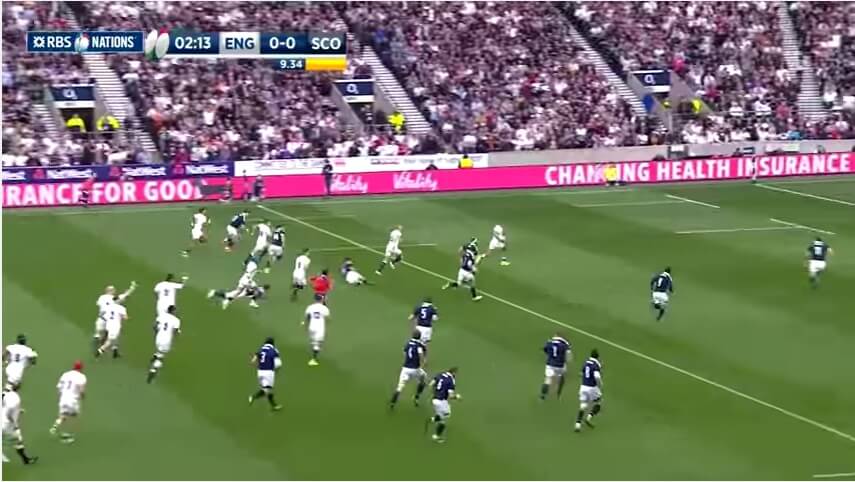 In the modern era it's rare that a test match is decided by the dancing feet of a centre, but that is exactly how England won the 2017 RBS 6 Nations.
Jonathan Joseph has always had beautiful footwork, that was obvious when he was first contracted to the London Irish Academy (my old club). In this match he produced what must be one of the most perfect running performances an outside centre has ever made. He tore up the park from the first minute until the 60th minute when coach Eddie Jones gave him a rest.
The following clips are a video summary of what is the best attacking performance from a number 13 I've ever witnessed:
Try Number 1.
In this play England ran one of their favourite Dummy Drive plays with Ben Youngs bouncing out to launch a well timed second man play behind Owen Farrell to George Ford who then holds up a short pass for Jonathan Joseph (JJ). JJ runs a beautiful line and has plenty of work to once he gets through the front line. He's all class…
Try Number 2.
This next play is from another lineout, however this time the ball comes off the top with Ben Youngs feeding Owen Farrell who bounces out to run a second man play behind Nathan Hughes again feeding George Ford. JJ runs another peach of a line of George Ford and you could be forgiven for thinking you'd seen this all before. England clearly decided to attack Scotland's midfield and they did so with great variety and precision.
Try Number 3.
This play was a little more conventional but the objective was the same – attack Scotland's centres by throwing numbers at the line. This time England ran a 6 Man lineout and the ball came off the top with George Ford playing Owen Farrell behind Nathan Hughes. This time Owen Farrell held up the ball for JJ and he released his London Irish Academy pal Anthony Watson to score. Scotland's defence coach (Matt Taylor) must have been in tears at this point…the Scottish midfield was now completely in tatters.
Try Number 4.
JJ went on to score in the second half with what was a simple hard line deep inside Scottish territory. This try completed his hat-trick and capped off a stellar attacking performance. Compared to the other tried she scored or had a hand in scoring this try was pretty straight forward.
With Ben Teo playing so well for England during this 6 Nations Championship, JJ probably had to come up with a special performance to secure the number 13 shirt for the Grand Slam game in Dublin. It won't be straight forward. I
n 2011, I was part of Martin Johnson's England coaching staff when we took an undefeated England team to Dublin to win the Grand Slam. Unfortunately, the Irish team denied us the Slam in 2011 but at least we won the 6 Nations. Many of the England players like Dylan Hartley and Ben Youngs were involved in that match and I'm sure they're keen to get the job done this time around. Whatever happens, this really is a special England team.