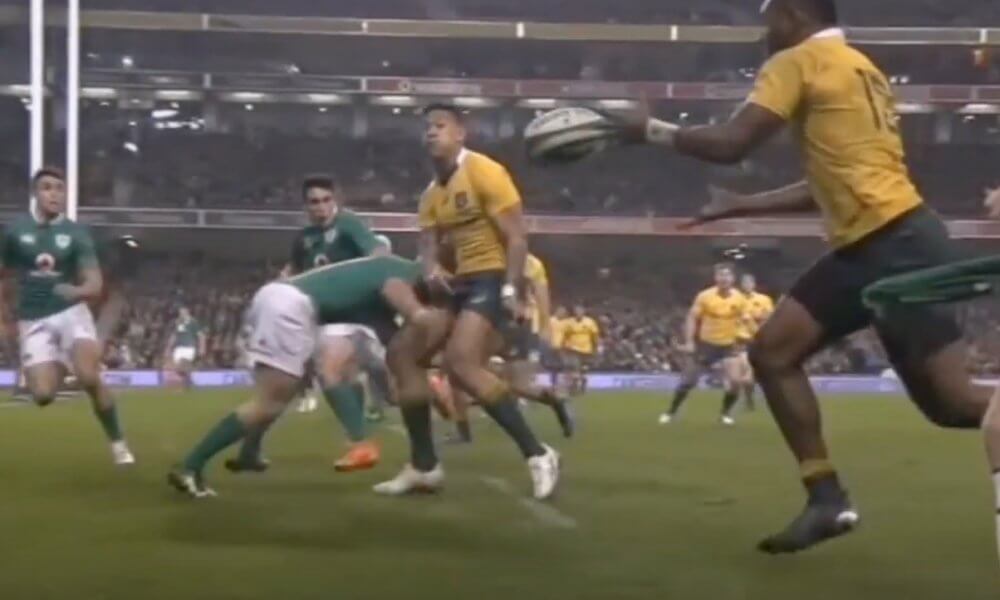 Having played in both Gold and Green jumpers it's always an experience watching the Wallabies play Ireland. Whilst I thought the Australia had that game won with 15 minutes to go it's difficult not to appreciate the way Ireland dug deep and found a way to win despite the injury carnage they faced in their backline. In this week's analysis we're going to focus on the attack of both teams.
Spread Plays
Both teams started the game launching 'Spread' plays from scrums and lineouts. It was a signal of intent from both teams. The first clip we'll look at is an Irish lineout play. Last weekend the Wallabies had some difficulties defending the edge so Ireland had a crack going wide. This play ended with a loose pass but as the picture shows they certainly created space and an early chance.
The Wallabies countered with a spread play of their own and they too were inaccurate. Despite the turnover, the play was very effective creating space for Izzy Folau, Reece Hodge and Henry Speight. We were well over the gain line and had we been able to secure this ball we would would have been perfectly placed to put Ireland under pressure.
Sequence Plays
Having played wide early both teams then went to their 'Sequence' plays looking to play through the defence. It has to be said the Irish got lucky on their play with Simon Zebo coming from the bench to slide in a short kick that looked for all money to be covered by the Wallabies.
The Wallabies play however was well constructed and beautifully executed. Australia's sequence play was launched by Tevita Kuridrani from a lineout as he set a target in midfield. The next phase is pure genius as Bernard Foley and Michael Hooper target Rory Best and Paddy Jackson. The Wallabies know that Rory Best defends at the tail of the lineout and his next job is to cover Paddy Jackson's inside shoulder from the next phase. Best is many things but he is not agile.
The shape the Wallabies threw at Jackson and Best was very good with Hooper taking a delayed inside ball off Foley's hip. Dane Haylett-Petty (DHP) ran a nice line to hold up Best as Hooper sliced through. The support lines from Izzy and DHP were excellent. Stephen Larkham take a bow…great strategy and perfect execution.
Attack from the Edge
World rugby can thank New Zealand for the general improvement of all international teams in phase attack in recent times. The Wallabies in particular have really sharpened their attack from rucks on the edge of the pitch. In these clips you'll recognise a what Australia is trying to do from wide rucks when faced with a full line of defence. The first thing they want to do is bite into the defence line either off 9 or 10. The Locks and one Back Rower are given this duty.
From that ruck we then look to play off Stephen Moore with his Props and Izzy Folau in support. These two direct phases usually get the Wallabies to centre field, from here Bernard Foley takes over with a hard running Back Rower and 3 x Outside Backs playing out the back. These clips show how effective these tactics are creating scoring chances from phase play.
Whilst the Wallabies' dream of a Grand Slam is over the tour has been a success in many ways. Our attack is clearly improving and the coaching staff can take credit for this.
There is a lot riding on this next game against England. The banter between Michael Cheika and Eddie Jones will add spice to the occasion. Twickenham will be bouncing with 80,000 very confident Englishmen looking to ride their Sweet Chariot home.
Wouldn't it be nice for our boys to rain on their parade.