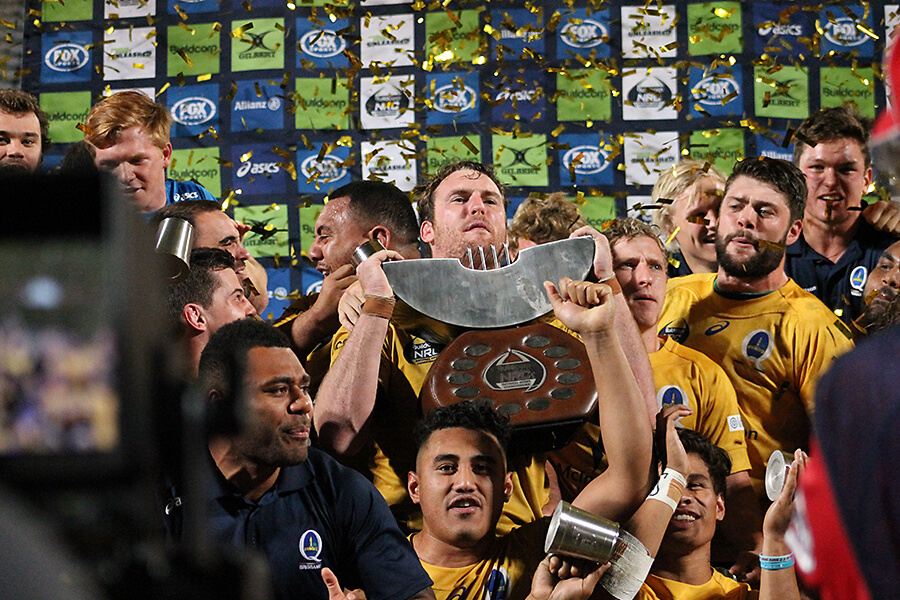 Brisbane City enter season 2016 as the only team to ever win the infamous Buildcorp NRC toaster trophy, doing so undefeated in 2015. They also finished last year as the holders of the inaugural Horan Little Shield to control all the current silverware in the NRC (including the Andy Purcell Cup, won by defeating QLD Country).
But they enter season 2016 without three key components to their recent success. Lock Cardeyrn Neville was almost unstoppable for Brisbane last year and will miss this year after shoulder surgery; Liam Gill was phenomenal in 2015 but will be spending August and September readying himself for his first season with Toulon, while Coach Nick Stiles has been promoted to the Queensland Reds Head Coaching role so will now have to stand back and just watch how Brisbane approach the 2016 season.
History:
Brisbane City have lost just two games in the entirety of the NRC competition and, as you'd expect from such a record, won both premierships on offer. In 2015 the team managed to surpass their 2014 premiership by winning again, but this time doing so in an undefeated season.
Squad:
Fullbacks: Karmichael Hunt (Norths), Patrick James (Brothers)
Wings: Alex Gibbon (Norths), Chris Kuridrani (GPS), Brad Lacey (Wests Scarborough, WA), Junior Laloifi (Sunnybank)
Centres: Levi Aumua (Souths), Nathan Russell (Univeristy of QLD), Toby White (Easts)
Flyhalves: Jake McIntyre (Sunnybank), Jake Strachan (Sunnybank)
Scrumhalves: Nick Frisby (GPS), Harry Nucifora (Bond Uni), Moses Sorovi (Univeristy of QLD)
Backrowers: Leroy Houston (Wests), Luke Beauchamp (Brothers), Jack DeGuingand (Univeristy of QLD), Michael Gunn (Easts), Isi Naisarani (Souths), Tuaina Tualima (Sunnybank), Criff Tupou (Brothers)
Locks: David Findlay-Henaway (Brothers), Jeremiah Lynch (Wests), Brendan Mitchell (Sunnybank), Lukhan Tui (Brothers)
Props: Feao Fotuaika (Sunnybank), Tonga Ma'afu (Univeristy of QLD), Sam Talakai (Brothers), Pettowa Paraka (Easts), Markus Vanzati  (Souths)
Hookers: Matt Mafi (Brothers), Andrew Ready (Easts).
The Wallabies aligned to the squad are Kane Douglas and Samu Kerevi.
It's difficult to ascertain just how much any of the NRC sides will see of their Wallabies, so it's probably best to factor them out for the time being. It's unfortunate because their two positions, lock and centre, seem to be where there are a few gaps to fill within this Brisbane team.
In the centres we will likely be without Kerevi, who has thrived in the NRC since its inception. Also missing from that 2015 side was the ever impressive Henry Teafu, whilst Karmicael Hunt was called on to play closer to the action at times. Hunt could conceivably find himself in the centres again this year unless the selectors decide to run with the dynamic Levi Aumua alongside the veteran Toby White.
At lock we have a complete turnover of talent with no Neville, James Moore, Ben Hyne nor Corey Thomas. Neville was somewhat of a known quantity last year, whilst the others all stood up to produce a series of impressive performances in providing balance to an all-star pack. This year it will be up to the likes of David Findlay-Henaway, Jeremiah Lynch and Brendan Mitchell to stand up alongside the imposing, yet inexperienced, talents of Lukhan Tui.
Sam Talaki, at tight head prop, will captain Brisbane City has he has on occasions over the last two years, and returns as one of the familiar faces alongside known quantities such as Andrew Ready, Pettowa Paraka, Luke Beauchamp, Jake McIntyre, Chris Kuridrani, Alex Gibbon and the Fresh Prince of Ballymore, Junior Laloifi.
With Gill and Scott Higginbotham gone from last year's squad, Reds players Michael Gunn and Leroy Houston (an original Ballymore Tornado!) will attempt to fill the void. Nick Frisby, cut by the Wallabies with the return of his long term mentor Will Genia to these shores, will use the tournament to continue his push for further Wallaby caps.
Potential XV:
15 Junior Laloifi, 14 Brad Lacey, 13 Alex Gibbon, 12 Karmichael Hunt, 11 Chris Kuridrani, 10 Jake McIntyre, 9 Nick Frisby, 8 Leroy Houston, 7 Michael Gunn, 6 Luke Beauchamp, 5 Lukhan Tui, 4 Jeremiah Lynch, 3 Sam Talakai (C), 2 Andrew Ready, 1 Pettowa Paraka
Coaching Staff:
The man to fill the big boots of the inaugural Brisbane City coach, Nick Stiles, is the experienced Rob Seib of the Sunnybank club. Seib, who has coached the Dragons over the last five years, steps up to the top job after acting as attack coach for Brisbane City over the last two years. He will be joined by new GPS Premier Grade coach Shane Arnold (defense) and former Reds prop Anthony Mathison (forwards) as assistant coaches.
Draw:
The shorter season in 2016 means only a handful of teams get to host four home games, and Brisbane City is lucky enough to be one of those teams. Away games in Sydney (NSW Country – Rnd 1), Melbourne (Rising – Rnd 4) and Perth (Spirit – Rnd 6) make it a campaign with plenty of travel. Interestingly it was the Spirit game in Perth two years ago that was somewhat season defining as a young team came from behind to defeat a high-flying Perth team. The last game at Ballymore against Queensland Country will not only be for the Andy Purcell Cup but could dictate finals positions with Country expected to be a much tougher outfit this season.
As current holders of the Horan Little Shield, Brisbane will be putting it up for automatic challenge at their first home game, against the Western Sydney Rams, in Round 2 at Ballymore.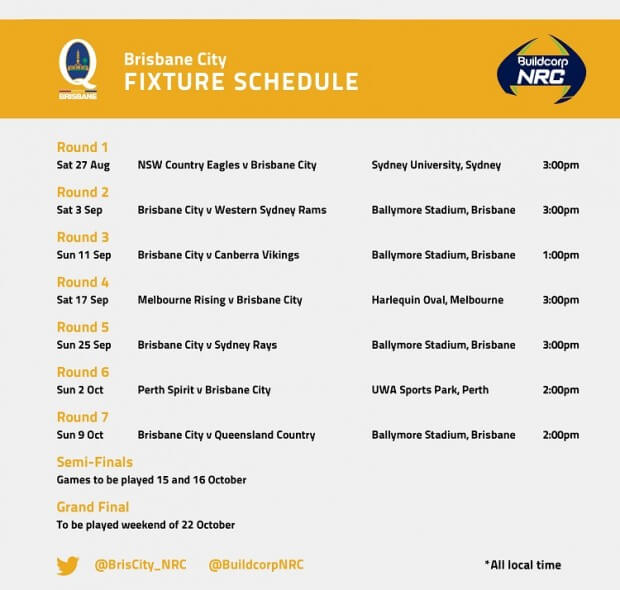 2016 Expectations:
Brisbane City will start the season as deserved favourites despite the loss of some key talent both on and off the field.  Personally I was somewhat pessimistic a month or so ago when we could have been without our key players Frisby, Kerevi, Hunt and possibly Ready. In the end though it seems only Samu will miss action, and even then it may not be much (depending on which way Wallaby selections go).
There is some real competition out there in what looks like it should be a fairly tight tournament. The Melbourne Rising and Canberra Vikings are both chock-full of Super Rugby stars and fringe Wallabies, and seem the most likely candidates to stop Brisbane's domination. Meanwhile the two Country outfits both have squads capable of threatening to rock the finals boat come October.
My tip: Expect to hear more Glory Glory Brisbane City! 1st