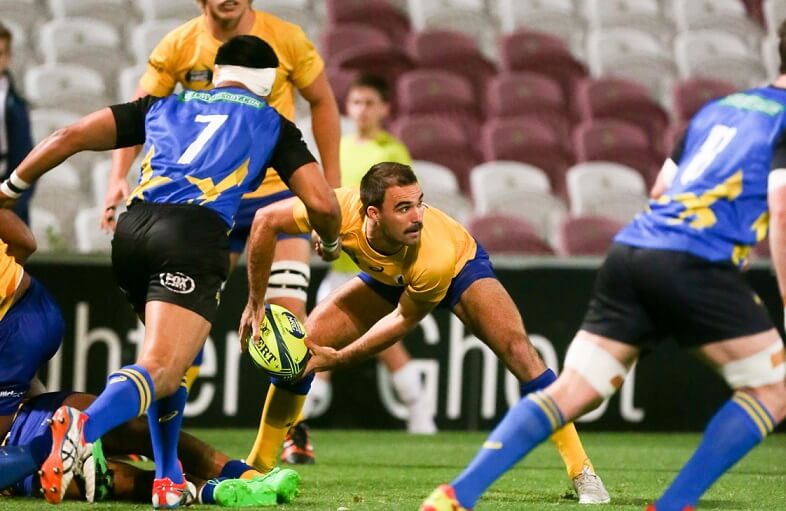 Brisbane City are through to their second consecutive NRC Grand Final after combating both a determined Sydney Stars who at one stage looked set to deal the minor premiers their first loss of the season. Brisbane's 47-32 victory will see them host the Buildcorp NRC Grand Final against the Canberra Vikings next Saturday afternoon at 3pm (local time).
The 1st Half
Despite entering the match as raging hot underdogs having scrapped into the finals and being humiliated when the two teams previously met, it was clear from the kick off that the Stars were up for the clash. After holding on some early Brisbane City attack on their line, the Stars were first to score when Guy Porter ran onto a magical off-load from his wing partner Harry Jones to score in the corner. With Angus Roberts converting from the sideline the Stars had their tails up with an 8-0 lead.
The initial concerns amongst the City faithful amongst the Ballymore stands were somewhat allayed when Luke Beauchamp scored from a 30 metre plus driving maul through the Stars pack. Jake McIntyre evened things up and the score was 8-8 after 13 minutes.
Things looked bad for Brisbane again when it looked like the Stars were in again following a kick through and a failure to clean up by Junior Laloifi. However the TMO would rule a knock on from the chasing Stars player and a scrum to Brisbane was awarded. Soon after another dominant driving maul saw Brisbane skipper Liam Gill the benefactor and Brisbane were finally in front 13-8 after 27 minutes.
The lead didn't last long as the Stars were once again stunning the Ballymore crowd with back to back tries to flanker Jake Wainwright (off a strong Jones run) before winger Jones chased a well-placed Tom Kingston grubber, avoided a family of nesting plovers and touched down to give his team a 24-13 lead as the teams headed into the sheds.
With rain beginning to fall, Brisbane City were in danger of becoming the second NRC minor premiers in succession to be knocked out in the semi-finals. They were also in danger from a family of stubborn plovers had set up camp at the XXXX Hill end of the field. Regardless of the wildlife, Stars coach Peter Playford had his team primed for the upset with the type of aggressive defence the NRC has not seen much of this season. Playford's unique approach to rugby was evident in a number of different plays and options he clearly encourages his team to be aware of and implement. How Brisbane's record breaking coach, Nick Stiles, would get his team to respond would dictate just who would be proceeding through to the Grand Final the following week.
The 2nd Half
Brisbane City continued to be thwarted by the Stars in their attempts to play the game wide through continued strong defence. To Brisbane's credit their "Plan B" of going through the forwards was working pretty damn well and Liam Gill was soon over for his second try of the match on the back of some pack work. The missed kick was good yet the Stars still held the lead at 24-21 with 35 minutes to play.
Then carnage broke out. The game had been niggly enough already, as you'd expect from a Brisbane v Sydney encounter in any sport, let alone one featuring Tom Carter. Another melee broke out soon after Gill's try and the end result was City hooker Andrew Ready and Stars prop Jeremy Tilse being yellow carded.  The challenge now was which team would crack first given the reduced numbers.
As it turns out, it was that man Carter who found himself at the back of a driving maul from a lineout to score a crucial try that was ultimately converted and stretched the Stars lead to 11 points (32-21) with less than half an hour to go. The Stars were playing strongly and their niggly play was upsetting the Brisbane side, frustrated at not being able to produce the running rugby they enjoy so much.
Finally, however, Brisbane were able to break free down their left hand side through some nice touches from prop Matt Mafi, Junior Laloifi and Karmichael Hunt who all combined to send Samu Kerevi across the line for a crucial try to Brisbane under the posts. Kick good – Stars lead 32-29.
Brisbane do it all again just two minutes later as Nick Frisby pounces on a loose ball and toes ahead ('chipping, chipping, still chipping' style) before timing his dive and regather to put his team in front for the first time in over 30 minutes and finally the ball was starting to go Brisbane's way. 37-32 to Brisbane with just over 20 minutes to go.
City was suffer a massive blow soon after however after gun lock Caderyn Neville was shown a Yellow Card for a lazy hack of the boot which resulted in the tripping of a Stars player. If the Stars could take advantage of the one-man advantage and the weakened City lineout, the match was there for the taking.
However it would the Sydney lineout that malfunctioned as a long throw on their own line was again pounced on by Frisby who dived over for what was surely the match winning try. Even though the conversion would miss, the lead of 42-32 with approximately 15 minutes to go was looking to be enough. The margin was made safer when Neville returned to the field soon after with the Stars unable to capitalise.
Soon enough it was the Stars who were down a man with their captain David Hickey sent to the bin for dissent with only five minutes left to go in the match. Brisbane would take full advantage and Jake McIntyre was able to force his way over for a final try in the 77th minute  to ensure his team remained on track for their 2nd consecutive premiership.
The Game Changer
The Stars defence in the backline was fantastic in the first half and they frustrated the City attack. It was not until the Samu Kerevi try in the 53rd minute, the first time Brisbane were able to cut loose, that the momentum truly started to swing towards Brisbane.
The G&GR MOTM
Peter Playford himself, coach of the Stars, needs recognition for how up for the game the Stars were.  Of the players, lock Ben Hyne had a massive game for Brisbane City, but in the end it was some key plays by Nick Frisby that secured his team the victory and himself the Man of the Match Award. 
---
The Details
Brisbane: 47

Tries: 7
L. Gill (2) 28', 46'
N. Frisby (2) 57', 63'
L. Beauchamp 13'
S. Kerevi 53'
J. McIntyre 78'

Conv: 4
J. McIntyre (4/7) 14', 47', 55', 58'

Cards:
A. Ready 48' — YC
C. Neville 59' — YC

Sydney: 32

Tries: 4
G. Porter 9'
J. Wainwright 33'
H. Jones 37'
T. Carter 52'

Conv: 4
A. Roberts (4/4) 10', 34', 38', 53'

Cards:
J. Tilse 48' — YC
D. Hickey 76' — YC
Referee: Rohan Hoffman

Attendance: 2,432

Brisbane City: 1. Matt Mafi, 2. Andrew Ready, 3. Sam Talakai, 4. Ben Hyne, 5. Cadeyrn Neville, 6. Luke Beauchamp, 7. Liam Gill (c), 8. Adam Korczyk; 9. Nick Frisby, 10. Jake McIntyre, 11. Junior Laloifi, 12. Henry Taefu, 13. Samu Kerevi, 14. Chris Kuridrani, 15. Karmichael Hunt. Reserves: 16. Ryan Freney, 17. Marcus Vanzati, 18. Feao Fotuaika, 19. Corey Thomas, 20. Waita Setu, 21. Moses Sorovi, 22. Alex Gibbon, 23. Andy Muirhead. Coach: Nick Stiles.

Sydney Stars: 1. Jeremy Tilse, 2. Tolu Latu, 3. Kirwan Sanday, 4. Tipiloma Kaveinga, 5. Rohan O'Regan, 6. Jake Wainwright, 7. Jordan Tuapou, 8. David Hickey (c); 9. Jake Gordon, 10. Angus Roberts, 11. Harry Jones, 12. Tom Carter, 13. Jim Stewart, 14. Guy Porter, 15. Tom Kingston (vc). Reserves: 16. Todd Pearce, 17. Alasdair King, 18. Liam McGrath, 19. Senio Toleafoa, 20. Ofa Finau, 21. Richard Draper, 22. Jordan McGregor, 23. Andrew Robinson. Coach: Peter Playford.
Feature Photo credit: QRU/Sportography