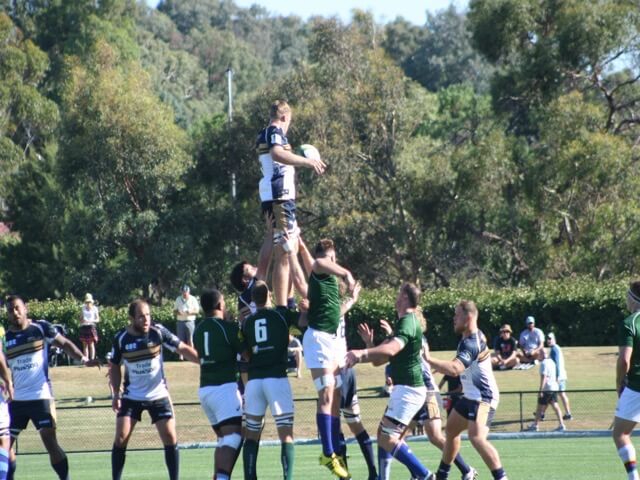 The Brumbies kicked off their 2017 campaign with a trial win against an Australian Barbarians side made up of NRC players.
The Match
It was a chance for the Brumbies squad to put months of pre-season running and dominating of tackle bags behind them in their first serious test of the new year and give the large number of new recruits to show what they can do in very hot conditions.
It wasn't the result that mattered on the night but how the new combinations fared in game conditions with the majority of Wallabies players from the Spring Tour rested from the match.
New flyhalf Wharenui Hawera looked good in his 50 minutes on the field as he lead around the Brumbies backline and combined well with new inside centre Kyle Godwin. He did setup a try to right winger Andrew Muirhead, who had played with Brisbane City in the NRC in 2016.
Another recruit making the trip south from Brisbane was number 8 Lolo Fakaosilea and he didn't mind getting involved in the big hits and could be the man to fill that spot when the season proper commences.
Chris Alcock has the big shoes to fill of David Pocock and won a number of penalties at the ruck and even bagged a try.
The Brumbies starting scrum worked well, knocking back the Barbarians scrum a number of times and with five changes to last years starting side, would give them a bit of confidence. Nic Mayhew played well in the 50 or so minutes that he played.
The Barbarians took their time to get into the game and the limited preparation showed as they struggled to get much going with dropped balls and bounce passes stopping them from getting any momentum. It took them about 55 minutes to start putting any real pressure on the Brumbies with offloads and a wide game starting to creep into their play.
Scrum half De Wet Roos, from the Rays, was probably one of their better players as he looked for space with sniping runs and kicks in behind the Brumbies defence. Will Munro put in a good showing despite their pack not having the best day.
The second half saw the usual high number of replacements with Mac Hansen looking good at fullback and when in the backline for the Brumbies but the standard of play didn't match the first half but a late flurry of points to the Brumbies in the final quarter helped by Henry Speight playing at 13 with two tries to Jordan Jackson-Hope and tries to Ben Hyne, Jamie Kotz and a penalty try saw the final score at 59-0.
The Brumbies will have one injury concern out of the match with winger Lausii Taliauli helped off with a suspected ACL knee injury in the first half.
---
The Details
Score & Scorers
BRUMBIES 59
Tries: Muirhead, Alcock, Toua, Mann-Rea, Penalty try, Jackson-Hope 2, Hyne, Kotz
Conversions: Hawera 3, Thompson 2, Speight

BARBARIANS 0

Cards
53 mins – Jordan Smiler (Brumbies) – Yellow