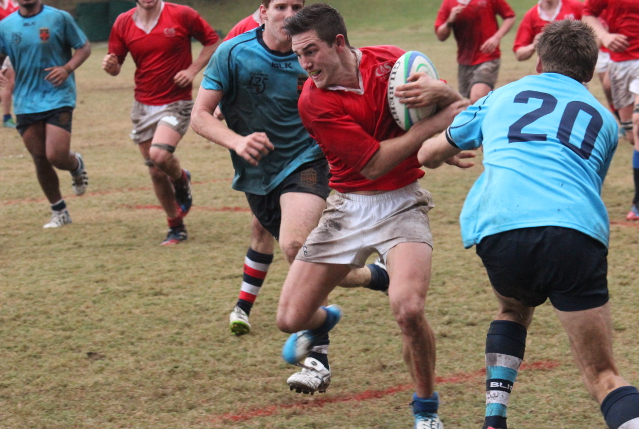 CAS beat CHS 28-19 at Horden Oval at the Cranbrook School in the first trial to select NSW Schools' teams for the national championships starting on 30th June.
The Combined Associated Schools First XV had six players selected from each of the two leading teams in the 2014 competition: Cranbrook and Knox, although a couple became unavailable. The Combined High School XVs included players from state schools from all over NSW.
First half
CAS started the scoring early when they broke out near their own line and 8. Nick Makas went on a charge before passing to 10. David Smerdon, who got the ball to 12. Joe Williams for a try. When 15. Sam Renton converted the score was 7-0.
Soon after the restart Williams made a break for CAS and ran most of the length of the field before passing to 4. Hugh Summerhayes for the five-pointer. Renton slotted a difficult conversion for a 14-0 scoreline at 15 minutes.
CHS got close to the CAS goal-line on a few occasions but they couldn't retain the ball and when they lost it they were vulnerable to line breaks and long gains by CAS.
One such time 7. Jake Pierce set up Renton and he scored a try under the posts for CAS, and converted it himself to make the score 21-0 at 23 minutes.
It looked like a massacre was happening at Cranbrook but CHS struck back quickly from a simple move. From a scrum about 35 metres out the ball was spun out and winger Ngangarra Barker was too fast for defenders in a flashing run and went over wide out.
It looked like CAS was going to counter-punch when 11. Zac Edelstein went on yet another long run for CAS just before oranges but he was pulled down before the line by cover defence.
CAS looked the better side by half-time but had CHS taken a couple more of their opportunities the score would have been closer than 21-5 to CAS.  And they should have stopped the breakouts.
Second half
It started to rain after the break and about five minutes in CHS had a kick charged down.  After the ball  pin-balled around, the ever-present Williams snapped it up and went in for his second meat pie. 28-5 CAS.
There was no scoring for a while as handling and footing were tricky in the wet conditions, but CHS weren't bothered much because they played better the wetter it got. Hooker Ed Craig went on a burst which was followed up by a weaving run by his flyhalf Josh Thorndyke.
After a couple of CAS barges 13 Leighton Tali scored near the goal posts. The conversion made the score 28-12 with twelve minutes to go.
The CAS lads were looking a tad tired when reserve CHS scrumhalf Ben Ridgway finished off a nice move near the end of the game to dot the ball down out wide. The tricky conversion was successful and the final score was 28-19 to CAS.
The Players
CAS
Flyhalf David Smerdon was commanding in the first half when CAS had the better ball, by keeping defenders guessing about his intentions and giving profitable passes. Winger Zac Edelstein was zippy with dangerous acceleration, and inside centre Joe Williams had a highlights package before the break, and just after it with the charge down.
In the forwards: second rower Lachlan Swinton and no. 8 Nick Makas were the most noticeable hard workers in the pack and tough with it. Makas was one of the best players on the day.
CHS
Hooker Ed Craig, the skipper, was their best player and was one of the most mature forwards on the field. His lineout throwing was outstanding and his go-foward helped his team get back into the game in the second half.
Lock Andrew Vatuvei also was a mainstay in the comeback. Blindside flanker Romado Tuigamala was impressive working hard on and off the ball.
Flyhalf Josh Thorndyke got better service in the second half and was a danger making breaks or attracting tacklers before offloading.
CHS got more out of their bench in the second half than CAS did. Super sub Lukhn Lealaiauloco-Tui was dynamic when he came on to play no. 8 and made some Will Skelton-like charges. Reserve LHP Jordan Lotoaniu was also hard to stop.
The Wrap-up
CAS started the game better and had three tries racked up before CHS got going. After CAS got a charge-down try early in the second half CHS finished the game better and would have rued what might have been.
The Scoring
Combined Associated Schools 28 (J. Williams 2, H. Summerhayes, S.Renton, tries; Renton 4 cons) def Combined High Schools 19 (N. Barker, L. Tali, B. Ridgway tries, J. Wright 2 cons)
Other Score: CHS 2nd XV 26 drew with CAS 2nd XV 26
Photos by Lee Grant
.