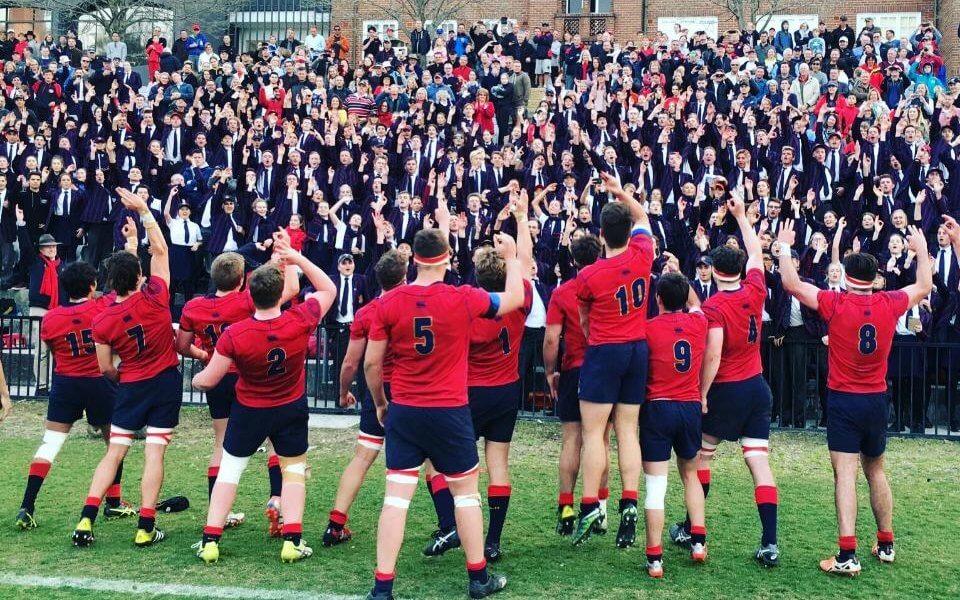 Barker beat Knox 29 – 24 in the upset of the year that has really thrown the cat amongst the competition pigeons.
In other games, Aloys beat Cranbrook 45 – 7 and Waverley accounted for Trinity 52 – 17. Waverley's win puts them in outright first place and sets up an epic finish to the competition next week, when they host Knox at "Death Valley".
A win for the "Double Vee" of Waverly next Saturday will see them win the Henry Plume Shield as outright undefeated premiers. But a Knox win would see Knox share the premiership, three ways, with Waverley and Barker.
Bring on next Saturday.
---
By Rod Skellet
Tradition plays a huge part in our lives and the occasion that presented at Knox Grammar for this most epic clash does not get any bigger.
It is a fact of life, that irrespective of whether you are a student at Barker or Knox, the definition of a successful rugby season is determined by the outcome of this one game.
Knox were equal pre-season favourites with Waverley, but there was some smart money who realised that Barkers two years of rebuilding was close to paying dividends, and even Green N Gold's "William88″, boldly predicted that Barker would win this year, in his CAS Season Preview.
After an almighty game against Waverley, would Barker have the resolve to defeat a Knox side, that at the start of the season, was expected to sweep all before them, or would Knox put Barker to the sword that has been the norm in the last two years?
A strong win to Barker in the 2nds, had the huge contingent of Barker students fired up, with their tunnel stretching to halfway. Was this really a home game for Knox?
First half
From the kick-off, the speed and class of Knox was evident. The forwards led by Dawson (1), Frost (5) and Cutrone (3) were clinical, recycling possession and giving Hansen (9) and Woodcock (10) time and space to keep Barker pinned in their own half.
Despite the quality football being played by Knox, they never threatened to put points on the board. The Red Wall was showing no signs of weakness from last week's game, and instead there was steel and resolve right across the park from Barker.
A relieving penalty finally gave Barker the ball, and this time it was Knox's time to step up and defend. Playing to their strengths, Barker valued the ball, and kept it tight, with Flaherty (4), Northcot (6) and Chalmers (1) all forcing their bigger opponents into the trenches.
The hits were huge, but Barker was making metres up the middle and were soon within five metres of the try-line. Having been held up once, the rolling maul following a strong scrum for Barker saw Flaherty (4) score the opening try out wide. The conversion was wide and Barker led 5 nil.
Barker were in ascendance and Knox was wondering what was happening as this was not how this game was meant to be playing out. Barker just wanted the ball more and valued possession. Tejcek (9) and Naressian (10) were growing in confidence and chanced their arm, putting Harding (12) and Van Woerkom (13) into space.
A blind side move created a nice overlap and Lloyd (14) scooted away to score much to the delight of the Barker crowd, only to be called back for a marginally forward pass.
Knox were not playing with confidence, with passes going high and with the forwards making no inroads with ball in hand, Woodcock was forced to kick the ball away to relieve pressure.
Kitchener (15) retrieved the ball and linked with Van Woerkom who opened up Knox in the centres and put Barker on attack. Several phases later, Barker were in for their 2nd try, with Nercessian giving fine crash ball to Billy Pollard (2) who went over next to the uprights. With the extras Barker led 12 nil with five minutes of the half to play.
Barker were not cocky, but the ease in which Knox hit back struck fear into all those witnessing this game. Knox regathered the kick-off and a cut-out pass to speed king Pavlakis (15) out wide put Knox deep in Barkers half. A set piece move from the scrum 5 metres out had Collins (7) stroll over untouched for the simplest of tries.
Half-time score: Barker 12 – 7 Knox
Second half
A subtle change came over the game in the second half, with errors and penalties seeping into Barkers game, cruelling multiple attacking opportunities for the Reds.
Knox seized the advantage, and this time taking a leaf from Barkers playbook, kept it tight and the forwards rolled up-field.
Five minutes of desperate defence by Barker took its toll and finally Kennedy (2) twisted and turned to crash over. Woodcock's conversion went wide and it was all locked up at 12 apiece.
With the game in the balance, and both schools of students in full voice on the sidelines, the game was on.
Barker hit back, this time through their hard hitting no compromising no 8 Reimer who palmed off two would be tacklers and carried another on his back to score in the corner. A fine sideline conversion by Nercessian (10) had Barker leading 19 – 12.
The restart by Knox found Northcot (6) who charged like a rhino and busted through three tackles before finally being engulfed by a foam of lads in white. But the damage was done and Barker were inspired and deep on attack.
A turnover spoiled Barkers chances yet again but the deep relieving kick by Woodcock found the waiting hands of Kitchener. He linked with Lloyd (11) who hit the gas and found space with Reimer in support on the inside. He in turn passed inside to Melchoir (3) who ran around and scored untouched near the uprights. Barker were in front 26 – 12 with 10 to play.
A hush came over the ground as the crowd could sense an upset was on the cards. Knox were silent in fear of losing, while Barker were quiet hoping not to jinx what could well be the upset of the year.
The restart by Knox was superb, with Frost leaping high to regather Woodcock's kick. The rolling maul that followed was technically perfect and Knox were showing they were not done yet. In desperation, Barker's Reimer pulled the maul to ground and was greeted with a yellow card.
With Knox deep on attack, it was replacement forward Harvison (19) who crashed over. The simple conversion by Woodcock had the score at 26 – 19 with six minutes to play.
With Barker down a man, the Knox forwards upped the ante and forced a knock-on from Barker. The scrum was won easily, but the following set move executed by Woodcock was superb.
Receiving the ball on the open side, he then chip kicked over the scrum of forwards into the hands of Pavlakis (15) who was expecting it. With speed to burn, he turned around Lloyd and, with Kitchener to beat, he passed the ball inside to Myers (13) who only just beat a desperate Harding (13) to scored out wide. 26 – 24 with the kick to come.
The conversion was short and with two minutes to go, Barker was back to 15 men. The last two minutes took forever. Barker kicked long and Knox realising time was nearly up, kept the ball alive. Hit up after hit up, the Knox lads threw themselves at the Red wall trying to find a way through.
Barker dug deep, with Melchoir, Chalmers, Flaherty and Dring meeting the onslaught with equal determination. Ultimately, it was Reimer who was over the ball and forced a penalty on the tackled Knox player who did not release.
With time up on the clock, Nercessian calmly slotted the 3 points to give Barker an epic 29 – 24 victory.
Knox were gallant in defeat, but Barker was the better team on the day, with all the lads showing true character and determination; leaving it all on the field to ensure a win that they will treasure for the rest of their lives.
Full-time score: Barker 29 – 24 Knox
THE PLAYERS
Best for Knox: Frost, Dawson, Woodcock and Pavlakis
Best for Barker: All fifteen lads in the Red Jersey
By "WLF"
A nice day greeted everyone at Summer Hill and there was an air of expectation that this could well end in a close game, based on Trinity's solid performances versus Knox and Barker, and on home soil.
First half
From the whistle it was evident that the game plan from both teams was to use their backs.
Both sides have speed to burn and this became very evident in the first 15 to 20 minutes when three of the first four tries were scored by the outside backs – one each to winger from both schools, and the Waves outside centre.
The Waverley pack was bolstered in the scrum and defence by the return of Finn Wright. The Trinity pack's clear focus was to win the breakdown and starve the Waverley backs.
Clearly the Waves knew this and as half-time approached the forward open play battle was close. Byron Hollingworth-Dessent showed blistering pace to score two tries in the first half, while the Waves shared five tries between them with three conversions.
Half-time score: Waverley 31 – 10 Trinity
Second half
The second half saw the Waves pack start to provide quality ball and Marco Bell was brilliant at 9 in both his passing and running game, as was his counterpart, Cooper Chambers, the Trinity 9.
The game opened up and free flowing rugby was on order from both sides.
Trinity certainly continued to press the Waves, but in the end the Waves back line, directed by Ben Donaldson, were too dominant, scoring three more converted tries to Trinity's one converted try.
Full-time score: Waverley 52 – 17 Trinity
THE PLAYERS
Best for Trinity: Cooper Chambers, Tane Edmed, Mathew Stead and Byron HD
Best for Waverley: Ben Donaldson, Marco Bell, Joel Ellis, Finn O'Sullivan and Phoenix Baldwin
---
By "Up the Guts"
A massive crowd descended upon the Aloys college oval to watch the much-anticipated matchup between Aloys and Cranbrook, and the Aloys crowd was not disappointed as they thumped Cranbrook 45 – 7.
First half
The teams traded penalty for penalty in the early stages of the game, as ill-discipline prevented any flow or continuity in the game.
Cranbrook captain Finbar Stenmark missed an easy opportunity to send Cranbrook into the lead early, when he sent a penalty goal left of the uprights.
Aloys then began to dominate play. Alex Di-Sano (9) was on the end of some brilliant support play by the whole Aloys team, as he went over for the first of their tries (5 – 0).
From the following restart, Aloys prop Zac Lenco gathered the ball and showed some electrifying pace to run 60 metres to score under the posts, with nobody within 10 metres of him when he put the ball down (12 – 0).
In the period soon after, Aloys showed why their set piece was one of the best in the competition, as stealing line outs and winning tightheads became second nature for the forwards.
Just prior to half-time, an intelligent snipe around the ruck by half back, Alex Di-Sano, allowed flyhalf Ben Pollack to go over untouched for the third Aloys try.
Half-time score: Aloys 19 – 0 Cranbrook
Second half
Any chance of a Cranbrook comeback was quashed when Aloys 10 Ben Pollack exploited the weak link in the Cranbrook defence.
Taking the ball to the line, a slick step off his right foot put him past the Cranbrook 10 before an easy offload to Luke Ryan (7) and a conversion extended the score to 26 – 0. In almost a carbon copy of the previous try, Pollack then sent Pat Flaherty (12) over (31 – 0).
Aloys did not stop here. Simon Rahme (2) was rewarded for a great game when he steamrolled his way over from 10 metres out, and another stunning ball from Pollack (10) set up the final try for Aloys, as Ben Sullivan dotted down for his first try in the First XV in his last home game ever (45 – 0).
Cranbrook scrumhalf, Tas Smith, managed to get his team on the scoreboard with a quick tap in the final minute, a deserving try as he looked their best player by a mile.
Full-time score: Aloys 45 – 7 Cranbrook
THE WRAP
Unfortunately for Cranbrook, they have to travel to Barker next Saturday to play a fierce Barker team. They need to go there and salvage some respect for their school, and play their hearts out for the year twelves in their final game.
Aloys on the other hand, face a tricky task away against a Trinity team that has shown some promise. However, Aloys will be aided by the return of James Westbury (15).
If Aloys can put together a performance like they did versus Cranbrook, you'd have to say they would be hard to beat, but then again both teams will be trying to send their year twelves off in style so it is sure to be a tough match.
THE PLAYERS
Best for Aloys: Ben Pollack, Simon Rahme, Pat Flaherty and Max Brennan
Best for Cranbrook: Tas Smith, Garth Reynolds, Harvey Tilley