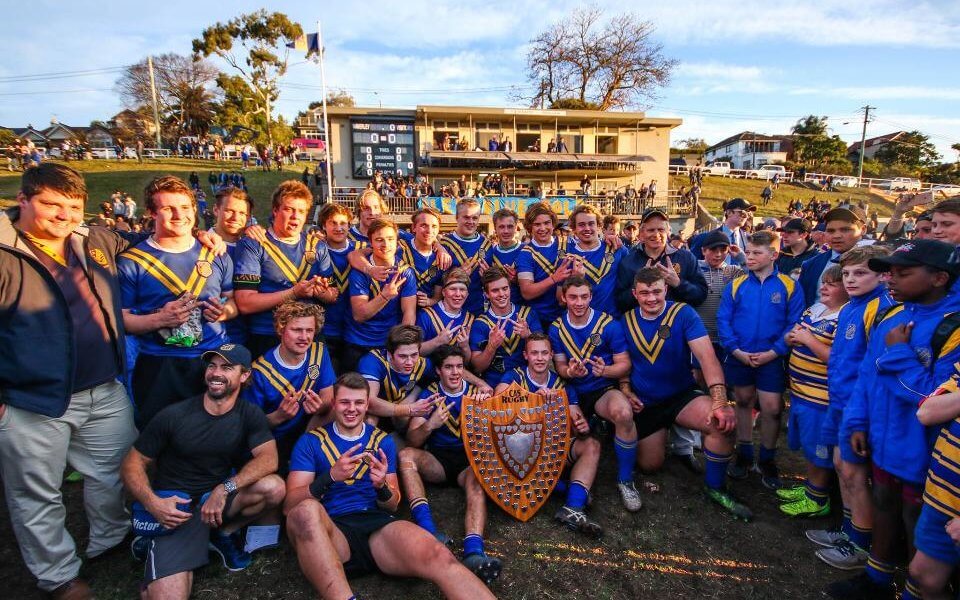 Waverley beat Knox 47 -17 to finish the CAS season undefeated and outright winners of the Henry Plume Shield.
Barker claimed second spot, beating Cranbrook 63 – 10 and Trinity won a close fought match with Aloys 21 – 19.
---
By "Waratahstowin"
A classic, and much anticipated match-up loomed at Death Valley between Waverley and Knox.
The result would determine whether the Henry Plume Shield would be shared by Waverley, Knox and Barker, or secured by Waverley alone.
There was a solid crowd of approximately 5,000-6,000 surrounding the ground with a blustery breeze blowing from the South.
Many players in these two teams have been playing against each other for six years and this match would be their final battle.
First half
From the kick-off, Waverley came at Knox hard. After securing possession early, they parked inside Knox's 22 and secured a penalty.
In a sign of respect for their opposition, Waverley went for the points. Unfortunately, the penalty kick was wide.
However, Waverley was taking their chances and quickly followed-up with a try to Lachlan Wallace out wide. Donaldson added the points.
Joel Ellis then smashed over from a ruck on the Knox line. The try was converted.
The Knox lineout was not working and Waverley were using their possession to great effect.
Ben Donaldson then threw a classic dummy-pass 15 metres out from the Knox line and slipped through the Knox defence to score under the posts. He converted his own try.
Knox finally gained some possession and worked their way down field with some long kicks and rolling mauls.
Knox won a lineout near inside the Waverley 22 and Ollie Harvison bashed over from a dominant rolling maul. The try went unconverted.
Waverley was very effective at the break-down and were building many phases from pick n drive play – often through the middle of the ruck.
Their forward pack was dominating at the break-down and maintaining lots of possession.
Liam Cornish crossed out wide to score to a big cheer from the crowd. The try was unconverted in windy conditions.
Half-time score: Waverley 26 – 5 Knox
Second half
Knox started the 2nd half well and started to string together some phases of play including their biggest weapon on the day – their rolling maul.
Unfortunately, at this point, Luca Moretti received a yellow card for entering a ruck from the side.
Waverley were suddenly looking rattled. They were parked on their own try line and couldn't clear the ball.
Knox had their chance and Dan Garing swooped to score under the posts. Mike Pavlakis converted.
This was quickly followed by a try to Billy Collins that went unconverted. However, Knox were threatening.
Nick Frost was dominating in broken play, and Mike Pavlakis was making good metres with his trademark runs.
Knox were swinging the ball left & right across the field. Playing with a man-down, Waverley were struggling to contain.
With the score at 26 – 17 and Knox gaining ascendency, it looked like it was going to be a close game.
However, Waverley then showed why they deserved to win the competition. What happened over the next 15 minutes was a blitzkrieg of rugby…
-Brooklyn Hardaker scored from a trademark scrambling run.
-Ben Donaldson then accelerated around the Knox backline to offload for a try.
-Joel Ellis scored his 2nd try again smashing through the middle of the ruck.
-Each of these tries was successfully converted by Ben Donaldson in difficult kicking conditions.
Demonstrating a series of dominance around the park.….Waverley had turned-around a close match into a try-scoring procession to seal victory and secure the Championship for 2017.
In the end, it was these 15 minutes of rugby that epitomised this Waverley team.
They demonstrated brilliant running and support play in the backs, that was provided with good ball from a hard hitting forward pack smashing it up the middle.
Knox had opportunities, but just couldn't get it to gel on the day. They will rue lost line-outs, dropped balls, turn-over rucks, wayward kicks and some missed tackles.
Against a weaker team, Knox may have got away with it. However, this Waverley team capitalised on these mistakes and made them pay.
As the ref blew full-time at 47-17, the Waverley players, old boys and parents invaded the pitch to congratulate their boys. Nobody was going to begrudge them that – it was their day and their year.
Full-time score: Waverley 47 – 17 Knox
SCORING DETAILS
Waverley 47 (Ellis 2, Cornish, Hardaker, Donaldson, Wallace, Andrews Tries; Donaldson 6 con) def. Knox 17 (Harvison, Collins, Garing Tries; Pavlakis con)
---
By Rod Skellet
In the final match of the year, Barker who have been this seasons big improvers took on a Cranbrook side that was playing for pride.
Non contested scrums was the appropriate call requested by Cranbrook to ensure no injuries were incurred to a team that was clearly out gunned by a Barker side that was getting better each game they played.
The opening 10 minutes was all Cranbrook, with the forwards Peter Millon (7) and Jake Broekhuizen (4) recycling possession and keeping Barker pinned in their own half.
With a penalty in front of the sticks, Stenmark opted to take the three points and the Brook were in front 3 nil.
The restart turned into a kicking farce which played into Cranbrooks hands with Barker aimlessly kicking away possession.
The game resembled touch footy rather than a 1st XV match, but a turnover by Northcote inside the Barker 22m line had Tejcek slip a short ball to Chalmers who must be the fastest prop in the comp.
Chalmers ran 70 metres before being pulled down just 3 metres short of the try line by Stenmark. The last ditch tackles was to no avail as Lloyd picked up the ball and strolled over. 5 – 3 Barker.
Cranbrook hit back immediately, after a wobbly restart kick bounced favourably for Brook.
On attack, the lads in White bought the small Cranbrook crowd to their feet with Tas Smith (9 and Cranbrooks best by far) setting up Stenmark (10) and White (15) who made the break on the inside who gave the final pass to Smith (9) backing up who scored under the posts. 10 – 5 and Cranbrook were looking good.
Cranbrook had their tails up and Barker were out of sorts with the game being played wide and loose away from their strengths.
The game nearly got worse with another good looking combination by the Cranbrook backs putting Smith in for his 2nd try, only to be called back by a forward pass.
If that try had been allowed, Cranbrook would have been up 17 – 5. Alas it was not to be.
Barker woke up, and started playing their signature game. Melchior, Dring and Flaherty started charging up the middle all eager for the contact and relishing the big hits.
Metres came easily and with Tejcek providing the backs with quality front foot ball the points flowed.
Lloyd (11), scored a triple, Harding (12) a double, and Van Woerkom (13), Pollard (2), Reimer (8), Tejcek (9), Northcote (6), Collison (2nds replacement) all bagged 5 pointers.
With the game well in hand, the boys in Red rotated kicking duties with some appalling attempts at goal leaving at least another 10 points off the scoreboard.
In the last five minutes, a nice touch was witnessed with the Year 12 lads from the 2nd XV pulling on the Red Jersey to finish off the match with the rest of the Year 12 1st XV colleagues.
Full-time score: Barker 63 – 10 Cranbrook
THE WRAP
Cranbrook have some rebuilding to do, much like Barker has done over the past two seasons.
They have a quality half in young Tas Smith and Finbar Stenmark is solid at 5/8th, but they need to find some piggies who can do the tough stuff.
With the Brook 16As being competitive, there is hope but I suspect 2018 will be another tough year.
For Barker, the 2017 rugby season was a huge success, finishing outright second to a Waverley side that is probably the best schoolboy team in Australia.
With 10 of this year's team returning next year, and with many 2nds and 16As blooded in the Firsts throughout the season, Barker rugby is looking good for 2018.
---
By "Up the Guts"
On a beautiful Sydney day, Aloys and Trinity locked horns in an ugly encounter, which saw Trinity prevail 21-19.
First half
Aloys drew first blood as Luke Ryan (7) crossed for his first try after some good phase play in the Trinity 22m, with Trinity's defense just not being able to hold up any longer 5 – 0.
However, soon after Matthew Stead burst through the Aloys line, near the 40m, and offloaded to Byron Hollingworth-Dessent for his first try. A conversion then put them in front 5 – 7.
The rest of the half was scrappy and went without scoring. Both teams managed to turnover the ball in crucial situations, and both did their fair share of goal line defense.
What was evident in the back end of the half was Aloys' domination in the scrum.
They must've won three tight-heads in this period, however, they were unable to take advantage of this dominance and put points on the board, which ultimately came back to bite them in the end.
Meanwhile, Trinity tested the Aloys defense out wide with Stead and Byron Hollingworth-Dessent gaining some quality meters. Both teams would have gone into half time disappointed with their first half performance.
Half-time score: Trinity 7 – 5 Aloys
Second half
Ill-discipline by Aloys gifted Trinity an early opportunity to extend their lead, however, Edmend was unable to slot the points from a relatively easy position.
Aloys responded perfectly, making their way down the Trinity end of the field, and again tested out their goal line defense, before spreading it wide where Luke Ryan managed to get on the outside of Byron Hollingworth-Dessent and dash over for his second in the corner.
This was met with a great touchline conversion by Westbury to put Aloys in the lead 12 – 5.
Much like in the first half, Trinity lifted straight away and soon found themselves attacking the Aloys try line.
They picked and drove for what seemed an eternity, but still the Aloys team held strong.
Each ruck seemed to be ending up on top of each other, leaving a pile of bodies under the Aloys goal posts, but somehow Trinity were able to squirm their way over, with so many bodies in the way, a try scorer could not be recalled 12 – 14.
As the teams traded blow for blow, both in a physical sense and on the scoreboard, a stunning ball from Aloys fullback James Westbury allowed for Lewis McNamara (14) to scoot over in the corner, and again another stunning sideline conversion put Aloys in front 19 – 14.
Trinity were not going to give up in their final home game of the year, and once again forced their way into the Aloys 5 metre line.
Just as the crowd had thought they had scored from a pick a drive, Aloys captain Tom Partington (8) emerged with the ball, before punting the ball far down the field, and Aloys thought they had escaped danger.
But in his last home game for the school, the ball was given to Hollingworth-Dessent, who turned up the pace to score the equalizing try.
A controversial conversion call was then made, with most protesting that the ball strayed wide of the post 21 – 19. However, it proved to be the difference as Trinity were able to keep their cool and see out the game.
Full-time score: Trinity 21 – 19 Aloys
THE WRAP
Aloys will be very disappointed to finish the season on that note, however, there was enough today and throughout their whole season to suggest they will have a very strong side next year.
Whilst Trinity will be stoked to have extracted revenge, after going down in the invitational rounds, they too will have a strong team next year with some quality players remaining and many coming up from the 16As.
Congratulations to both teams on their season and best of luck for next year.
THE PLAYERS
Best for Trinity: Byron Hollingworth-Dessent, Tane Edmend and Matthew Stead
Best for Aloys: Tom Partington, Luke Ryan and James Westbury
SCORING DETAILS
Trinity 21 (Hollingworth-Dessent 2, Unknown tries, T.Edmend 3 con) def. Aloys 19 (L.Ryan 2, L.McNamara tries; J.Westbury 2 con)