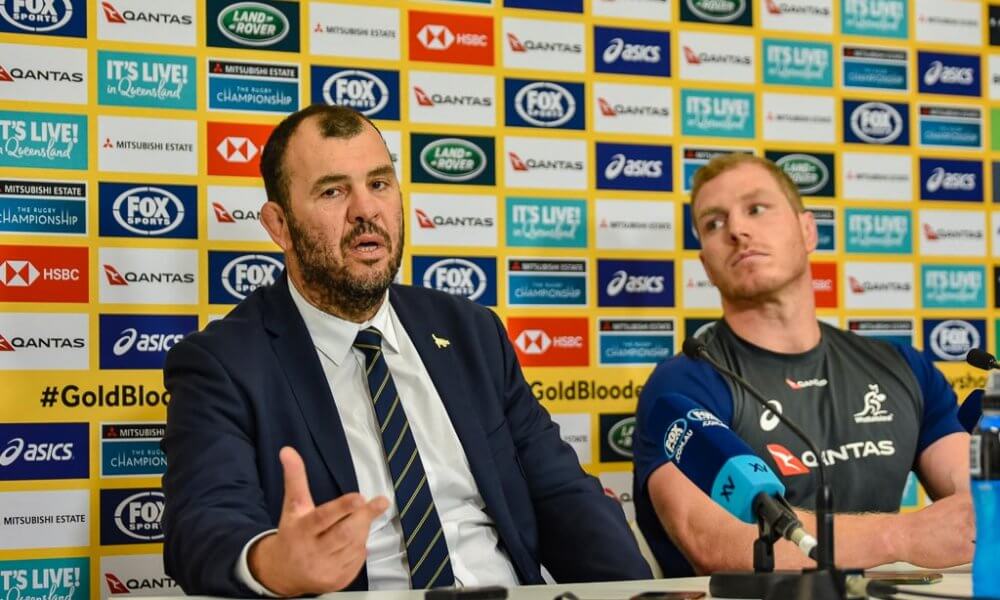 After the loss to Argentina recently, the rumblings of discontent have started about Michael Cheika's reign as the Wallabies Coach. Having now been in the position for 4 years, he has had long enough to establish himself and his squad.
Cheika's style is unique. Waratahs fans will recall the use of the Golf club and all fans will know of his infamous temper. This sort of style has had the desired impact at various clubs. At Leinster he won the coveted Heineken Cup in his fourth season, 2009. At the Waratahs he won the Super Rugby title in his second season in charge, and with the Wallabies, he took them to the final of the 2015 World Cup just 9 months after taking over the team.
Cheika was the 2015 World Rugby Coach of the Year, a great honour given the All Blacks won their second consecutive World Cup that season. However, his win ratio is now 51%. How did this happen?
Cheika's intense style has been compared to Eddie Jones, whose notorious intensity quickly got the best out of England very quickly. While Eddie hasn't had a great run recently, he has an 81% win ratio with England so he has more breathing space. Given Jones' England has never played New Zealand, it should be less – but in reality, removing NZ from the equation only gets the Cheika coached Wallabies to a win ratio of 63%.
He has an 18% win ratio against the All Blacks, but very few teams win against them. Over the last four years (September 14 to September 18) against New Zealand:
South Africa have played them 8 times for 2 wins (25% win ratio)
England have not played them and in 2014 lost all 3 matches in the series
Ireland have played them twice for one win (their first ever)
And herein lies the biggest issue with Cheika's tenure. It is not about his record against the All Blacks but has happened against others. The Wallabies win ratio is 14% against England (once in 7 matches) and 20% against Ireland (once in 5 matches). He has lost twice to Scotland in four matches (50%) and once to South Africa, Argentina and France respectively. The win against England was in the 2015 World Cup and the Ireland win was earlier in 2018, in the fortress that is Suncorp Stadium. Historically, the Wallabies win ratios against Ireland and England have been 61% and 51% respectively, although under Cheika this has slumped to 14% and 20% respectively. Even more concerning is that many of these matches have come on home soil, in dry conditions.
The Wallabies have lost ground to teams other than the All Blacks. Whether that is due to their opponents improving or the Wallabies lack of improvement, that is debatable, however there should be no debate that it is the core issue. England, Ireland and Argentina have taken steps forward while the Wallabies have not.
The Wallabies are at their lowest ever IRB world ranking. Is this Cheika's fault, or is it symptomatic of Australian Rugby's broader issues?
This question is not only a question of Cheika's leadership, but that of his boss, CEO, Raelene Castle. Castle has been in the post for a little under 12 months and has an even scorecard with the benefit of doubt in her favour – she botched dealing with Israel Folau's social media 'issue' but has made some interesting headway on junior playing issues such as 'outlier policy'.
Recent crowds of 66,318 (79% capacity) for the Bledisloe Cup in Sydney, 27,849 (53% capacity) for the Springboks in Brisbane and 16,019 (58% capacity) for Argentina in Gold Coast make for ordinary reading – but the most concerning is Brisbane. The Boks may not be too high in the rankings at the moment, but the match was against a fierce opponent and a traditional rival in a city that usually a sell out for Wallabies matches. Against Ireland the same stadium hosted over 46,000 fans. These types of results will hurt the Rugby AU bottom line significantly, putting pressure on Castle. Not too long after those financial year results are published, the Wallabies will contest the World Cup in Japan. If she is going to move on Cheika, it must be before the November internationals or not at all.
Given the challenges that RA are likely facing financially, would it be worse financially to payout Cheika now and refresh, or run the course and see how it goes? Tough call. Given the draw in Pool D, it looks like the Wallabies would have to completely implode to not get out of the pools, but anything less than a semi will be deemed a failure. His win ratio is now perilously low and unacceptable with the talent at his disposal – he and Rugby AU have fought hard to bring back players, he has his own people around him and his own choices on the field. If it doesn't improve quickly, the Castle may have to move on the King for checkmate.