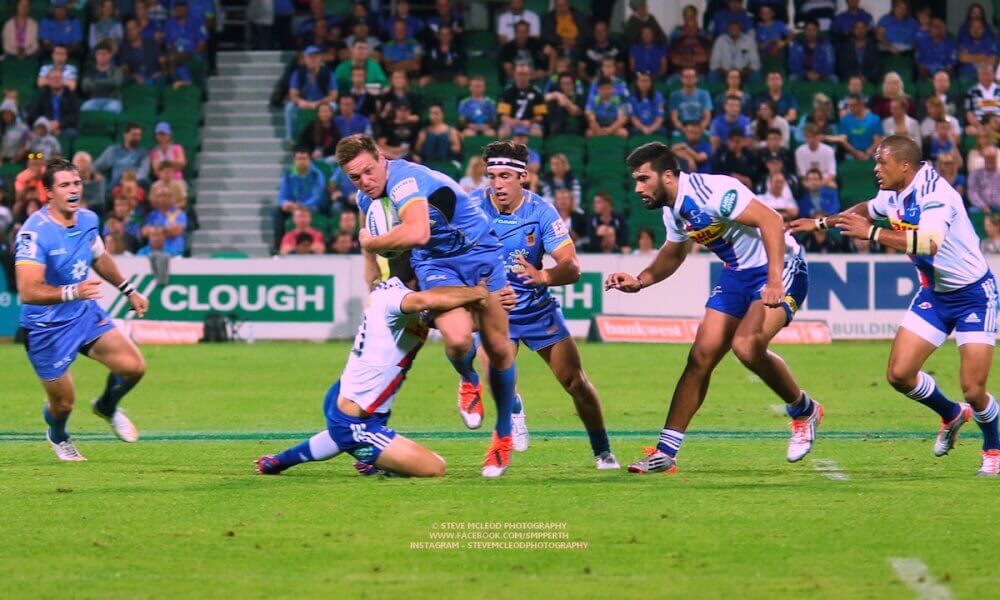 HONG KONG – Wallabies coach Michael Cheika, captain Stephen Moore, and star rookie Dane Haylett-Petty believe Australian Rugby still needs the Western Force.
Rumours that the struggling franchise's position in Super Rugby is on the chopping block at the next TV rights negotiation have long been circulating in the press.
Quoting poor financial performance, which required an ARU takeover in 2016, and poorer on-field performance, the Force are favourites for the axe if one should fall on a fifth Australian Super Rugby team.
According to the three who spoke to media after the Wallabies 37-21 loss to England, that wouldn't sit well with them.
"I am one of those that says five is fine as long as we're all focused," said Cheika, on the ideal format for Super Rugby in 2018.  "Whatever number they choose is fine and we'll work with the coaches to get the skill levels up.
"There are definitely issues and you'd be naive not to look at them. We need to be build quality coaching and a good environment around the five Super Rugby teams to improve the level they get to.
"We've got to work together to make sure the game stays strong back home," Cheika continued. "They [The Super Rugby Franchises] are starting to believe that together we are stronger instead of operating like six different teams. They are five different teams, but we are not the sixth. We are the culmination of those five.
"The best environment [for Super Rugby in 2018] is players all playing with great skills and that hunger to play more and more footy all the time."
"If we build those habits from the NRC to Super Rugby and into [the Wallabies] we'll start to play less halves of good footy and more full matches."
The Western Force's development side, the Perth Spirit, took out the National Rugby Championship this year using a core ensemble of West Australians including Harry Scoble, Ryan Louwrens, Richard Hardwick and Kane Koteka.
With a new coach in young Dave Wessels and returning Wallabies Dane Haylett-Petty, Luke Morahan, Jono Lance and Adam Coleman joining former Wallabies Ben McCalman and Tatafu Polota-Nau, plus USA Eagle Marcel Brache, 2017 is looking brighter for the Force.
Haylett-Petty, the second ever West Australian to sign with the Force, knows that better than anyone.
"I think having a few more Wallabies should allow us to bring a bit more leadership to that group. We've definitely got a talented group there, it's just how we nurture it and get the group to grow.
"I think they've got a great pathway [at the Western Force], we've seen so many good young Wallabies come out of that system and I think there's going to be plenty more.
"Hopefully they make a decision the Force is around for a long time to come. We haven't had the results on the field but I think the vision was always to grow Walllabies and they've definitely done that.
"It's a great pathway for talented young Western Australians."
Cutting the Western Force loose would be akin to amputating a leg to trim those troublesome extra kilos before a beach holiday, Stephen Moore thinks.
"I know there's been a lot of debate around the Super Rugby format, what that best looks like beyond next season."
"I suppose in Australia the rugby public likes the local derbies," Moore says. "How we can maximise that across Australia?"
"I know there are big implications surrounding the TV broadcast in the three [sic] countries involved but I think any new product we can bring into the market to make our game better is worth looking at," he said.
"I saw something about the State of Origin concept, I think that might be something worth exploring."
There are currently over 100 Australian players plying their trade overseas, of whom roughly 60% are talented enough to play Super Rugby in 2017 according to Michael Cheika.
If the Western Force are jettisoned from Super Rugby in 2018, that number will grow significantly and opportunities for Australian Rugby players to win contracts will fall by 20%.
If you feel having five Super Rugby teams is essential to the future of Australian Rugby, register at http://www.owntheforce.com.au to make your voice heard.