Wales won because they were playing with 16 men.
But before you jump to conclusions – that 16th man wasn't Romain Poite. It wasn't Ben Skeen either, or Brett Gosper.
It was Warren Gatland.
The Wallabies were out-thought, out-coached and out-played by a Welsh team they should have beaten. It's been the tale of this team since Michael Cheika took the reins, and it will see us depart the World Cup well before the final.
The try to Gareth Davies was the game-breaking moment and the perfect summation of what I am talking about. And before I go any further, I reckon he was onside too.
Wales had spent their last few months wisely, clearly watching game tape of the Wallabies. They noticed two things – firstly, the Wallabies like to play a flat attack with forwards hitting up in the fourth or fifth channel off the ruck. Secondly, Will Genia has developed the 'Gregan two-step' where he holds the ball for half a second too long before passing.
So they devised a plan to exploit this weakness. A plan that I've never seen any team ever try against the Wallabies. And a plan that worked to perfection.
They tasked Davies with reading the play and trying to pick off Genia when he attempts one of these longer, flatter passes. It was a relatively safe strategy because if he missed then there were bigger forwards behind him to cover the gap he created in the defensive line.
He didn't miss. He scored the crucial try, and he should have scored another. It was rugby genius, plain and simple.
It begs the question – while Wales were studying game tape, what were we doing?
To my untrained eye, it seemed our tactics last night were the same as last game. And the game before. And the game before. And practically every game of the Cheika era.
Did we do anything to suggest we were targeting a weakness in the Welsh game? I don't think so. We just come out and play our game as always, and let the chips fall where they may.
Sometimes it works, but most of the time it doesn't. We had our moments last night and created enough chances that we could have maybe won the game. But in reality Wales were always one step ahead of us, and it starts and ends with Gatland.
Already this World Cup we've seen a number of games where we've heard the phrase '[TEAM X] has been targeting this game for over a year'. The implication being that smart teams work out their key match-up, and develop strategies to give them an advantage.
This was our key game: win and we face a winnable path to the World Cup, lose and it's almost impossible. It was as much of a binary outcome as you ever see in these tournaments. One team did their homework, and the other did not.
That fact makes this defeat particularly hard to swallow.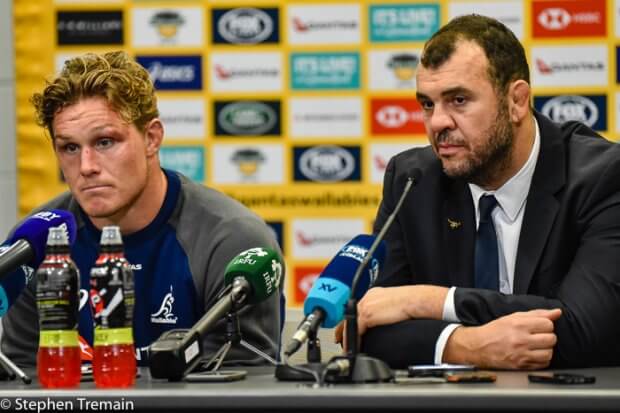 Barring a miracle run, the Michael Cheika era will finish with a whimper. This team has the talent to achieve plenty and they will be a far better side with a new man at the helm. Some may point to selection as the primary issue, but to me it's a distant second to the tactical ineptitude we display time and time again.
We are stuck in the black-and-white era, while other teams are playing in full technicolour.
It's time for a change.