Over the past few weeks, there has been plenty written and spoken about the New Zealand All Blacks performances so far this season. In the most demanding Tri-Nations tournament, they have, to date, played four and won four, with three bonus points. This is a most formidable start for them and, indeed, they have been in scintillating form. Whilst there has been much praise for their performances, there has also been much criticism, with some aspects of their play being described as illegal. This criticism, I hasten to add, has not been entirely restricted to their opponents, nor to their opponents' 'home' press.
I have written and spoken on both aspects of their performances – and have received much correspondence, once again, both for and against. Subsequently, rather than respond individually, I feel that there is a need for elucidation and education.
Firstly, claims of bias! Whilst I am as biased as any supporter in my hopes and desires for my team, I remain coldly analytical in my assessment of performance. "Result" never clouds my assessment of "performance"; I recognize clearly that a team can play well and lose, and vice-versa. Further, I have been critical – sometimes scathingly – of the performances of both the Wallabies and Springboks, and full of praise for many aspects of the All Blacks play. I hope that clears up such assertions.
Next, the positive aspects of All Black play. The players look "cut"; that is, they carry very little body-fat. "Lean and hungry" might be an accurate description. They have clearly worked on their "footwork" and this has enabled all players to gain the 'extra yard' on ball-carries on many occasions. When I coached Leicester Tigers, I introduced a programme of SAQ – Speed, Agility, Quickness – way back in 1996, with great effect. Such is my regard for this aspect of training, that I have included access to SAQ on my own website.' Support' play, a traditional aspect of great All Black play, has returned to its traditional levels.' Alignment' and 'realignment' are obviously high on the agenda at practise sessions.
'Quick ball' from the recycle at the tackle contest is clearly a top priority – and so it should be. However, it is just as clearly not a priority with ALL other international teams. The unusually large number, by current standards, of off-loads and "pop ball" off the ground, by the All Blacks, gives testament to this. Once again, in my Coaching Manual, I preach that the 'ruck' should be our last option for ball recycle from/at the tackle, and should be used only when other, better options are not available – which, by the way, is rare, if support play is at an acceptable level. All of this is giving space for the phase attacks and the opportunity to exploit it. [One interesting contact from a French coach, Jean-Louis Ribot, read: "This summer (our winter) I found that New Zealand followed your lessons!!!"]
On the negative aspects of All Black play, which has resulted in much criticism – and, as I have said, from many parts of the world. Just as the All Blacks value the necessity of quick ball for their own attack, they clearly recognise the threat that opposition quick ball poses to their defence. In fact, I thought that the All Black defence was unusually vulnerable to attack from quick ball, as evidenced by two quite simple Springbok tries in their second test in Wellington and a few similar efforts by the Wallabies. They strive therefore to limit such recycles from their opponents. Nothing wrong with that – all teams have a similar agenda – so long as they do so within the laws of the game.
It is here that I, and many others, question their tactics. Black jerseyed tacklers finish on the ground, on the wrong side of the ball, so often, that I can't believe that it's by accident. This prevents their opponents from arriving quickly to support their team-mate and allowing other All Black support players to attack opposition ball on the ground. Further, opposition scrum-halves are having difficulty getting in close to clear the ball and are forced to "lift" the ball for their pass to clear Black bodies. This slows down the clearing pass and gives valuable time to the defence. And, it's illegal!
On New Zealand ball at the tackle. Whilst they, generally, arrive "through the gate" on opposition ball, they enter from outrageously off-side positions on their own ball – sometimes they are clearing out opponents from positions a metre or two BEYOND the ruck/maul. This has the beneficial effect of limiting opposition hands to the tackle ball and allowing their "early, long place" ball for instant recycle to their excellent support players. If any one doubts this, they should Google "All Blacks at the Breakdown" and view an excellently compiled video from the Wellington test v the Springboks. It is even on the increase. All players play their part, and while McCaw, Franks and Smith have been serial offenders, Kieran Read has recently perfected his technique also. It is dramatically effective and frequently brings tries – and it's illegal!
On the subject of referees! One of my correspondents has made the point that it ridiculous to claim that Paddy O'Brien has instructed his referees to cheat in favour of New Zealand and this is absolutely, obviously true. However, it is not too outrageous to think that he could have some influence on the referees' subconscious mind – even conscious mind! I'm sure that they all read Paddy's unforgivable, public attack on Stuart Dickenson's performance in the Italy v New Zealand test last year – and his reported, subsequent visit to the All Black hotel to "apologise"! We had a recent demotion of the novice South African assistant referee, but no such criticism of Jonathan Kaplan for his failure to yellow-card Tony Woodcock for his act of foul play on Sai Faainga – and, amazingly, no citing afterwards.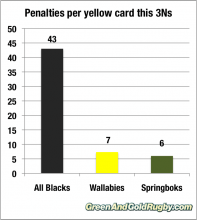 On the subject of yellow cards. A recent article on the informative Green & Gold Rugby website gives a tally of the penalties and yellow cards awarded in the Tri Nations tournament to date. They have calculated the "penalties-per-yellow card" suffered by each team with the following results [click on graph to the right]
It's difficult to argue with the facts!
THE DEFINITIVE RUGBY COACHING WEBSITE.