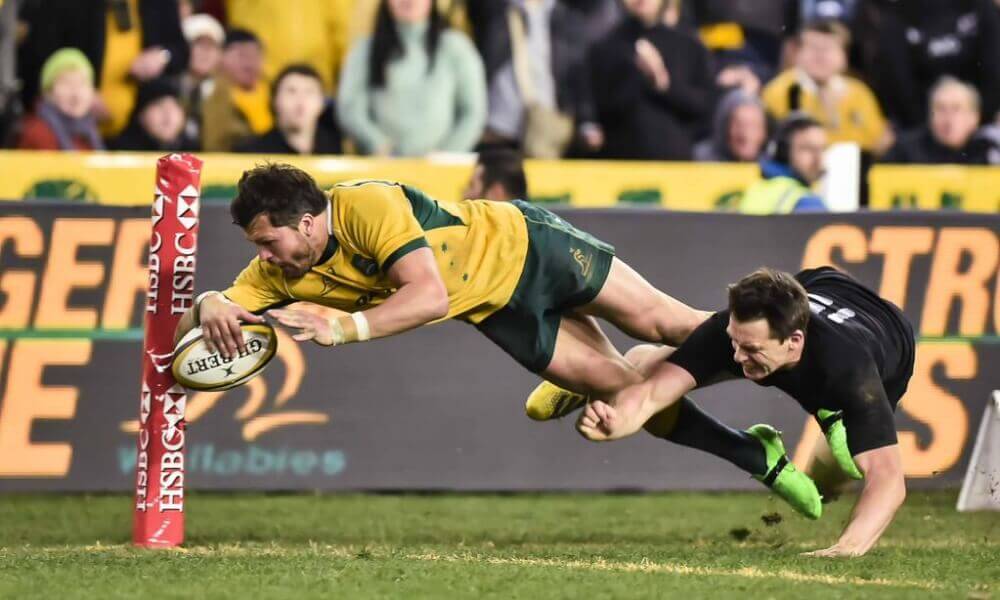 It was a great night for Australian rugby in that we haven't had that sort of a victory over New Zealand for some time. It was an even greater night in as Matt Giteau said – we won the game and yet there are so many areas we can improve on. We know the Wallabies are going to get better.
One of the things that will help us in future games was that the ref was unbelievabley tolerant of some clear and consistent illegal New Zealand tactics. There were three yellow cards but the most consistent deliberate infringement was a player in black lying on the ground and interfering with the wallaby nine's ball, thereby causing inaccurate passes. At least two were clear penalties – in one occasion Kaino actually raised his hand from the ground to do it. Assuming the ref re-looks at the game I think he'll see what I mean.
The other area that will be treated more fairly in future will be the dominance we had over the NZ scrum yet got little credit for. Wheeling the scrum to relieve the pressure usually results in a penalty and they did it plenty of times. We finished those scrums with the loose-head prop at a huge angle and the flankers detaching.
I think there's a lot to be confident about from this Wallaby performance.
The next thing which is becoming a consistent factor in this teams performance is how well they play from the bench. Even if players move from starting to bench they perform well across all positions. One of the comments after the game was that whereas only a few months ago we were searching for someone to  put in positions, now we're trying to figure out who to leave out.
Had you have said to me couple of months ago that a Wallaby lock pairing in a victory over the All Blacks would have been Mumm and Horwill I would have recommended you see a psychiatrist. Horwill is rejuvenated – just a couple of months ago he'd seemed to have lost everything but whatever the coaching staff has done is working.
Dean Mumm in the UK was clearly an improving player. He's matured and is bigger which is good – he's always had outstanding pace.
Giteau's additional responsibility and relaxed lifestyle has done wonders for a guy who's not big, but tough and with a great game understanding.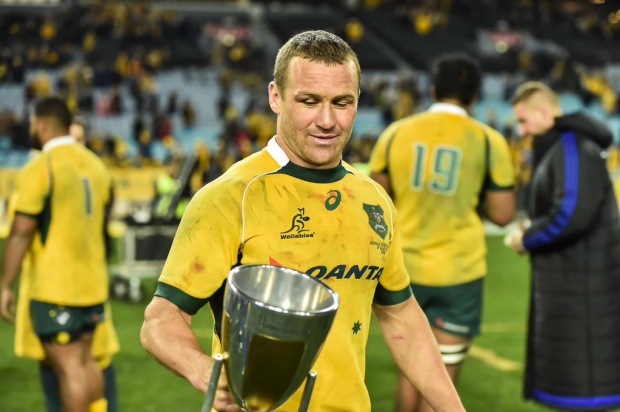 We've got a dreadful pool in the RWC, although we've got games against the USA, Fiji and Uruguay plus a lot of work off the pitch to get us right to tackle Wales and England. We'll know more in a week's time, but no matter the result in Auckland the most important thing will be our performance and whether we improve.
We ought to start to talk about the myth of the Aussie scrum's weakness. If it were true, it's a very strange thing that Euro teams continue to sign Aussie props! Not only do we have  avery good front row now, we've got some great ones coming through. See Tolu Latu, showing he's also a very good scrummager in the loose head position for Sydney Uni of late.
Most importantly we've now got a very good scrum coach who can get results. Ledesma is giving great value, well done to Cheika. Interestingly the Argie coaches understand Cheika's coaching ethic well  – work hard and tough to play hard and tough. It seems Moore is getting to grips what the Ledesma wanted out of the scrum. We can now give Slipper some time to get him 100% right – they may not even play him against the USA.
A great step forward by Sio. He's been very good for the Brumbies and now he's shown it at test level. Having said that I've thought for some months that the NZ scrum is struggling. They're good on the tight-head side, but are struggling at loose. They've got good hookers but can't connect the three.
The one problem was our lineout. When we get Simmons back that should improve – by reputation he's a lineout guru in calling and personal contribution. Again though – who to leave out?
Nic White also took a giant step forward. He's always had plenty of ability  – a very good kicking game which he can then use too much. The second part of his game is that he tends to worry too much about getting under the oppo's skin, rather than his own game and can get rattled. But last night in his comments after the match he seemed to be very relaxed and focused, making it clear that everyone understood what was required of them.
I understand there's a lot  of comment about who should be fly half. Toomua has the jump on Foley, but Giteau has the jump on them both. My suggestion of Giteau at ten with Kurudrani at 12 and Ashley-Cooper at 13 would restrict kicking options, but the wingers can help in this regard. I'd be looking at this solution because I see our backline being so much more physically dominant with this combination.
Having a ball distributor in midfield is a myth – anyone should be able to throw a ball to a second line play. No-one would call the NZ wingers starved outside of Nonu and Smith (who rarely passes). Sonny-Bill isn't a distributor, he's an offloader.
What's 100% clear that the Wallabies – squad, staff and administration have a great unit going. Cheika, Grey, Larkham, Ledesma – all demanding, competitors and know the game well. We're in a good place heading into a better one with a degree of certainty.
Good enough to take out the ultimate prize? We don't need to talk about that – just how we get better and who we put there to make it happen. I'm very pleased for them and with them. It made for a great Saturday night and a very contented Sunday.