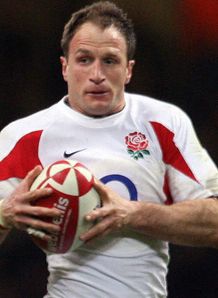 The England team to take on the Rugby World Cup 2007 hosts – France – next Saturday was announced today. It has 11, yes eleven, changes from the team that destroyed the Welsh last weekend. Looks like Brian Ashton is mixing it up a bit.

Notable changes:
Catt in as captain and 12. He's 35 and was seen as over the hill when the poms came to him before the last world cup. Must be laughing his guts out now. Can he put Farrell out of his misery for inside centre?
Barkley at 10. Important Wilko back-up spot. Can he hack it against the frogs?
Abendanon. Who? (find out here)
Cipriani on the bench. Highly rated talent.
Moody. When will they see the emperor has no clothes?
What's maybe more important is that Perry, Regan, Sheridan, Shaw and Dellaglio retain their spots from last week, making you think that these guys have done enough to be seen as solid players in the key area for England; the forward platform.
It's an interesting balancing act for Ashton; giving alternatives a run without getting in the sort of muddle Wales did last weekend. This is probably the last chance to do heavy experimenting before knuckling down for Marseilles. A cock up there could be pretty disastrous as the last game before the world cup.
France announce their side on Friday.
England: N Abendanon (Bath); P Sackey (Wasps), J Noon (Newcastle), M Catt (London Irish, capt), J Lewsey (Wasps); O Barkley (Bath), S Perry (Bristol); A Sheridan (Sale Sharks), M Regan (Bristol), M Stevens (Bath), S Shaw (Wasps), B Kay (Leicester), J Haskell (Wasps), L Moody (Leicester), L Dallaglio (Wasps).

Replacements: L Mears (Bath), P Vickery (Wasps), M Corry (Leicester), J Worsley (Wasps), A Gommarsall (Harlequins), J Wilkinson (Newcastle), D Cipriani (Wasps).