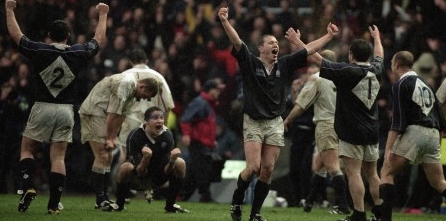 It's that time of year again when the best of Europe crunch into each other, fighting for the honour of being 6 Nations champion.
Up in Scotland the anticipation is reaching fever pitch. Coming back from the World Cup there was a hangover. The team swayed, hiccupped and bumbled through that tournament thanking everyone for their hospitality but leaving nothing but a tip, rather than tries. They had their worst string of results ever and came home dejected.
Scots are plucky, though. Despite being beaten by a much maligned England team there and having a disastrous campaign the nation is pouring another stiff one and telling themselves, again, that now is their time.
The Calcutta Cup is this Saturday and Scotland have been made the bookies favourites.
It's an unfamiliar feeling for them, but there are reasons behind it. They have retained the core of their team, selecting a heavy pack and their most destructive ball carriers. They have picked their most consistent scorers (a Scottish paradox?) and tempered that with some players lighting up the Heineken Cup in David Denton and Lee Jones.
On the other side England have done away with their 'hooligan' element. After his World Cup electric winger Chris Ashton may be too full of humble pie to pull off his trademark swandive. Messrs Care and Armitage are no longer members of England's Elite squad after a few legal issues too many. Sir Wilkinson is no longer anything to do with International rugby.
The main reason England fans feel so optimistic, though, is also the main reason Scotland fans feel optimistic. England have three new caps in their starting team. Their 12 is youngster Owen Farrell (the son of the backs coach Andy Farrell is normally a 13 for Saracens) and the 13 is Brad Barritt (who normally plays 12 for Saracens). They line up alongside 30-year-old number 8 Phil Dowson who is winning his first cap.
England are a little green in key areas and although interim coach Stuart Lancaster is bravely backing players with fine club form there is a huge tactical reliance on returning fly-half Charlie Hodgeson. He loves to kick, but hates to tackle.
This game will be full of interesting match-ups. England's new look back-row plays a quick and belligerent Scottish back-row. Scotland have more size in the front five. England have more recognised pace in the back three. Scotland have more experience in the centre channel. England's 9 Ben Youngs is full of promise. He faces Chris Cusiter, a respected international in good form.
This one is hard to predict.  A lot, it seems, comes down to the two men with 10 on their backs. Hodgeson is chaperoning some young centres he plays with every week. For Scotland? Well if it isn't Dan Parks! The Australian born safety man, known for sitting deeeeeeeep in the pocket and taking drop goals whatever the weather; whatever the situation.
I respect Parksy. He is resilient. Not in the traditional sense, but he has bouncebackability (it's a word!).  No matter the set back he picks himself up and dusts himself off. Nothing sticks to him. He is also the Celtic League's all time points scorer, ahead of Ronan O'Gara himself.
While the festival is rolling on around the ground that man –that man right there in the pocket –could be the key to Scotland popping a few corks on Calcutta Cup day.