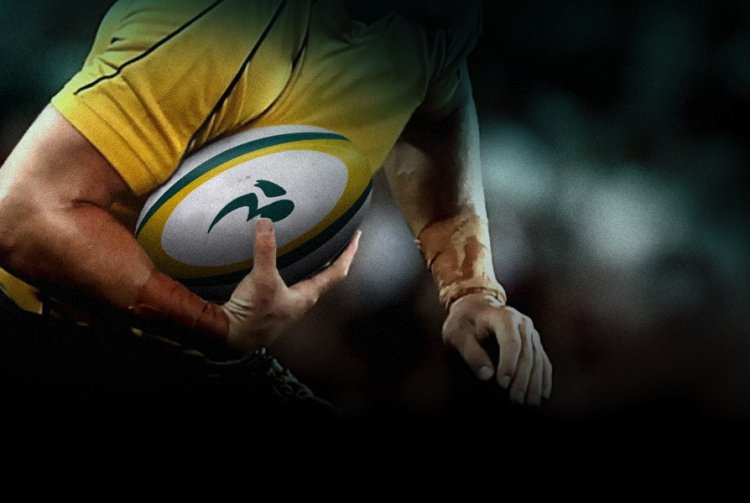 Thursday, 3 June: Fiji test team named:
15. Dan Rawaqa, 14. Jim Nagusa, 13. Saula Radidi, 12. Rupeni Caucaunibuca, 11. Sireli Bobo, 10. Waisea Luveniyali, 9. Emosi Vucago, 8. Jone Qovu, 7. Jim Nakaidawa, 6. Anthony Wise, 5. Dominiko Waqaniburotu, 4. Seko Kalou, 3. Deacon Manu, 2. Talemaitoga Tuapati, 1. Campese Ma'afu. Reserves: Vili Veikoso, Graham Dewes, Rupeni Nasiga, Samu Bola, Vitori Buatava, Ropate Ratu, Nemani Nadolo.
I just wonder whether there'll be more than one team actually playing in the test match in Canberra this Saturday, apparently it features our beloved Wallabies?
You wouldn't think so? All I read about in the papers and on the net is potential Wallaby permutations. Who's gonna be the fullback? Who's gonna be the five eighth? Who can pass and who can't?
I heard on the grapevine that there was actually a Fijian team involved in the match but I'm not 100% on that just yet. That's what the advertising says…..
Maybe its because the news media can't pronounce their names?
Robbie says that you can't take them too lightly or they'll burn you. Bullshit. Deep down we all know what the result is going to be. Well, we think we do.
It would be a national disaster if we lost but looking at the Flying Fijians (yes, they've actually named a squad if you're interested) it's probably unlikely.
Sure, there's a core of professional players amongst them, not the least Rupeni Caucaunibuca, Deacon Manu and Sireli Bobo but most are blokes who play in Suva or Nadi and won't be able to keep up with the pace of the game.
No sign of Moses Rauluni, Nicky Little, Seremaia Bai, Norman Ligairi, Akapusi Qera or the new sensation from Toulon Gabiriele Lovobalavu.
This is a shame really because a Fijian team full of all their professional players would give the first up Wallabies a decent sort of contest.
I suppose most of them play in the Northern Hemisphere and are between seasons so obviously they're having a much needed the break.
The front row looks solid enough to compete with the Brumbies trio, albeit some would say the Wallabies unit is a 'B' selection (Alexander at loosehead notwithstanding).
Deacon Manu, an experienced Llanelli Scarlets and Waikato Chiefs front rower will be holding the scrum up with Graham Dewes (from Counties-Manakau) and hooker Vili Veikoso (Suva) is a current international and no slouch.
They'll give their opposition a challenge but as a unit the Fijian scrum will be under huge pressure and on the back foot.
It'll be interesting to see whether Salesi Ma'afu's bro' Campese (yes, really….for those non-Sydney types who don't know him) gets to pack down against his sibling or not.
Nemani Nadolo, a Junior Waratahs winger formerly known as Ratu Nasiganiyavi (and Lote's cuzz) is 193cm and 123kg and recently signed with Bourgoin.
He's a wrecking machine when he's wound up and put into the right position although he never seemed to reach his full potential over here.
Other professional players include winger Timoci Nagusa, who plays for Ulster, Iliesa Keresoni, another bloody winger from Saracens and a reliable kicker and Jone Qovu, the lock from Racing Metro.
Sam Domoni their coach was right – he said he's got too many wingers. That may necessitate Caucau playing in the centres (mooted by Deans) but the coach refuses to speculate on this.
Lets face it, the Flying Fijians will lose it in the set piece and won't have the stamina to compete for the whole game. This is not their No 1 side by any means.
It'd be great to see some of their backs get an opportunity to play their normal expansive fashion but I doubt whether they'll be winning much pill to allow this.
Lance says Wallabies by at least 38 points.
Flying Fijian Squad:
Campese Ma'afu, Viliame Veikoso, Deacon Manu, Aseri Tuirabe Koroilagavatu, Dominiko Maiwiriwiri Waqaniburotu, Jone Qovu Nailoko, Jimilai Naikadawa, Asaeli Boko, Ratu Emosi Vucago, Waisea Sedre Luveniyali, Sireli Bobo, Rupeni Caucaunibuca, Ropate Ratu, Timoci Nagusa, Ratu Taniela Rawaqa Maravunawasawasa, Graham Dewes, Talemaitoga Tuapati, Alefoso Yalayalatabua, Nikola Matawalu, Malakai Samu Bola Volau, Sekonaia Kalou, Nemani Nadolo, Iliesa Keresoni, Saula Radidi