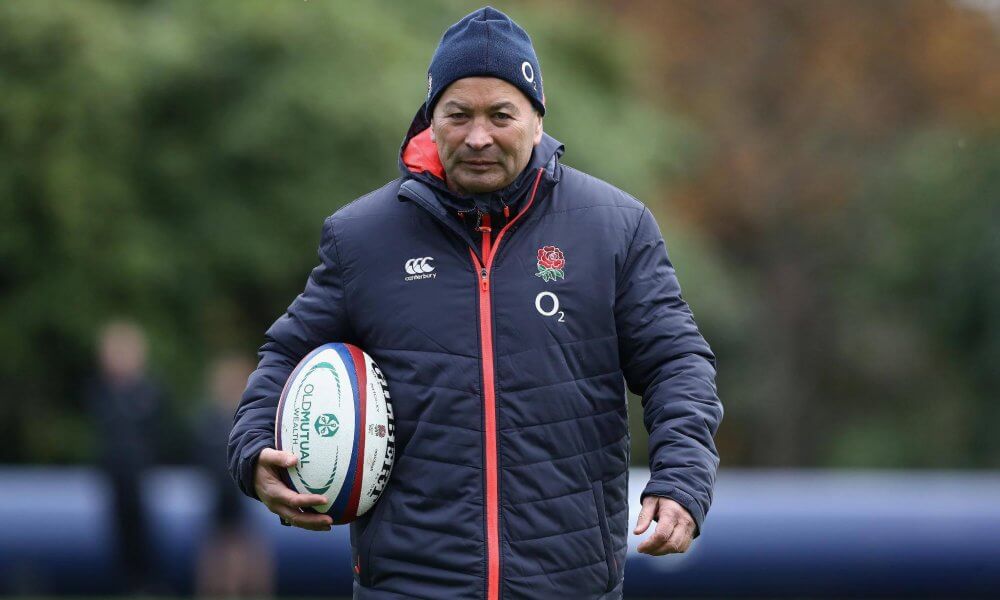 LONDON – Verbal barbs have continued to fly back and forth between Wallaby and English camps as the countdown to a heated Ashes showdown on Sunday morning AEDT continues.
Referees, scrums, European Rugby and the conduct of England coach Eddie Jones were all in the firing line for Michael Cheika as the two former team-mates jostled to influence the pre-match narrative in the media.
Getting formalities like the status of halfback Will Genia and flanker Dean Mumm out of the way early, it didn't take long for Cheika begin in earnest.
Eddie Jones
"In June I gave the opportunity to see how a former Australian would deal with it," said Cheika on Jones' return to coach against Australia on home soil. "There was a lot of vitriol towards Australia, where he coached and where he was given opportunities to grow up as a coach.
"I suppose it's a bit like goalscorer who scores against his old team, you don't really know how to play it – do you act reserved or do you get stuck in?
"I know what I'd do. If you're looking to leave a legacy somewhere you don't hit back at it when you leave."
When asked later about whether Jones and Cheika considered themselves mates, the only response the Wallabies coach gave was that he "wasn't judgemental" of the way Jones has handled himself in the media.
"If he wants to play it that way, that's totally fine with me, he's doing whatever he needs but does it help winning or losing?
"I would think that if you spoke to any of the English players who are playing on the day they won 3-0 in Australia they would like to think it was their skills and their ability that got them over the line and not the other stuff."
Scrum illegality
While stating that he preferred to let his players do their own talking through their actions on the field, Cheika couldn't resist pointing out the irony of English suggestions of illegality at the scrum not three days after tighthead Dan Cole was yellow-carded against Argentina.
"I think the important thing to note is that he's got to be looking at his own players. They're the ones who got the penalty try against them and [prop Dan Cole] got a yellow card. That same prop's been infringing the law since his career started, not just this year.
"If Eddie is that naive to think that having a go at our guys will make the referees forget about his guy then that's up to the Ref to be influenced that way."
"We have an Argentinian scrum coach and all we do is scrum square and try get as much weight as possible.
"We still scrum the same way we did in June," Cheika said. "When you're scrumming straight you've got to work a lot harder to try stay up. If a guy turns in on the angle and pulls down the bind, you'll fall over.
Cheika explained in further detail that the Wallabies "didn't have the strength" in the front row to continually scrum straight, exposing the side to being taken down by the dark artists within the English front row.
"I think that in the summer that's what happened to Scott Sio and James Slipper – Coles turning in and pulling down got the better of them."
Jones' changing attitudes to coaches conferencing with referees before test matches were also not lost on the Wallabies coach.
"It's funny how your tune changes… In the summer when we requested those meetings [with the Referees] he blew up, he stormed out of one!"
European Rugby swooping on off-contract Wallabies
Cheika played down speculation that Wallabies stars Tevita Kuridrani and Rory Arnold were in the sights of French Rugby clubs Bordeaux and Toulon.
Claiming that every player off contract in 2017 was linked to a move somewhere, the Wallabies coach stated that the high number of debutants brought on tour was part of the Wallabies solution to the financial pull of the European market rugby.
"For us to keep our players we have to an incredible amount of work on the ground and prep because you can offer them more in Sterling and Euros than we're able to offer in dollars.
"We've got to make sure that playing for your Super Rugby team is something that makes you a better player and a better person, and make that something that these players want.
"It leads to what we've done this year, to follow a clear plan to grow the numbers of players in competition for Wallabies positions.
"That might mean some short term pain but the goal is increase the depth of the Wallabies.
Cheika again highlighted the importance of this process in strengthening rugby at the International level but also in protecting the future of the code