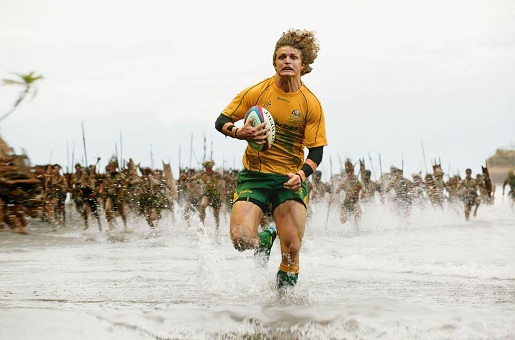 With all this Quade Cooper shit breaking, I decided to think back to a simpler, better time in Australian rugby. Remember when we beat England at Twickers? What a glorious day that was….
I've cracked the shits with all these 'experts' and their 'rational analysis' that tell me that there were flaws in the Wallabies' game on Sunday. From where I was sitting I didn't see any. All I saw was 15 blokes in gold giving it to the Poms at Twickers with both barrels. And winning. Is there anything better?
Here are the five things I enjoyed most:
---
The Honey Badger
This guy just doesn't give a shit. And I love it. In the previous two Tests he had some good moments, but never quite dominated like I knew in my heart of hearts he could. All that changed on Saturday. He just roamed the field like a wild animal, snapping necks and cashing cheques. Kicking arse and taking names. Tackling Poms and catching bombs. (Except that one early, but I have forgiven him for that. Actually I think that was the only one he had. But the rhyme was just too good to ignore.)
You get the picture. I love the enthusiasm and physicality this guy exudes, and in my eyes he is now our number 1 winger. The one moment that summed it up best for mine was this: it's the 78th minute. We have a scrum on our 22. We need to keep the ball in hand, and take the Poms out of the game. The scrum ball is solid, Phipps gets clean ball and passes to a rampaging Cummins at full tilt. He breaks the first two tacklers and makes 20 metres. Game over — thank you ball boys, thank you linesmen. Long live the Badger, may his reign of tyranny never end.
---
The Scrum
It wasn't quite as sweet as watching the Fuse take down Andy Sheridan in 2008 (otherwise known as the greatest day in the history of mankind), but it still was pretty fucking sweet. Coming off our worst scrum performance in years against the French, the dirty Poms were licking their cod-stained lips in anticipation of yet another demolition derby at the set piece. By the end they were leaving Twickers in droves, with their lager-soaked tails between their fat, pasty legs. Benny Alexander was brilliant, and Benny Robbo also excellent. Once again the sweet chariot became a busted-down old pile of wood, as we rogered the English at scrum after scrum. Then they started collapsing, and we started reaping the rewards on the scoreboard. It doesn't get much better than that.
---
The Chip Kicks
I have bemoaned the scourge of chip-kicking like every other sane rugby fan, but on the weekend something glorious happened — they actually worked. But more than that, they worked not because the English handled them badly, or weren't prepared, but because they were well-executed kicks with chasers at the ready. We showed that when done well, it is a tactic that is very hard to defend against; even when the Poms regathered we had them on the back foot at the ensuing ruck (and should have pinched a turnover on one occasion).
You know how the old saying goes: if at first you don't succeed, keep persisting for months and months until you finally work out how to do it the right way — then drink the luscious juices of victory.
---
The Speed
For once the Wallabies played an up-tempo game, and had the organisation and skills to match! Too often we have tried to play quickly, but the halfback has found a disorganised backline and forwards standing around like Brown's cows. Not on the weekend. We had forwards hitting the line at speed, backs willing and able to spread the ball to the wingers, who (shock, horror) made ground out wide! And when it all broke down, we decided to do it all again! Not to mention plenty of offloading in contact, and a good dose of mongrel to keep our ball at the breakdown. Super stuff.
---
The Defence
While the general solidness of our line was something to behold, I was even more pleased by the big plays we pulled off in defence. It was stuff you'd expect the AB's to do, but never us. Think Cliffy Palu ripping the ball off a hapless Pom as he dived for the line. Think Berrick Barnes executing the perfect grasscutter tackle on a flying Chris Ashton, then swinging his legs into touch. Think Michael Hooper chasing down Toby Flood as he looked to be in a gap and away. Think every time the ball came near the Honey Badger's wing. We bashed 'em up, plain and simple. And it was a joy to watch.
---
So there are five things that will hopefully brighten your Tuesday. And I'm sure there will be people who will insist I 'not get carried away', or try and highlight the negatives. But I don't care. I insist on drinking the sweet nectar of victory, just for a few days at least. I encourage you all to do the same.
So forget Quade and his shenanigans, let's focus on the one thing that matters: the Wallabies' battle with those greasy Eye-talians this weekend!
Did I miss anything? What did you like most about the Wallabies' effort?