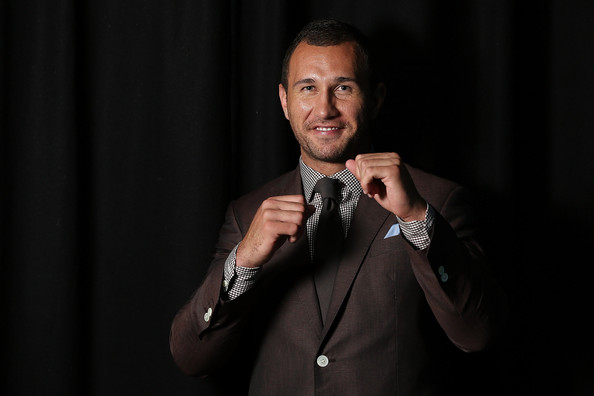 Boxing is pretty cool. Pay-per-view sales are a river of molten cash, also. So it's understandable that rugby players might want to try their hand at the sweet science.
But Quade? Really? The contact-shy No. 10 can hardly bring himself to make a tackle, let alone trade punches with a professional pugilist.
So let's face it: Quade won't fight a pro boxer. Khoder Nasser will find an opponent in a South Island hospital carpark and disconnect him from dialysis for just long enough for Quade to demonstrate his fight-ending power and granite chin.
A much better idea, courtesy of Paul Cully, would be to have Quade square off against Freddie Flintoff, who made his heavyweight debut last Saturday. That's my kind of freakshow.
But that's not going to happen. Nasser isn't going to sacrifice his cash cow by putting Quade in with a fighter who has an actual chance. Serious professional boxing is not a sport for latecomers. American heavyweight hope (they've given up on a Great White Hope"these days and take all comers) Seth Mitchell, a former linebacker, found that out the hard way a few weeks ago. Mitchell had been in the pro ranks five years.
With that in mind, here's my list of rugby players who'd make decent prizefighters:
Dan Cole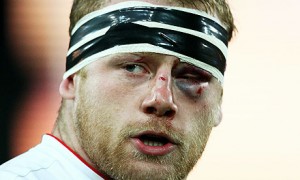 Even Dan Cole's mum doesn't love that mug
The English tighthead is a hard man. Like many good fighters, he's willing to take punishment in order to dish it back out later on. That tendency was probably best showcased against the Wallabies in 2010, when the Englishman was cut in the first five minutes but played on regardless. Cole didn't let the small matter of being blind in one eye keep him from inspiring England to victory.
His boxing inspiration could be junior welterweight Mike Alvarado, who wasn't deterred last year when Colombia's Breidis Prescott beat him up for nine rounds; Alvarado knocked him out in the tenth, despite a mug as bad as Cole's.
[youtube id="FfNBsaVCTkA" width="600″ height="350″]
Richie McCaw
[youtube id="pdr-W775hk4″ width="600″ height="350″]
Captain Illegal is a bad man. I mean that as compliment. He's a tough cookie, but more than that, it's amazing what he can get away with at the breakdown, right in front of the ref's face. Ah well, you do what you have to do to win.
That's the kind of attitude that would endear him to many in boxing, especially junior featherweight Abner Mares, who's also mastered the dark arts. His 2011 fight with Joseph 'King Kong' Agbeko was so controversial that a rematch was necessary. Mares came out and decided that he would punch Agbeko in the dick all night. So he did. Referee Russell Mora did nothing. Just watching makes you want to cross your legs.
[youtube id="4mr4LIC6Bj4″ width="600″ height="350″]
Bakkies Botha
[youtube id="aO12nItzYdw" width="600″ height="350″]
Is there any doubt that Bakkies would be a lean, mean fighting machine? "Bakkies Botha fights" pops up before "Bakkies Botha tackles" in a YouTube search. The South African enforcer is as fond of his head, thumbs and elbows as he is his fists, though, which earns him a comparison with chrome-domed junior welterweight Tim Bradley, who's got a career as a billy goat impersonator lined up when he retires.
[youtube id="u-poGMVoWH4″ width="600″ height="350″]
James O'Connor
Bieber seems at first an unlikely choice. But he's got self-belief, skills and athleticism in spades – traits that any boxer needs. 'Skills pay the bills' is a boxing cliché but it's true in rugby as well.
O'Connor's role model: Adrien Broner, the world's top lightweight. The 23-year-old Broner's cocky schtick has been raising almost as many eyebrows as his skills in the ring.
[youtube id="DfZpbhg2Juk" width="600″ height="350″]