It's nearly time for the Bledisloe! Friday's Rugby News is here to talk all the latest in the Wallabies and the Wallaroos, high hopes for the Uni Sevens series, and the Reds, Tahs and Brums all coming together for a chat.
---
Bring back the Bledisloe!
It's that time of year again. The Wallabies will be set to do battle tomorrow night when they take on the All Blacks at ANZ Stadium in Sydney. It has certainly been an different build-up compared to previous years for the Wallabies, training out at Cessnock and Penrith and away from prying public eyes.
But, while the announcement of the squad yesterday has come with the usual gawks and jeers about certain player selections, there has also been a lot of people who are excited by a lot of the notable differences in this squad. You can see the Wallaby squad list below:
1. Scott Sio (32 Tests), 2. Stephen Moore (120 Tests), 3. Allan Alaalatoa (11 Tests), 4. Rory Arnold (12 Tests), 5. Adam Coleman (12 Tests), 6. Ned Hanigan (3 Tests), 7. Michael Hooper (c) (68 Tests), 8. Sean McMahon (15 Tests), 9. Will Genia (78 Tests), 10. Bernard Foley (45 Tests), 11. Curtis Rona*, 12. Kurtley Beale (60 Tests), 13. Samu Kerevi (8 Tests), 14. Henry Speight (12 Tests), 15. Israel Folau (55 Tests). Reserves: 16. Tatafu Polota-Nau (71 Tests), 17. Tom Robertson (9 Tests), 18. Sekope Kepu (80 Tests), 19. Rob Simmons (71 Tests), 20. Lopeti Timani (7 Tests), 21. Nick Phipps (52 Tests), 22. Reece Hodge (13 Tests), 23. Tevita Kuridrani (47 Tests).
The first big relief was that Cheika actually announced the whole squad, unlike during the June series when he made us have to wait an extra bloody day to find out who was on the bench.
The most notable changes are firstly in the backline, which sees Micheal Cheika's 10th midfield combination since 2016. But, it is one that is mouthwatering to even talk about: the pairing of Samu Kerevi and Kurtley Beale. Kerevi has had limited game time, but the guy can seriously play. Pairing his hard ball running skills with Beale brings, dare I say it, something that we haven't got from the Wallabies for a while: a bit of an unknown entity. We don't know what's going to turn up. Could be shit. Or, it could be champagne rugby. Add in that there will be a new arrival in Curtis Rona, who after a great season at the Force will be lining up on the Wing.
The second big changes are in the back row, with the inclusion of a more inexperienced row managing the back of the scrum. However, given the choices Steve Hansen has made with Liam Squire, Sam Cane and skipper Kieran Read, I think that Hanigan, Hooper and McMahon might be up to the task. If they aren't, at least they can call on some decent reserves to come in and fill the void.
And that's the third notable change: the bench. Honestly, some may disapprove, but personally, I like this bench. Tevita Kurindrani coming on the 60th minute to bring the game home would be terrifying. I remember back in 2015, when the Wallabies started their awesome run into the World Cup with that last ditch win against the Boks at Suncorp Stadium. What got us over the line? A solid bench that came in to finish the job. It also played a role in winning our last match against the Darkness.
If the main squad can hold the All Blacks until the 60th minute, then one would hope this bench would be able to come in to finish them off.
Cheika has been frank that he has made mistakes in his last year-and-a-half as the Wallaby coach, and he was surprisingly candid when he spoke to rugby.com.au.
"Last year, when I look at that game [the last Bledisloe in Sydney, which the Wallabies lost 42-8], I still believe that I over-trained them in the lead-up," said Cheik.
"I  think that, because I was stressed about their fitness, that's a mistake we haven't made this year.
"We've worked really hard on the D because we know it's got to be a very important part of the game because of how potent they are in attack and we'll take a few risks sometimes to get the outcome we want but I believe we're well-prepared in that area."
"I  think for us, considering our situation, all our focus has been on ourselves and getting our team travelling at the right speed and also prepared with everyone clear in their role to go out there and do the job," he added.
"2015 we were able to have a win and we felt the high and how important that was to the game and how good it felt and then in 2016 we suffered the reverse result and felt the other end of that, of how important the game is.
"There's absolutely no doubt that it's a huge match, huge match for our fans and we'll certainly want to go out there and make them proud on Saturday night."
It does add a bit more to the mind of the disgruntled Wallaby fan when you consider the All Blacks have had to contend multiple distractions in the building to this game: a shorter preparation time, a frustrating Lions series, the listening bug court case and Aaron Smith's toilet fiasco. Or maybe I'm just being too hopeful?! Is it that bad to hope we might have the slimmest chance of beating these guys?
Check out our own preview for the match here. Come on Wallabies!
See the Wallaroos result below: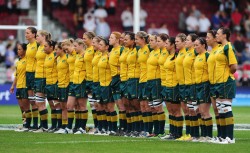 By the time you read this on Friday morning, either on your daily commute or while you're having your first coffee or you're in bed struggling to summon up the energy to get up and start the day, the Wallaroos will have played their match against Japan. To find out result, click here.
But here's a wee bit of context before you do. The Wallaroos put a definite stamp on trying to forget about the French match, according to assistant coach Scott Allen. They're keeping in mind that the Japanese team lead the Irish for nearly 60 minutes of their game, until the hosts were able to pull it out of the fire. They will not be expecting an easy encounter.
"Yeah, we made lots of mistakes, we did some things we didn't plan to do but a lot of that was the pressure France put, they went to another level," said Allen to rugby.com.au.
"Our focus, we didn't even show the girls the game against France, we just showed them what we have to do against Japan."
While a semi-finals berth is now out of the question, a win here would see the Wallaroos contend to finish in the fifth-eighth play offs bracket, which would hopefully keep their campaign alive. So there's plenty to play for.
Scroll up again to see if the ladies picked up the win or not. Come on Wallaroos!
A Tah, A Red and A Brumby walk into a bar…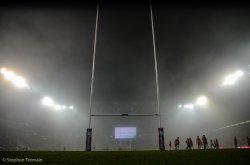 Yeah, that caption could be used as the starting a joke by an obnoxious Crusaders fan, but in all seriousness, the Waratahs, Reds and Brumbies are scheduled to have a meeting at the ARU headquarters today.
Why? Because with a  major staff turnover currently going on at the governing body, and a legal battle with the Western Force, the three franchises that were actually guaranteed their futures still don't have any clear idea on what the future direction of the game is.
Officials from all three safe franchises will therefore meet with the ARU on Friday to get some clarity on the ARU's plans for next year and beyond. The reason why the Force and the Melbourne Rebels were not included in this meeting was because it was organised a month ago, before the outcome of the arbitration hearing last week. This meant that both those clubs were still under the axe at the time of the meetings inception.
Yet, even despite this, there was reportedly no intention to invite the Rebels at late notice. This is probably due to the fact the Force are taking their case to the NSW Supreme Court, so everything is still kinda up in the air.
Judging by the article published in the Sydney Morning Herald,  it's certainly going to be a very interesting meeting, because it doesn't really look like the ARU can confirm anything in regards to even their own future.  Chief Executive Bill Pulver, Chief Operating Officer Rob Clarke and Chief Financial Officer Todd Day have all resigned this year, and it is widely expected that General Manager of Marketing and Insights Jade MacAuslan and General Manager of Commercial and Marketing John Nicholl will soon be joining them.
The entire situation with the Force and the ARU resignations has only added to the confusion of knowing what the actual plan is for next year. The Waratahs, Reds and Brumbies have been consequently left in limbo by the ARU.
It is still unclear if the ARU will permit increasing squad sizes or the salary cap to accommodate players who won't have a home if the Force are removed, or if there will be any other managerial changes that will be introduced. With nothing set in stone, the foundations for 'improved' results next year are already looking a bit shakey.
But, on a more positive note, the teams have expressed their desire to work together and set up greater collaboration between high-performance units to deliver better results. This is a big step forward, as many of the Super Rugby clubs have acted independently of one another on the results and performance side of things in the past.
Add in as well that Michael Cheika wants to promote data sharing between Super Rugby teams to improve the base fitness level of players, and  that the ARU  also plans to implement a new national coaching strategy with the Wallaby assistant coaches and Super Rugby coaches. Maybe something positive can come out of these meetings. Fingers crossed…
Skys the limit for Uni 7s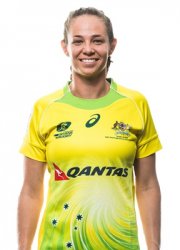 Finally, on a positive note, Aussie Sevens star Chloe Dalton has made it no secret that she really hopes that the new Aon Uni 7s Series can follow a similar path to that of America's college sports.
"Looking at the college system in America, how successful they are with their sports, if we can try and replicate that on a smaller scale and try and unearth that talent at a university age, that'll be massive," Dalton said to rugby.com.au. 
"I think the talent's definitely out there, whether it's girls already playing rugby, or girls who are playing other sports and getting them to transition across, I think that'll be a great way to go about it," she said.
"Hopefully we can unearth some of that talent, some of the girls will have an opportunity to come and train with us, and play a few of those tournaments before we start in the World Series."
The Uni 7s Series will be played in conjunction with some of the NRC games this year, including an exciting double match-up of the Uni Sevens and the Sydney Rays – Western Sydney Rams fixture, which will be played for the first time ever at Macquarie University on September 10 (it'll also be a grudge match for the highly coveted Benn Robinson Bell, which was introduced at the end of the NRC last year as the big trophy that the NSW sides will compete for).
The Rays are also linked up with the Mac Uni team. In addition, there will also be teams from Canberra, Adelaide, Tasmania, New England, Bond, Queensland and Griffith Universities.
Dalton says that the combination of both competitions together will be a sure-fire draw to build a stronger atmosphere for both fixtures. With NRC experiencing encouraging growth last year in attendance (10% increase on 2015) and TV Viewers (65% increase on 2015), the addition of the Fijian Drua, and the shared fixtures with the Uni Sevens suggests encouraging signs are ahead for both competitions this year.
"I know local footy has been doing really well, even watching the Warringah-Manly (Shute Shield) derby just the other day, seeing how many people were down there, hopefully we can replicate that," says Dalton.
"The fact that they can now just come on down to one of the local fields to watch us play in this 7s comp will be great.
"I'm hoping that a lot of people who haven't watched Sevens before will also get down and support and hopefully some young girls will see it and be keen to give it a crack."
The first circuit of the Aon Uni7s kicks off at the University of Tasmania in Launceston on August 25 and 26.