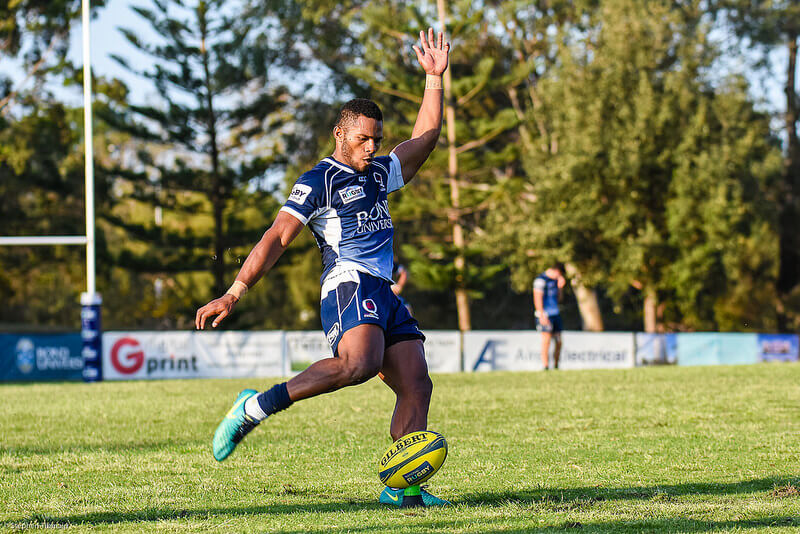 Friday's Rugby News sees the ARU looking to change their name, the latest on the Wallabies squad, Gatland open to being the Kiwi coach and the squads of the NRC being announced.
---
Goodbye ARU (the name)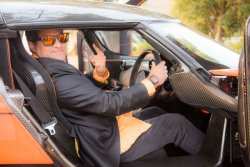 Guess what guys! The Australian Rugby Union (ARU) will cease to exist in the coming weeks.
Well, only it's name. But it's a start, I guess.
Instead, they're going to be going under another name, for some reason: Rugby Australia. So I guess we call them RA now?
I honestly don't know what the point of changing the brand name. Because if they're doing it to give the impression of a 'national game' after the events of this year, that name might quickly begin to sound a wee bit sarcastic.
According to Payto & Panda at the Daily Telegraph, the renaming may come as soon as next week. The ARU are officially coinciding the release of the new name with them moving into the new headquarters at Moore Park, which will be officially opened by the NSW Government sometime next week.
Plans to rebrand reportedly began in 2016, but was put on the backburner as the whole saga of Super Rugby erupted, leading to the eventual dismissal of the Western Force from the competition. With that all out of the way, the ARU are hoping that the re-brand may lead to washing away of a lot of the crap that was associated with the SR debacle, and continue on as branding the game as a 'national' sport.
See what I mean? Oh, the irony.
Squeak's Sendoff
It's the final rugby Wallaby match in Australia this year, and while the match is a dead rubber in terms of the context of the Bledisloe Cup match, it has been a more surprising series compared to recent years, even though we lost again. Following a tale of two halves in Sydney, the Wallabies came close to knocking off the All Blacks in Dunedin in a performance that raised a lot of attention from everyone.
Our very own Brent Craig did his preview for Bledisloe III here on GAGR last night, which you can check out right here.
For those of you who haven't seen the Wallaby squad, here it is below:
15. Israel Folau, 14. Marika Koroibete, 13. Tevita Kuridrani, 12. Kurtley Beale, 11. Reece Hodge, 10. Bernard Foley, 9. Will Genia, 8. Sean McMahon, 7. Michael Hooper (c), 6. Jack Dempsey, 5. Adam Coleman, 4. Rob Simmons, 3. Sekope Kepu, 2. Tatafu Polota-Nau, 1. Scott Sio. Reserves: 16. Stephen Moore, 17. Tom Robertson, 18. Allan Alaalatoa, 19. Lukhan Tui, 20. Ned Hanigan, 21. Nick Phipps, 22. Samu Kerevi, 23. Henry Speight
It is a particularly notable match, in that it will be Squeak's final test on home soil, and how fitting it is that it will be on his home patch. Stephen Moore has been unsurprisingly reflective on his season, but has been keeping focused ahead of the match, as a win here would do much for the Wallabies heading into their end of season tour, and for ending the year off on a positive note.
You certainly find a few more friends in these kinds of weeks," he said to rugby.com.au.
"Everyone comes out of the woodwork, but it is great to get the opportunity to play at home and got a few mates who are going to rock up to the game, my family as well.
"I would like to think they've been there the whole time.
"That means a lot to me but I really want to keep the focus firmly on the team's performance and significance of this game for this particular group of players is really big."
Michael Cheika also had plenty to say on Moore's final home dig, he mentioned that Moore has done an awesome job in mentoring many an upcoming hooker, particularly current Wallaby young-un Jordan Uelese.
""As much as I'd like (it) to be a bit more symbolic, Moore deserves his opportunity to play in this game and I'm sure he's going to make it count," said Cheik.
"One thing I've noted about him since I've been involved with him in this team is his genuine desire for Australian rugby to be something that the people of the country enjoy and are a part of.
"(He's been) doing some of the harder yards for some of this new generation of leadership to start to leave a legacy behind for the next guys, which has probably been missing for us."
Out of all the players though, it was Will Genia's comments that were particularly noteworthy, especially given the halfback has played with Moore more than any other player.
"You've heard him speak about what this week means to him and it's all about the team and preparing as well as you can to contribute and the one thing that stands out is just how selfless he's been, being involved in this particular group," he said.
"That (2015) World Cup year where we had a decent run to the final, it was the first time i'd been involved in a Wallaby team where there was true direction and leadership as far as who we wanted to be seen as, how we wanted to play.
"It's obviously just a great privilege for me to have said that I've played with someone who's played so many Tests for Australia and will go down as a great of Australian rugby and of course in world rugby as well."
While many have heaped plenty of criticism on Squeak, and yeah the bloke may have passed his prime, but god he had a solid run, both for my team the Brumbies (117 caps), the Reds (50 caps) and in Wallaby colours (120 caps, the second highest in Wallaby history behind George Gregan). Oh, and he's also our fifth most capped skipper in Wallaby history.
Full credit to the bloke. Hope he can finish up his international home career here in Australia a winner. Onya Squeak.
Never say Never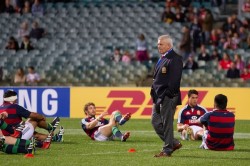 Well, many saw the British and Irish Lions series as a test of Warren Gatland's credentials. Many people have circulated around the web that Gatland wants Steven Hanson's job at the All Blacks, but few had actually asked the man himself. His answer: in a heartbeat, if the timing was right.
Gatland would be open to any chance to return home to coach, not just for the All Blacks. While many had painted the reception the Lions received in New Zealand as being hostile, Gatland admitted that most of that was simply confined to the press.
"I've got to say the hospitality we had in New Zealand was unbelievable," he said to Radio Sport, as told on Fox Sports.
"The amount of people who spoke to me and contacted me to say that they were disappointed by some of the stuff that was written puts things into perspective."
While Gatland has talked about coaching the All Blacks before, he has admitted that he would wait a bit first after finishing up with Wales in 2019, and would be more on the lookout for a Super Rugby coaching position.
"The plan is to finish in 2019, have a six-month break — coming back home, going to the beach and putting my feet up for a while," he said.
"Then see if there are any opportunities after that, perhaps in Super Rugby. The thing about New Zealand is you have to be in the right place at the right time because there's not a lot of coaching positions.
"(If) you come back to New Zealand and if there's an opportunity to get involved in Super Rugby and you're successful other things open up for you.
"That's the way I look at it. I promise you there's not a strategy in place of me coming back to New Zealand and wanting to coach the All Blacks."
NRC Squads Named
It's close to crunch time in the NRC, when the penultimate round of the regular season kicking off this weekend. Many Wallabies players are back in Brisbane now, so expect to see plenty of more exciting club players out and about playing in the NRC this weekend.
Check out the new lists for the teams now on rugby.com.au here.
Crowd numbers were down surprisingly over much of the last round, but rest assured, there will be no problems getting people to games this weekend. Starting off is the game that could be the match of the round, with Fijian Drua effectively playing for a home semi-final when they take on Queensland Country in Suva. It will be tight affair, and with a fast finishing Brisbane City side, a loss here could prove fatal in the context of the teams season. Fiji have been lightening at home, but they are coming up against a Country side who have won five on the trot. It's gonna be a thrilla in the tropics.
Brisbane City will be back at their spiritual home of Ballymore, hosting the Greater Sydney Rams this weekend. With a fourth place position now in their grasp, City need to captialise and grab a win here to stop the chasing pack in the form of Perth Spirit and NSW Country Eagles. For the Rams, it'll be little more than pride that will see them through this match, and a good performance here will lift the spirits on many in the west.
The third match sees Perth back in their western fortress of McGillivray Oval, taking on the Sydney Rays. The Spirit have to win here, and win big. If they don't (and Brisbane City win), their season is effectively over. As for the Rays, its been a pretty disappointing season all round, so with nothing to play for but pride, maybe they might force an upset.
Finally, the other cellar dwellers Melbourne Rising will be playing for pride when they host NSW Country Eagles in Melbourne. The Risings season is as good as gone, so their will be motivated to try and produce a performance to make Victorian fans happy. The Rising and Rebels have only won a single game each in their seasons so far. Talk about a lack of success. As for NSW Country, they need to take it in a week in, week out basis. They're the outside chance of making the top 4, but have knocked over some big scalps so far this season in the form of the Canberra Vikings and the Spirit.
The Vikings, meanwhile, have the bye.
Finally, on a positive note for to finish off the week and to remind everyone of the talent the NRC is bringing through, the Reds have officially signed Queensland Country winger Filipo Daugunu. Daugunu is the leading try scorer so far this season, and it's great to see him rewarded with an official contract at the Reds.
"I moved to Australia with a dream of playing Super Rugby and I'm so excited to get this opportunity with the Reds," he said to rugby.com.au.
"I've really enjoyed my time during the NRC and feel confident with the way I've been playing. I'm looking forward to the next Super Rugby season."
Brad Thorn also was quick to weigh in on the young winger.
""For Filipo, he moved to Australia with a goal of starting his journey as a professional footballer. He's hungry to succeed and we're excited to have him join the Reds next year."