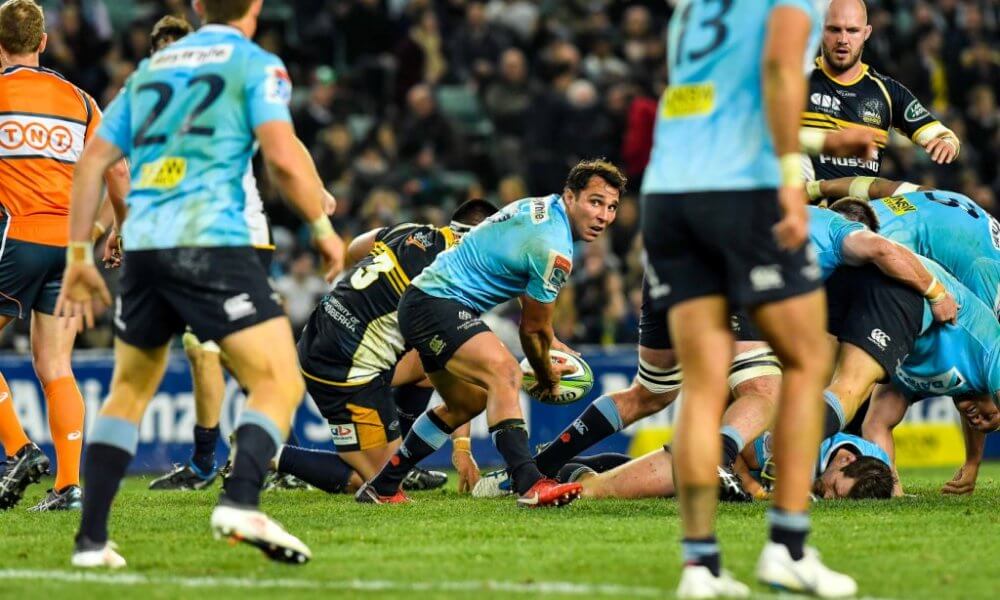 Friday's Rugby News sees the Tahs squad, another edition of club corner, and lots of comings and goings…
---
And then there was one…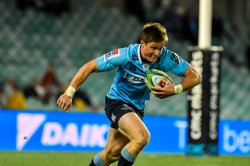 One week there were five Aussie teams playing, the next, only one…
With the Rebels, Reds and Brumbies all out of contention and no World Series Rugby fixture over in an increasingly rainy Perth (every single Force fixture I've seen this year looks like it's been played in the middle of a deluge), the Waratahs will be the flying the flag this weekend as the Super Rugby quarter finals commence.
The Tahs will come out on Saturday night against a Highlanders side who barely scraped past the Rebels last week. But this is a very different side coming to Sydney.  With Ben Smith, Aaron Smith, Luke Whitelock, Elliot Dixon, Rob Thompson and Ash Dixon all back into the starting lineup, the men from Dunedin will be close to full-strength.
Meanwhile, the Tahs have made just one change, with Alex Newsome replacing Cam Clark on the wing, with Clark dropping to the bench.
Waratahs Squad: Israel Folau, Alex Newsome, Curtis Rona, Kurtley Beale, Taqele Naiyaravoro, Bernard Foley (c), Nick Phipps, Michael Wells, Will Miller, Ned Hanigan, Rob Simmons, Jed Holloway, Sekope Kepu, Damien Fitzpatrick, Tom Robertson. Reserves: Tolu Latu, Harry Johnson-Holmes, Paddy Ryan, Tom Staniforth, Brad Wilkin, Jake Gordon, Bryce Hegarty, Cam Clark.
If the Tahs win, it'll be the first time since 2015 that an Aussie team has made it to the semi-finals (when both the Brumbies and the Tahs were knocked out by Kiwi sides).
The last time the Highlanders arrived in Sydney, they left with their tail between their legs, having become the Kiwi team who ended an impressive winning streak against Aussie sides. If there was any chance to get revenge, it is now. And with so many stars coming back, they might just do it.
Last week might have been a wake-up call the Tahs needed. Either that, or it showed us that they are still mighty inconsistent, like previous years. This squad has shown a lot of potential and growth this year, and to see it all fall apart and same hurtle yet again would genuinely suck. It really depends on which Tahs side turns up to play – the side to walloped the Highlanders… or the side that was held scoreless at home by the Lions. 
The lads at Fox are backing the Highlanders to take this one. I feel like I have to agree. Highlanders by 5.
The other matches sees the Hurricanes facing the Chiefs in a rematch from last weeks (backing the Canes), the Crusaders will host the Sharks (Crusaders), and the Lions will host the Jaguares in the Argentineans' first ever quarter final series.
Outside of Super Rugby, the other big news was the in the aftermath of the Mafi – Timani biff in Dunedin, it was reveal that Mafi had done up another member of the squad earlier in the season, with The Australian reporting that Wallaby Marika Koroibete also came to blows with Mafi while on tour in South Africa.  The two however patched things up, and the Rebels dealt with it internally. The same can hardly be said for this second indiscretion.
In other big news (and a purely shameless bit of podcast cross-promotion), the Rugby Report Card lads officially said, in their latest podcast, on the record, that they're going to put in an effort and go to an NRC game this year. This is momentous news at GAGR HQ, and so to spice your Friday up, get yourself riled up for the NRC and listen to the latest Dropped Kick-Off podcast.  Both podcasts are very enjoyable on the ears, especially when you're listening to them.
Club Corner
Here we are again, ladies and gentleman. Time to dish out some club results.
This weeks club corner starts, like last week,  in beautiful WA. Shoutout to bob, one of our commentors from last week, who informed me of how the WA system works after the end of the regular season. The top six teams in the Fortescue Metals Grade Premier Grade split with the bottom seven team into two competitions, which allows all teams to continue playing first grade. With that in mind, I'll focus on the results of the top six, which saw Nedlands, Associates, Cottlesloe, Joondalup, Wests Scarborough and Kalamunda all qualify.
In Round Fourteen, the Premiership Divison saw Kalamunda pick up a big 21-29 away win against Associates, Cottlesloe went down at home 12-18 to Wests Scarborough, and Nedlands accounted for Joondalup 31-21. The result sees Nedlands take the top spot on the table.
Round Fifteen Fixtures:
Wests Scarborough v Kalamunda
Nedlands v Cottesloe 
Joondalup v Associates
Next up, we head to Sydney for the Intrust Super Shute Shield. Round Fourteen saw the Pirates keeping their season alive with a 33-26 win over Eastwood, Eastern Suburbs went down at home to Southern Districts, 30-36, Randwick picked up a surprise draw against Manly, 36-36, Parramatta went down 8-29 to Sydney University and Gordon got completely walloped 14-83 by the Rats.
Round Fifteen Fixtures:
Randwick v Warringah 
Northern Suburbs v Southern Districts 
Eastwood v Gordon 
Parramatta v Eastern Suburbs 
Manly v West Harbour
Sydney University have the bye.
In Brisbane Club Rugby, Round Sixteen of the Hospital Challenge Cup saw Norths go down to Easts 23-29, Bond University make light work of Easts 17-48,  University of Queensland came home with the chocolates against Wests 40-53 and GPS picked up a surprise away win against Souths, 27-34. As we head into the penultimate round of the regular season, University of Queensland hold the lead at the top of the table with 48 points, with GPS only one point behind. That makes this weekend's clash super exciting for Brizzy club rugby fans.
Round Seventeen Fixtures:
University of Queensland v GPS 
Easts v Wests 
Sunnybank v Souths 
Brothers v Norths
Bond University has the bye.
We're also heading into the penultimate round of the John I Dent Cup in Canberra, with Tuggeranong holding a seven point lead at the top of the table over last years champions, Royals. After that, it's effectively daylight.  In Round Fifteen, Uni-Norths picked up a big 26-25 win over Royals, Queanbeyan and Easts couldn't be separated in a 46-46 draw, and Tuggeranong demolished Wests 55-19.
Round Sixteen Fixtures:
Easts v Gungahlin
Royals v Queanbeyan 
Wests v Uni-Norths
Tuggeranong has the bye.
The Coopers Premier Grade in South Australia enjoyed a week off, so no fixtures were played over the last weekend.
Round Eleven Fixtures:
Old Collegians v Onkaparinga 
Woodville v Souths Suburbs
Burnside v Brighton 
And finally, down in Melbourne, the BLK Dewar Shield saw a couple of thrilling matches in round twelve last week. Box Hill went down at home 17-25 to Power House,  Footscray knocked over Endeavour Hills 43-28, Harlequins went down at home to Melbourne 21-27, and Moorabbin grabbed a thrilling 27-26 win against Melbourne Uni. The Dewar Shield is also heading into it's penultimate round this weekend: with their defeat of the second-placed Quins (52 points), Melbourne (57 points) are currently holding a five point advantage at the top of the leader board. A win this weekend will effectively wrap up the Minor Premiership for them.
Round Thirteen Fixtures:
Endeavour Hills v Box Hill
Melbourne v Moorabbin
Melbourne Uni v Harlequins 
Power House v Footscray
Hope to see plenty of folks down at their club rugby games this weekend as we approach the business end of the season. But, as the club season draws to a close, all eyes will soon turn to the NRC on the horizon…
Comings…
Speaking of the NRC, there's been a bit of transfer news around the latter half of this week, with the big one being the announcement of Isi Naisarani signing with the Melbourne Rebels next year.
As much as I wish the big man all the best, this one hurts me a little bit, as I'd really got used to seeing this bloke thundering around in a Brumbies jersey. Naisarani though has been looking good ever since his breakthrough season playing for the Brisbane City in the NRC in 2016, and with a stint in the Western Force and the Perth Spirit in 2017 that saw him get better and better, he came onto the radar of Michael Cheika.
It's no secret that Cheik is keen to involve Naisarani in the Wallaby set up when he becomes eligible in April next year, and Dave Wessels made it no secret to rugby.com.au that he'd found himself a good nut here.
"We're very pleased to welcome Isi to Melbourne and it's a testament to the high performance program we're creating here at the Rebels to attract a player of Isi's quality," he said.
"It's wonderful to have the opportunity to work with Isi again.
"He made a real impression straight away at the Western Force in his first year of Super Rugby, which is no easy feat to step straight into one of the toughest provincial rugby competitions in the world.
"Isi brings professionalism and work ethic on and off-the-track to everything he does.
"He adds a real touch of X-factor and versatility in the backrow and we think he'll compliment the strength of our forward pack."
"It's been a big two years for me. I'm really excited to get down to Melbourne and team up with Dave at the Rebels," Naisarani added about his move.
"He's had a big impact on me, and helping me to improve as a player.
"It doesn't seem that long ago that I was playing for Brisbane City in the National Rugby Championship but I know that I have to keep on working hard to improve myself as a player.
"The World Cup in Japan is a big dream of mine and obviously to pull on that gold jersey would be something very special."
And from a future Wallaby to the return of a legend, Tatafu Polota-Nau will be rejoining the Wallabies squad next month in preparation for the Rugby Championship. 
With the loss of Tevita Kuridrani to injury for three months, Cheik was quick to get on the phone to the 82 cap veteran.
"At this stage we are planning for him to be good to go in the first Bledisloe," Cheika said to rugby.com.au. 
"It will help a lot, and help with our depth, although to be honest I was really happy with our three hookers – Brandon, Tolu and Folau – over the June period."
Experience, along with improved fitness, is what Cheika is hoping will have the Wallabies fighting fit and ready to go when Bledisloe I comes around.
"That's going to hold us in good stead leading into game one of the Rugby Championships and right through to the end of the international season at Twickenham," he said.
"We go into every series with optimism. Authentic optimism."
… and Goings.
Starting off on the goings front, Daryl Gibson admitted to Fox Sports that he might not have signed up for the Tahs top job, knowing now what he was getting himself into.
"They backed me last season off two pretty average, mediocre years," Gibson admitted.
"I don't know whether I would have taken the job when I look back.
"As much as it was a winning team, it was very much a team in transition in terms of the roster, the playing list.
"To put that back in place and to really, truly own it and do it the way I wanted to do it — it's taken to this point just to get here."
Gibson admitted that, had he done his time again, he would have prepared things differently.
"If I had my time again, I probably would have been a little bit more patient.
"I've learnt how important it is that the head coach is supported from an organisational view.
"Having incredible stability and direction — the CEO, the chairman, the captain, your support staff — all in place and being really stable and all aligned towards one direction and a firm direction.
"When I look back to 2015, when Cheik left to take on the Wallabies, he took six staff with him, which is a big hole to fill.
"When I reflect on that, I would have probably taken my time a little bit more and been far more considered with my moves."
Well, at least this year has been all right on the performance front… so far.
The other big news is that Welsh legend Sam Warburton has stunned many folks and announced his retirement from international rugby at the age of 29.
Warburton admitted that his body was finding it increasingly difficult to keep with the demands of professional rugby, especially after returning from injury. His loss will be a big one for Wales, particularly as they head into a World Cup year.
"Unfortunately after a long period of rest and rehabilitation the decision to retire from rugby has been made with my health and wellbeing as a priority," Warburton said to The Guardian. 
"My body is unable to give me back what I had hoped for on my return to training. I cannot thank the Welsh Rugby Union and Cardiff Blues enough. They have gone beyond the call of duty in providing the support I received to help me get back on the field. I will be forever grateful.
"I always dreamed of playing for my home town club the Cardiff Blues, Wales and the British & Irish Lions. I'm extremely proud of what I managed to achieve. There are so many people who helped me along the way from school teachers, coaches, friends and family.
I thank you so much for supporting my dreams and aspirations. I hope they too can take some pride from my career.
"I would like to make special mention of Warren Gatland. Without the faith he had in me and his unwavering support, I would never have had the career I was able to pursue."
Despite an 'early' retirement, Warburton finishes his career as one of the best players ever to strap on the boots for the Scarletts.
He represented Wales on 74 occasions, including a record 49 as captain, as well earning five caps for the British & Irish Lions. He captained the Welsh at the 2011 and 2015 Rugby World Cups, won two Six Nations trophies, a Grand Slam, a Triple Crown, and also captained the B&I Lions to their first series win (against the Wallabies) in sixteen years in 2013, in addition to captaining the Lions in their series last year that saw them draw 1-1 against New Zealand. Add to that, he also made 175 appearances for the Cardiff Blues. 
Now that is some career. Cheers for the memories mate.
And finally, to finish off the news on a more sombre note, the Crusaders will be running out onto the paddock this weekend with extra motivation to win, following the passing of a legendary super fan Doreen Searle. The most die-hard 'Saders fan you will ever come across (seriously, I'm not joking), Searle was renowned in Canterbury for her support of the game and the Crusaders, and was highly respected by the team.
Following her tragic death at the age of 96, her funeral was packed out with family and rugby fans, along with two of her favourite Crusaders players, Sam Whitelock and Matt Todd.
The Crusaders will be paying tribute to Searle this weekend ahead of their match against the Sharks. Rest in Peace, Doreen.